A French immigrant who moved to Israel to "defend" the country shot two Palestinian assailants on Friday, killing one and injuring the other, while possibly saving the lives of her and another.
The Times of Israel reports that "Cpl. A" and her partner, serving with the Israeli border police, were inspecting vehicles near an intersection when two men arrived on a motorcycle and came at the officers with knives.
She knew she had to act.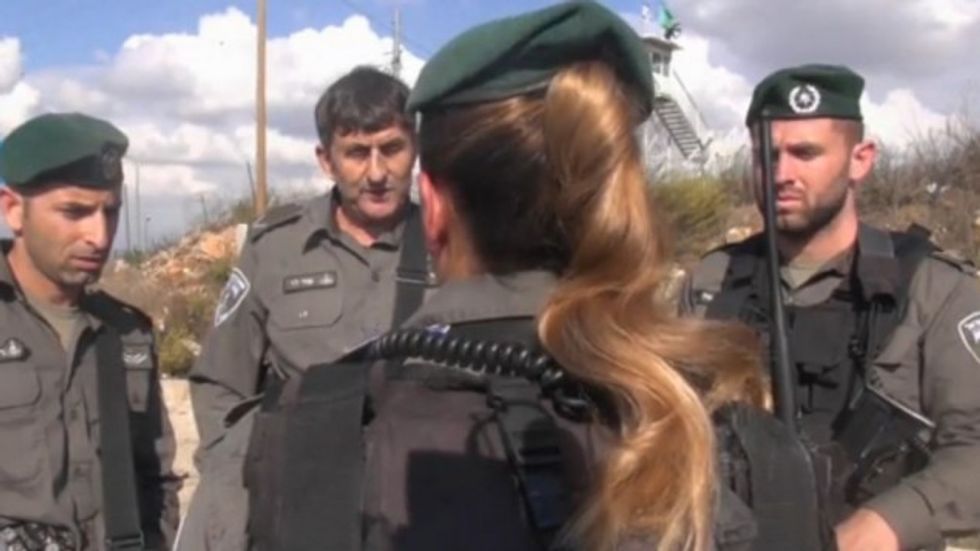 Image source: Israel police video via the Times of Israel
"I realized that if I hesitated for a second the policeman beside me would no longer be alive," Cpl. A said, the Times of Israel reported. "I didn't think twice. I cocked my weapon and shot them."
Yossi Dagan, the head of Samaria Regional Council, said Cpl. A is an immigrant from France -- and she moved to the Jewish state to do exactly what she did on Friday.
"This is why I came to Israel, to defend the nation," Dagain recalled her saying.
He also praised the female officer as a "hero" who prevented a "big disaster" from occurring.
Tensions have run high in Israel, especially in recent weeks as attacks have rocked the Middle Eastern country, forcing it to step up security forces at the height of the violence. In fact, the tension has been so high that security forces shot and killed an Eritrean immigrant last week after they mistook him for a terrorist.
---