The spokesman of a controversial Islamic group in Australia on Sunday said that Muslim schoolchildren should not be required to sing the national anthem nor should immigrants have to recite a citizenship oath.
In a speech to a conference designed to train Australian Muslims to defend themselves against undercover police investigations, Hizb ut-Tahrir spokesman Uthman Badar called government efforts at weeding out Islamic radicalism "forced assimilation."
"If you don't share those values, why should they be forced to sing it?" Badar said of the Australian national anthem which he asserted presents "a disputed view of history."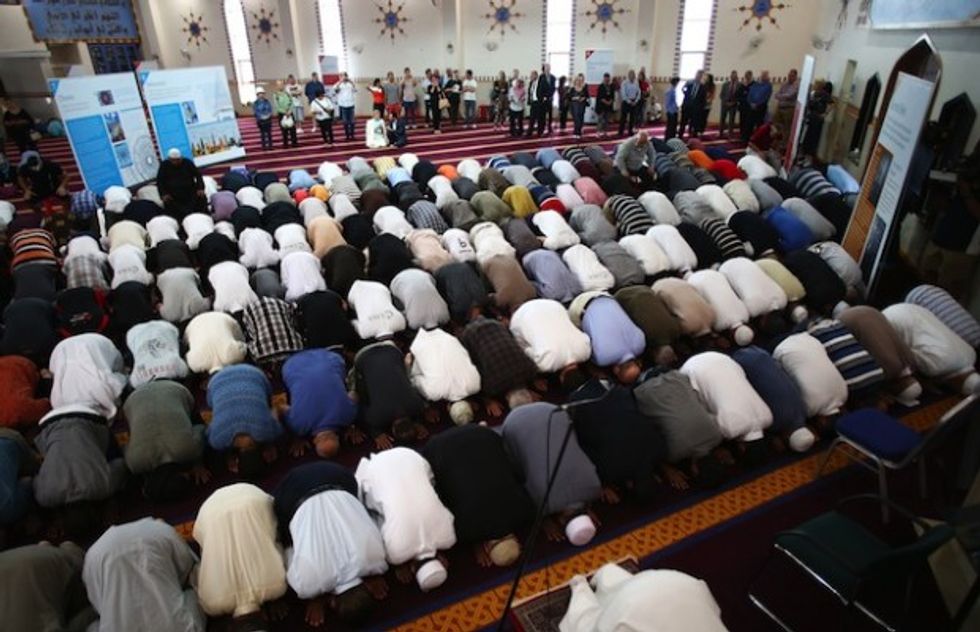 People watch as Muslims attend the noon prayer during an open day at Lakemba Mosque on October 31, 2015 in Sydney, Australia. Mosques held open days across the country to help foster better relations between Muslim and non-Muslim Australians. (Daniel Munoz/Getty Images)
"The insistence of senior government ministers that Muslim children sing the national anthem – an anthem that reflects a particular disputed view of history and celebrates particular ideological values," Badar said to hundreds of attendees at the conference called "Innocent Until Proven Muslim."
"Why should they be forced to sing it?" Badar continued.
The government "claims to afford freedom, but seeks to impose values and beliefs" on Muslims, the spokesman said, according to the news outlet The Australian.
Badar took particular issue with the phrase of the Australian citizenship oath: "whose democratic beliefs I share."
"It's not enough that you obey the law; no, you have to adopt our values," the spokesman said.
The principal of an Australian elementary school came under fire from politicians last week after excusing Muslim students from singing the anthem during a Shiite Muslim mourning period.
Badar said anti-radicalization efforts cloaked the hidden agenda of "making Muslims less Islamic, more Western, more secular."
"It is nothing more than an agenda of forced assimilation justified by exaggerated fears of a security threat," he said according to the Sydney Morning Herald.