Iranian Defense Minister Gen. Hossein Dehghan on Saturday issued a threat to the U.S. and Israel - who he called "warmongering" and "bloodthirsty" – in the event of a military move against his country.
"[O]ur armed forces are always ready to give a response to the U.S. administration and the Zionist regime's mischiefs," Dehghan said on Saturday, according to Iran's Fars News Agency which described the potential Iranian action as "crushing."
Iran would be ready to "give an unforgettable lesson to the aggressors," Deghan said.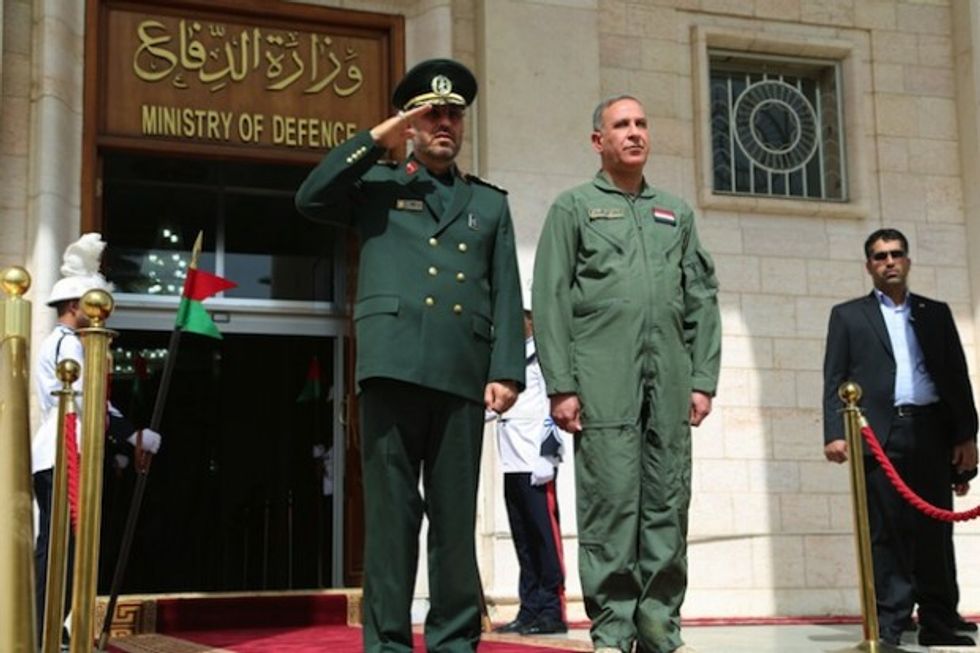 Iran's Defense Minister Gen. Hossein Dehghan, center left, and his Iraqi counterpart Khalid al-Obeidi listen to the national anthems during the welcome ceremony at the Iraqi defense ministry in Baghdad, Iraq, Monday, May 18, 2015. (AP Photo)
He also made an ominous reference to the personal safety of U.S. Defense Secretary Ashton Carter and Israeli Defense Minister Moshe Ya'alon by suggesting they write their memoirs while they are still able to.
"These two gentlemen had better start writing their memoirs now as they will not have the opportunity to do so in future," Dehghan said according to Fars.
The Iranian defense minister made his threat days after Carter said at a meeting with Ya'alon that he was under instructions from President Barack Obama "to make sure the military option remains intact" in the event Iran did not comply with the international agreement over its nuclear program.
Dehghan went on to describe the U.S. and Israel as "aggressive" and human rights abusers.
"Nations see these two regimes as warmongering, aggressive, bloodthirsty and anti-human rights regimes and they, therefore, do not need to try to prove this everyday," the minister said.