NEW YORK (TheBlaze/AP) — The Kansas City Royals keep finding new ways to win this October. And now with one more victory in November, they will be World Series champions.
Second baseman Daniel Murphy's error on Eric Hosmer's grounder in the eighth inning keyed yet another comeback for the tenacious Royals, and Kansas City startled the New York Mets 5-3 Saturday night to take 3-1 lead in the best-of-seven series.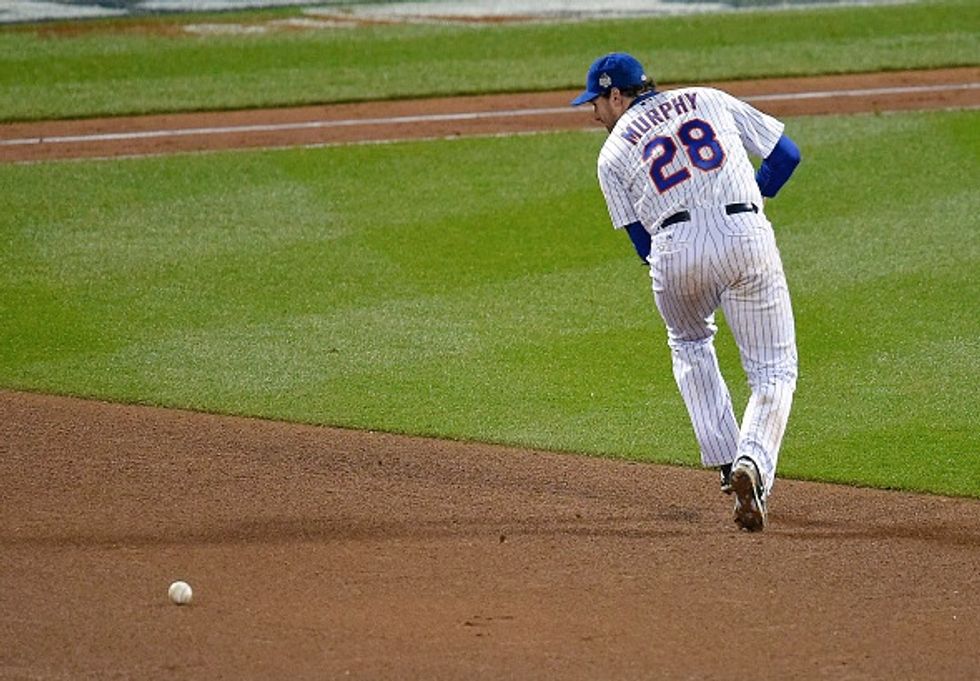 New York Mets second baseman Daniel Murphy misplays a ground ball hit by the Kansas City Royals' Eric Hosmer in the eighth inning, allowing Ben Zobrist to score, during Game 4 of the World Series on Saturday, Oct. 31, 2015, at Citi Field in New York. (David Eulitt/Kansas City Star/TNS via Getty Images)
Edinson Volquez returned Saturday from his father's funeral in the Dominican Republic and gets a chance to pitch the Royals to their first World Series title in 30 years. He faces Matt Harvey in a rematch of Game 1, when Volquez went six innings just hours after his dad died.
Seemingly spooked by the raucous New York crowd early on Halloween, the Royals rallied for the seventh time in 10 postseason victories this year, this one from a 3-2 deficit. Rookie Michael Conforto homered twice as the Mets built their lead.
Murphy's charmed October slipped away as the calendar was an hour from flipping to a new month.
With runners on first and second on a pair of one-out walks by Tyler Clippard, Jeurys Familia relieved. So steady in his new role as closer this year, Familia had allowed Alex Gordon's ninth-inning, tying homer in a Game 1 loss.
This time, he came on with a 3-2 lead and got Hosmer to hit a soft grounder toward Murphy as 44,815 fans stood, waving their orange towels in hopes of an inning-ending double play.
But the slow chopper sneaked under the glove of the NL Championship Series MVP as he charged in. Murphy, who would've only had a play at first, appeared to glance at the runner and failed to get his glove down. The ball rolled helplessly toward right field, and Ben Zobrist raced home from second base as Familia crouched on the mound.
Not known for his defense, Murphy still made every play look easy in the NLCS and almost single-handedly slugged the Mets to their first World Series since 1986 with seven homers in nine playoff games. He has slumped in the Fall Classic but had a one-out infield single in the ninth.
Twitter soon lit up with comparisons between Murphy's error and the infamous soft grounder that slipped under Bill Buckner's glove and led to the Mets' Game 6 win against the Boston Red Sox in the 1986 World Series. The Mets took that Series in seven games.
One observer wrote, "Murphy went from Babe Ruth to Bill Buckner. Unbelievable":
Murphy went from Babe Ruth to Bill Buckner. Unbelievable #WorldSeries

— Mike Rosenberg (@RosenbergMerc) November 1, 2015
More coincidences between the 1986 and 2015 #WorldSeries Buckner.... Murphy pic.twitter.com/6Prld6c1OZ

— MLB Memes (@MLBMeme) November 1, 2015
The #Mets resurrect memories of '86, only a Buckner error in reverse. #Royals now on verge of winning World Series. https://t.co/sqeJxWXkyv

— Bob Nightengale (@BNightengale) November 1, 2015
That weak ground ball past Murphy was a Buckner ball.Just think of all the times they laughed at Buckner. Not so funny now, is it?

— I Bleed Red Sox (@I_bleed_red_sox) November 1, 2015
Surely no one in the silenced Citi Field stands expected this scary ending. It got worse for the Mets in a hurry, too.
Mike Moustakas and Salvador Perez followed with RBI singles to break away.
Ryan Madson pitched a perfect seventh for the win, and Wade Davis worked two scoreless innings for his first save.
Yoenis Cespedes followed with another single, but he was doubled off first base when Lucas Duda hit an easy liner to third base and Moustakas tossed it to first to finish off another incredible comeback for the Royals.
This story has been updated.
—
Follow Dave Urbanski (@DaveVUrbanski) on Twitter