In a recording released Sunday, Al Qaeda leader Ayman al-Zawahiri called upon Muslim extremists to "unite to liberate Jerusalem" and launch attacks against "the West."
Different outlets have reported snippets of the audio.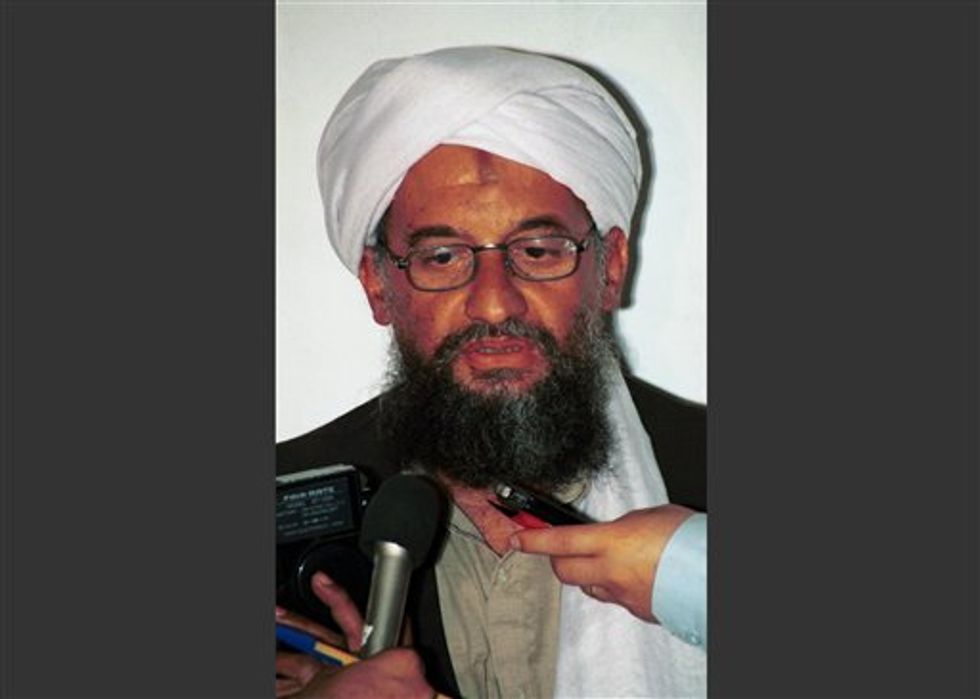 In this in this 1998 file photo made available Friday, March 19, 2004, Ayman al-Zawahri speaks to the press in Khost, Afghanistan. (AP/Mazhar Ali Khan)
Here's some from the Cairo Post:
The "liberation of Jerusalem" requires beating the west "in their own backyard" and hitting the economy to show the "price of support for crimes by Israel against Muslims and Islam," said al-Qaeda leader Ayman al-Zawahiri in an audio recording aired Sunday on an al-Qaeda-affiliated network, Youm7 reported.

[...]

"The Americans and the Russians and the Iranians and the Alawites and Hezbollah are coordinating their war against us."
Reuters out of Cairo (via Al Arabaya) expanded upon this latter quote and then included more:
"The Americans, Russians, Iranians, Alawites, and Hezbollah are coordinating their war against us -- are we not capable of stopping the fighting among ourselves so we can direct all our efforts against them?" Zawahiri said in an audio recording released on the Internet on Sunday.

[...]

"My mujahideen brothers in all places and of all groups ... we face aggression from America, Europe, and Russia ... so it's up to us to stand together as one from East Turkestan to Morocco," Zawahiri said.
Vocativ has more as well:
"Those who support Israel should pay in their blood and economy the price for supporting the crimes of Israel against Islam and Muslims," he said.

He also called on fighters to follow in the path of those who carried out the September 11, 2001 attacks, "and the attacks in Madrid, Bali, London and Paris."

Al-Zawahiri urged Muslims to unite, saying they must establish a Caliphate and an Islamic state in Egypt and the Levant, and that they must "liberate Palestine." Muslims today face "American-European-Russian-Shiite-Alawite aggression," he said, before calling on jihadist organizations worldwide to stop infighting and "stand in one line, from East Turkestan to Morocco, against the satanic alliance that attacks Islam, its nation and its house."
According to Reuters (via Al Arabaya), it's unclear when exactly the audio was recorded, but the outlet noted that because of al-Zawahiri's anti-Russian sentiment, it seems to suggest it could have been made shortly after Russia launched strikes against the Islamic State in Syria.
The release of al-Zawahiri's message comes a day after an Islamic State-affiliate claimed to have downed a Russian plane flying out of Egypt.
James Clapper, the U.S. director of national intelligence, said he could not rule out that the Russian passenger plane which crashed in the Sinai was brought down by Islamic State extremists.
Clapper told reporters in Washington that "we don't have any direct evidence of any terrorist involvement yet" in the crash Saturday that killed all 224 people on the Metrojet.
But he noted that the Islamic State group, which has claimed responsibility, has a significant presence in Egypt's Sinai Peninsula. Asked if Islamic State extremists had the capabilities to bring down a passenger jet, he said, "It's unlikely, but I wouldn't rule it out."
Alexander Smirnov, deputy general director of Metrojet, said at a news conference Monday in Moscow that the airline had ruled out a technical failure or pilot error for the crash, which killed all 224 people on board.
"The only possible explanation could be an external impact on the airplane," Smirnov said.
—
The Associated Press contributed to this report.