President Barack Obama cited several prominent businesses, including Koch Industries, to make the case for eliminating the question on federal employment applications that ask about criminal records.
"I'm taking action to ban the box for the most competitive jobs at federal agencies, and the federal government is a big employer as you know," Obama said Monday in Newark, New Jersey. "Like a lot of many big employers, on many job applications, there's a box that asks if you have a criminal record. If you answer yes, then a lot of times you are not getting a call back."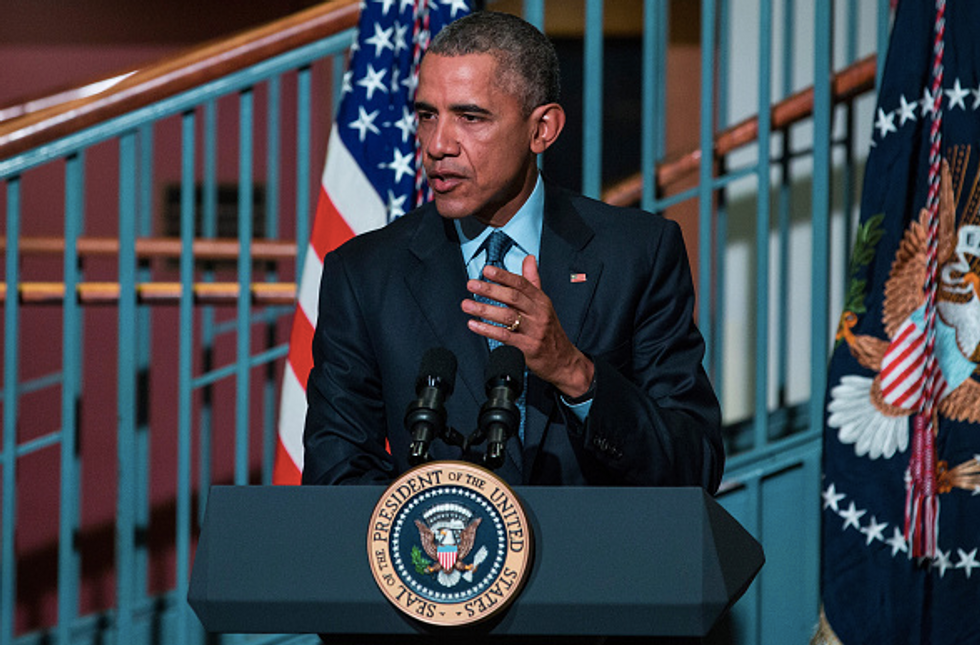 President Barack Obama speaks at the Rutgers University-Newark S.I. Newhouse Center for Law and Justice Nov. 2 in Newark, New Jersey. Obama spoke on the difficulties formerly incarcerated people face when re-entering society after serving time in prison and new initiatives to help support those going through the process. (Andrew Burton/Getty Images)
Obama spoke in New Jersey about re-entry into society for former prisoners.
"Some really good, really successful companies are already doing this: Walmart, Target, Koch Industries, Home Depot, they've already taken action to ban the box on their own," Obama said. "And 19 states have done the same."
Obama has frequently criticized David and Charles Koch, libertarians who oppose him on most issues but support criminal justice reform. For example, in August, Obama said, "When you start seeing massive lobbying efforts backed by fossil fuel interests, or conservative think tanks, or the Koch brothers pushing for new laws to roll back renewable energy standards or prevent new clean energy businesses from succeeding, that's a problem. That's not the American way."
During his Monday remarks, Obama stressed that beyond his executive actions to ban the box, he wanted Congress to take action.
"The federal government, I believe, should not use criminal history to screen out applicants before we even look at their qualifications," Obama said. "We can't dismiss people out of hand simply because of a mistake that they made in the past."
"It is relevant to find out whether somebody has criminal record," Obama said. "We're not suggesting ignore it. What we are suggesting is when it comes to the application, gives folks a chance to get through the door."