Director Quentin Tarantino fired back at his critics in a Tuesday Los Angeles Times article, contending his comments about police brutality had been intentionally misinterpreted by those who don't want to address the issue.
"All cops are not murderers," Tarantino told the L.A. Times. "I never said that. I never even implied that."
[sharequote align="center"]"I never said that. I never even implied that."[/sharequote]
"What they're doing is pretty obvious," he continued, referring to his critics. "Instead of dealing with the incidents of police brutality that those people were bringing up, instead of examining the problem of police brutality in this country, better they single me out."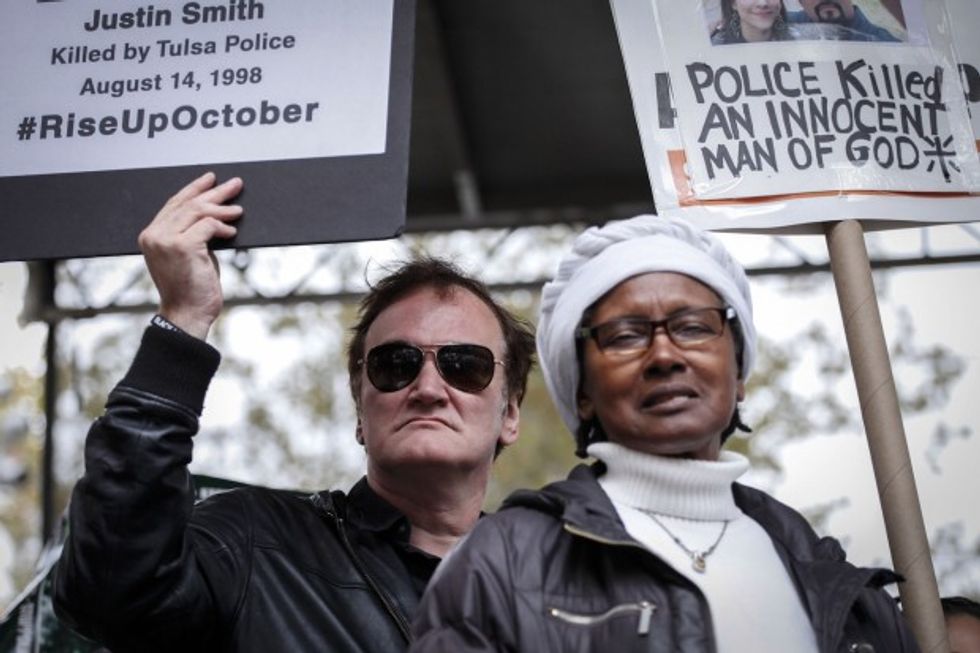 Kena Betancur/Getty Images
The "Kill Bill" director argued that critics were trying to silence him through intimidation.
"And their message is very clear. It's to shut me down. It's to discredit me. It is to intimidate me," he told the L.A. Times. "It is to shut my mouth, and even more important than that, it is to send a message out to any other prominent person that might feel the need to join that side of the argument."
Tarantino's comments to the Los Angeles newspaper are his first since igniting a national firestorm when he spoke at an anti-police protest in New York City and suggested certain officers were guilty of murder. His comments had come just days after an officer was gunned down in the line of duty.
"When I see murders, I do not stand by ... I have to call the murderers murders," he said at the time.
As a result, the head of a NYPD union called for a boycott of his movies. The commissioner of the NYPD also blasted Tarantino, telling a radio station that he had "no words to describe the contempt I have for him and his comments."
—
Follow the author of this story on Twitter and Facebook: