Just one day after releasing rankings for more than 300 brands, Faith Driven Consumer has unveiled the 10 lowest-rated companies when it comes to marketing efforts aimed at targeting and cultivating Christian consumers.
According to the Faith Equality Index — which measures which brands are the most and least likely to cultivate Bible-minded buyers by ranking each company on a scale from zero to 100 — the lowest-ranked businesses are as follows: T-Mobile (19), Apple (19), AT&T (17), Microsoft (17), Pfizer (16), Nationwide (16), Expedia (15), DirecTV (14), Bank of America (11) and Unilever (11).

Faith Driven Consumer
"The brands listed today fall far short of earning the business of Faith Driven Consumers, but also have a significant opportunity to get into the game and improve their positions relative to marketplace competitors," Chris Stone, founder of Faith Driven Consumer, said in a statement. "With two trillion dollars to spend, the newest color of the diversity rainbow is a huge untapped and underserved market — 70 percent of whom are actively looking for a brand home."
As TheBlaze previously reported, Stone is hoping that the Faith Equality Index will help to connect businesses with Christians who are highly motivated by their faith in how they buy and spend.
The concept behind the Faith Equality Index isn't all that different from other indexes created by special interest groups, including the Human Rights Campaign, which runs the Corporate Equality Index — a "national benchmarking tool on corporate policies and practices pertinent to lesbian, gay, bisexual and transgender employees."
In fact, despite divergent goals, Stone praised the Human Rights Campaign as creating a highly usable blueprint.
"They have been fabulously successful in getting companies to prioritize both their Corporate Equality Index and their community. We simply ask corporate America to extend their equality proof of performance to Faith Driven Consumers," Stone told TheBlaze. "Brands that have neither prioritized our community nor the Faith Equality Index habitually prioritize other communities."
See the scorecard for the lowly ranked Bank of America below: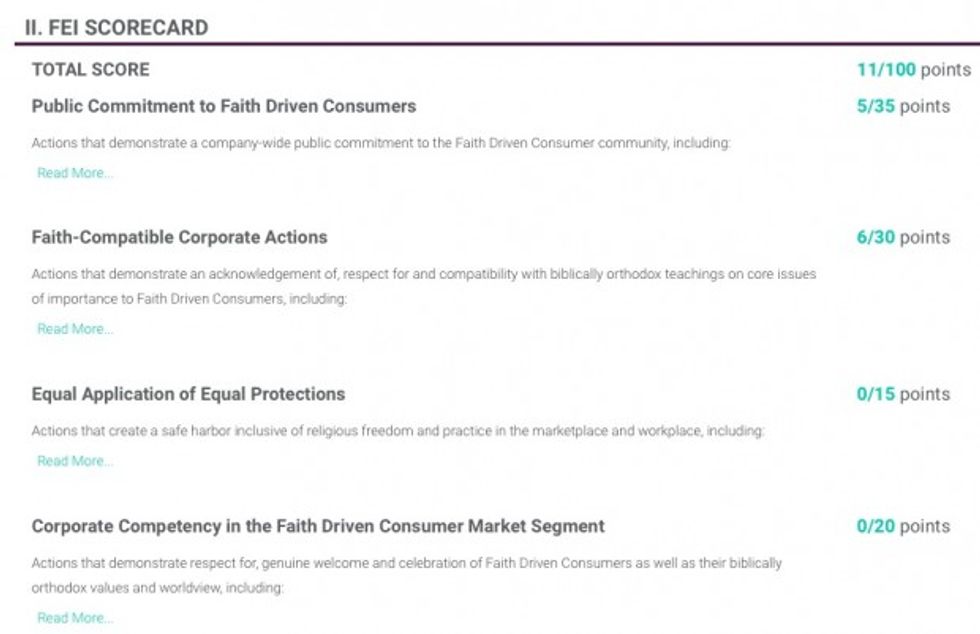 Faith Equality Index scorecard for Bank of America
In contrast to the 10 lowest-rated companies, the top seven brands are as follows: Chick-fil-A, Hobby Lobby, Interstate Batteries, Tyson Foods, Cracker Barrel, Walmart, and Thrivent Financial, though none of these companies came close to a perfect index score of 100.
Read more about the Faith Equality Index here.
--
Front page image via Shutterstock.com.
Follow the author of this story on Twitter and Facebook: