A wild fistfight video making the Internet rounds distinguishes itself not only by the combatants involved but also the scene of the battle.
The fisticuffs were between a McDonald's employee and a customer — and right in front of the Minneapolis fast-food restaurant's drive-thru window Monday night.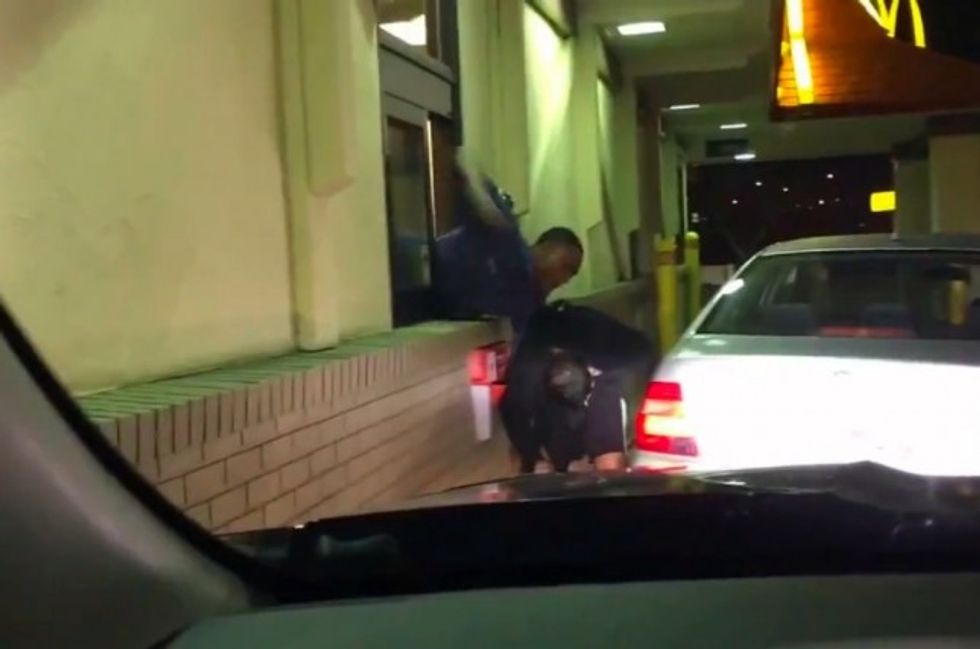 Image source: Live Leak
The video poster, waiting in his car right behind the fighting customer, wrote on Live Leak that he was "annoyed the guy in front of me was taking so long" and that "he seemed pretty upset to begin with." Then the poster said he saw the driver exit his car and spit at the drive-thru window.
The clip — which has been viewed over 101,000 times as of Wednesday afternoon — showed the customer seemingly trying to pull the McDonald's worker out of the drive-thru window by his uniform tie and the employee repeatedly punching the customer.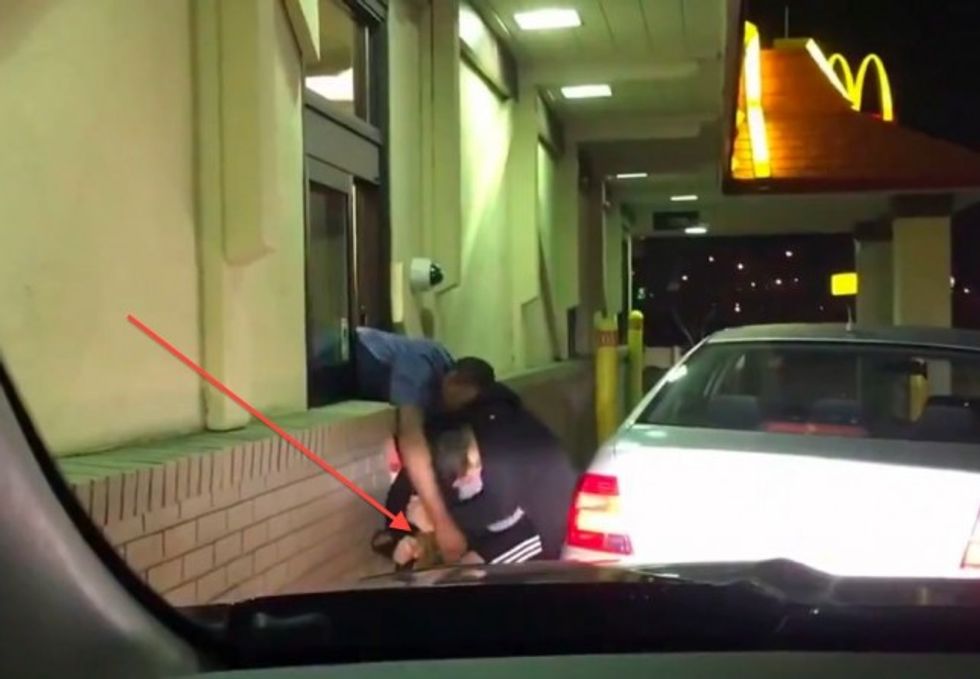 Image source: Live Leak
But there appears to be more to the story.
The employee in question is 22-year-old Bernard Robinson III, the store's overnight shift manager. He told the Star Tribune on Wednesday afternoon that a crew member needed to make change for the customer's $100 bill on a $3 drive-thru tab.
"I guess the guy was ticked that it too so long," Robinson told the paper. "He was blabbing, and the change was dropping out of his hand."
Robinson added to the Star Tribune that the customer "got of the car, looked in my eyes and spit in my face. I'm arguing with the guy, one of my crew tries to close the window, and he pushes it open. He grabbed my tie, and he's trying to get me out of the window. He was choking me. … I was fighting for my life."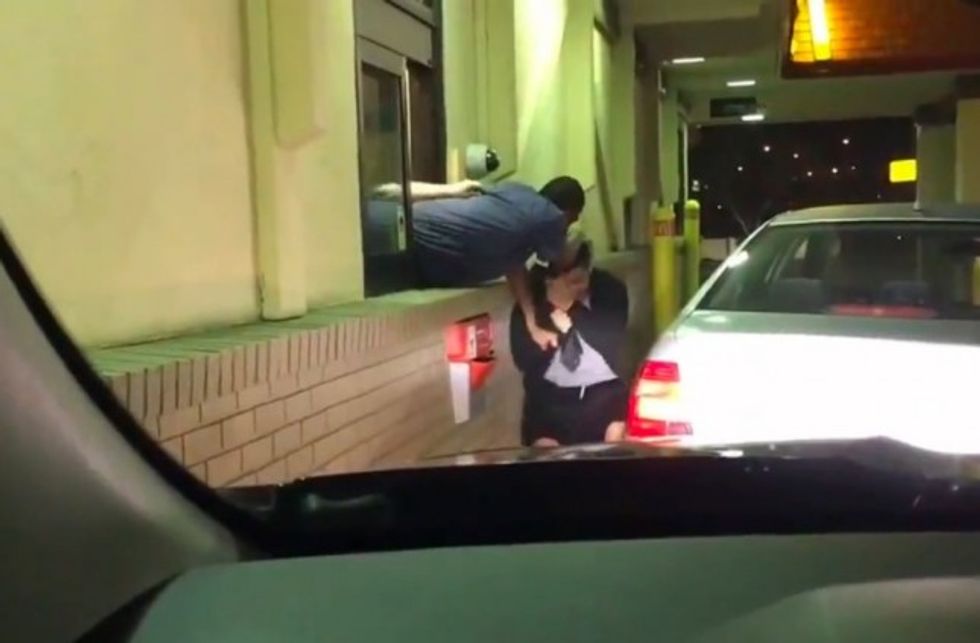 Image source: Live Leak
Police arrested the 31-year-old suspect, cited him for misdemeanor assault and released him, the Star Tribune said.
Robinson was bruised on his neck but didn't seek medical attention and even finished his shift, which ended at 6 a.m.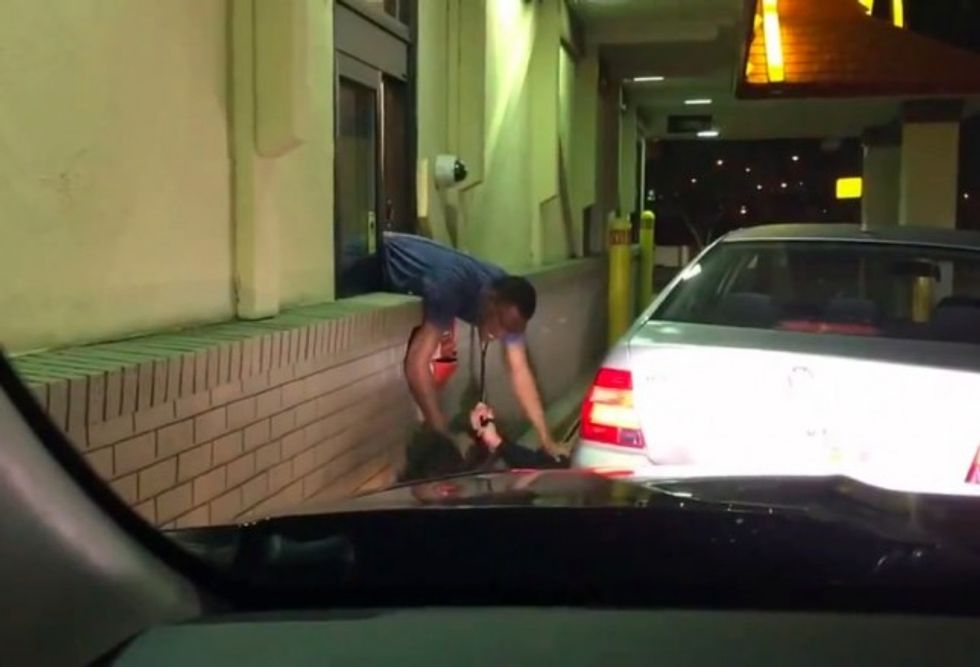 Image source: Live Leak
"I'm icing up right now," he told the Star Tribune. "I guess I should've gone to the hospital."
"We are aware of the concerning incident involving an employee and a customer earlier this week," Dan Camp, the restaurant's director of operations, told TheBlaze in a statement. "We are working with the local police in their investigation of this matter."
Note: Video contains strong language and violence:
—
Follow Dave Urbanski (@DaveVUrbanski) on Twitter