Hillary Clinton has promised that, if elected president, she would strengthen ties with Israel and would invite Israeli Prime Minister Benjamin Netanyahu to the White House within her first month of office.
In an op-ed Wednesday in the American-Jewish newspaper The Forward, Clinton wrote that she would "enhance" the U.S. strategic partnership with Israel, which would include sending a Joint Chief's delegation to meet with senior Israeli military officials.
"I would also invite the Israeli prime minister to the White House in my first month in office," Clinton wrote in the op-ed titled "How I Would Forge Better Ties to Israel — and Rebuild Bond With Benjamin Netanyahu."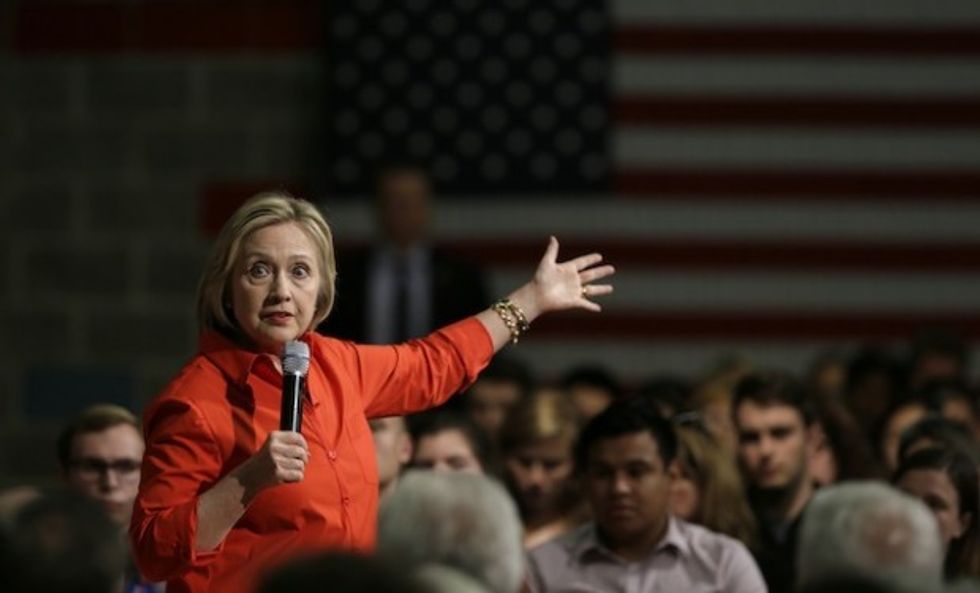 Democratic presidential candidate Hillary Rodham Clinton speaks during a town hall meeting at Grinnell College Tuesday, Nov. 3, 2015, in Grinnell, Iowa. (AP Photo/Charlie Neibergall)
Given longstanding tensions between Netanyahu and President Barack Obama, Clinton appeared to be trying to draw a distinction between her position and that of the Obama administration in which she served as secretary of state.
"The alliance between our two nations transcends politics. It is and should always be a commitment that unites us, not a wedge that divides us," the Democratic presidential candidate wrote.
"I have stood with Israel my entire career," Clinton asserted.
Clinton expressed her commitment to the concept of two separate states — one for Jews and one for Palestinians — and condemned a recent wave of violence against Israelis.
"We now hear of daily stabbings and shootings of innocent civilians — teenagers, parents and senior citizens. Israelis have to look over their shoulders during everyday tasks, like carrying groceries and waiting for the bus," Clinton wrote.
"This violence must not be allowed to continue. It needs to stop immediately, and Israelis and Palestinians must move back toward the path of peaceful reconciliation," she continued.
Clinton called attention to a recent video that emerged online of a Palestinian preacher in Gaza flailing a knife during a sermon pushing the Muslim faithful to continue the wave of stabbings.
"Many of us have seen the video of a cleric encouraging worshippers to stab Jews as he waves a knife in the air. This incitement needs to end, period," Clinton wrote.
Clinton hinted strongly that if elected she would try to restart failed peace negotiations between Israelis and Palestinians.
"I believe the United States has a responsibility to help bring Israelis and Palestinians to the table and to encourage the difficult but necessary decisions that will lead to peace," she wrote. "As president I will never stop working to advance the goal of two states for two peoples living in peace, security and dignity."
Netanyahu and Obama are scheduled to meet at the White House on Monday.