The person tapped to be Israeli Prime Minister Benjamin Netanyahu's "media czar" has in the past publicly called President Barack Obama a "pro-Arab, anti-Israel president" who has displayed "modern anti-Semitism."
The Jerusalem Post reported that Netanyahu's appointee, Ran Baratz, also once compared Secretary of State John Kerry to one "whose mental age doesn't exceed 12."
Reports about the past online activities of Baratz — tapped by Netanyahu Wednesday as media adviser and head of public diplomacy in the Prime Minister's Office — emerged in the Israeli media Thursday, just four days before Netanyahu was scheduled to meet Obama at the White House.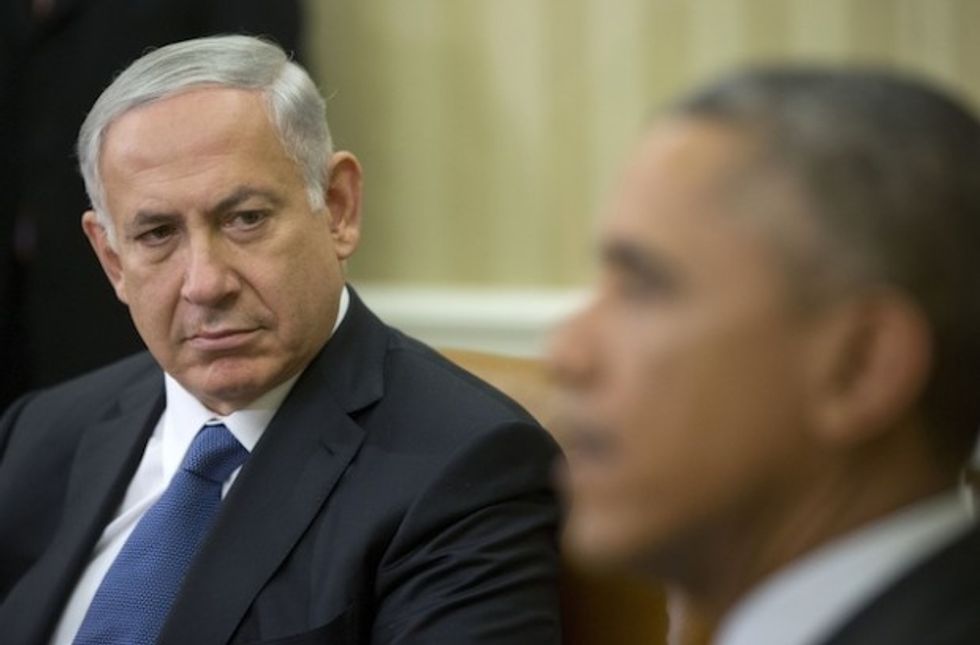 Israeli Prime Minister Benjamin Netanyahu listens as President Barack Obama speaks during a meeting in the Oval Office of the White House in Washington, D.C., Oct. 1, 2014. (AP Photo/Pablo Martinez Monsivais, File)
Commenting on Obama's criticism of Netanyahu's anti-Iran deal speech to Congress, Baratz wrote in a March 3 Facebook post, according to the Times of Israel, "Allow me to diverge from my usual moderate ways and be a bit blunt. … Obama's response to Netanyahu's speech — this is what modern anti-Semitism looks like in Western liberal countries. And it is of course accompanied by a lot of tolerance and understanding for Islamic anti-Semitism; so much tolerance and understanding that they'll even give them [an atomic bomb]."
As a writer for Mida, the Israeli conservative online publication he founded, Baratz wrote following Obama's reelection in 2012 that the U.S. president was "pro-Arab, anti-Israel."
"For the next four years, a pro-Arab, anti-Israel president will continue to rule," Baratz wrote, according to the Jerusalem Post. "His upcoming term will be even more extreme, and he has nothing more to lose or to hide."
Baratz mocked Kerry in a column last year — comparing him to a Miss America contestant and a 12-year-old — following the secretary of state's suggestion then that the Israeli-Palestinian conflict had contributed to the growth of the Islamic State group.
"To Kerry's credit, it should be noted that there is no Miss America around who could say what he said any better," Baratz wrote, according to the Jerusalem Post. "This is the time to wish the secretary of state good luck, and to count down the days with the hope that someone over there at the State Department will wake up and begin to see the world through the eyes of a person whose mental age exceeds 12."
Kerry's comments elicited criticism at the time from Israeli government ministers who also took issue with the analysis about the Islamic State.
The Times of Israel noted that the spokesman's appointment still needs to be approved by Netanyahu's cabinet next week.
In response to Israeli media coverage of his postings, which also targeted Israeli President Reuven Rivlin, the incoming spokesman said he posted the remarks when he was a private citizen.
"I wrote those posts as a private citizen, and now I'm obligated to be diplomatic and statesmanlike. It was just Facebook humor," he told the Israeli newspaper Ma'ariv.