Vice President Joe Biden repeated his certainty about climate change to a group of fire chiefs Monday but admitted he doesn't know if climate change is responsible for an uptick in wildfires across the country.
"The truth of the matter is, we don't know for certain whether this increase, this up-tempo you guys are going through the last 15 years, is because of climate change," Biden said at the White House Roundtable with Fire Chiefs on Climate Impact. "I can't prove any one fire is a consequence of climate change."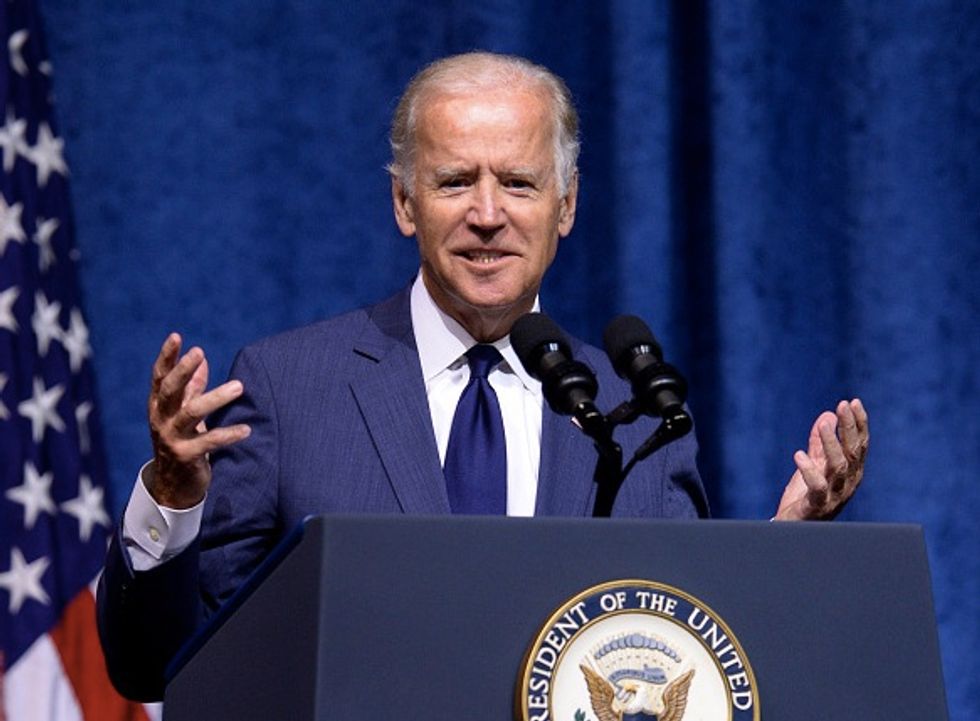 Jason Davis/Getty Images
That's more ambiguity than President Barack Obama and other administration officials suggested when talking about a correlation between climate change and an increase in wildfires.
Biden, who made a surprise appearance before the 38 fire chiefs and some state fire and environmental officials at the conference, went on to say he personally thought there was a connection.
"You don't have to be a climatologist, you don't have to be a nuclear engineer to understand that things have changed, they've changed rapidly," Biden said. "The consequence of this change, and I believe a lot of it has to do with climate change, the bottom line is your job is getting a hell of a lot more dangerous and the operation tempo is increasing and there is no likely change in that in the foreseeable future."
Though expressing uncertainty about the direct correlation between wildfires and climate change, the vice president was still certain about climate change itself, asserting, "The only people I know who deny climate change are the same people who deny gravity."
Earlier this year, Obama and his cabinet were far less vague in their certainty.
Speaking in Anchorage, Alaska, in September, Obama said:
"Alaska's fire season is now more than a month longer than it was in 1950. At one point this summer, more than 300 wildfires were burning at once. Southeast of here, in our Pacific Northwest, even the rainforest is on fire. More than 5 million acres in Alaska have already been scorched by fire this year ... Climate change is a trend that affects all trends -- economic trends, security trends. Everything will be impacted. And it becomes more dramatic with each passing year. Already it's changing the way Alaskans live. And considering the Arctic's unique role in influencing the global climate, it will accelerate changes to the way that we all live."
In October, National Security Adviser Susan Rice said:
"That's why, under President Obama, we have put combatting climate change at the very center of our national security agenda. The science is not up for debate. I know you are not the crowd that needs to be convinced—you're living it. Here at Stanford, you were almost close enough to smell the wildfires. Some redwoods and eucalyptus trees around campus are dying from drought. As for those who remain unconvinced—I'd suggest they are either not paying attention, or they're not living on the same planet as the rest of us."
In May, Obama said:
"Climate change poses a threat to the readiness of our forces. Many of our military installations are on the coast, including, of course, our Coast Guard stations. Around Norfolk, high tides and storms increasingly flood parts of our Navy base and an airbase. In Alaska, thawing permafrost is damaging military facilities. Out West, deeper droughts and longer wildfires could threaten training areas our troops depend on."
In April, Obama spoke in Washington at an event about the impact of climate change on public health.
"We know that if there are more wildfires, a consequence of rising temperatures, that there are going to be more particulates in the air. We know that potentially it extends the allergy season, and can induce greater incidents of asthma or more severe incidents of asthma. We know that, potentially, as temperatures rise, that we're going to start seeing insect-borne diseases that are not traditional to North America start moving up from the south."