NEW YORK (AP) -- Three people were shot, one fatally, in midtown Manhattan near Penn Station early Monday morning, police said. No suspects were immediately arrested.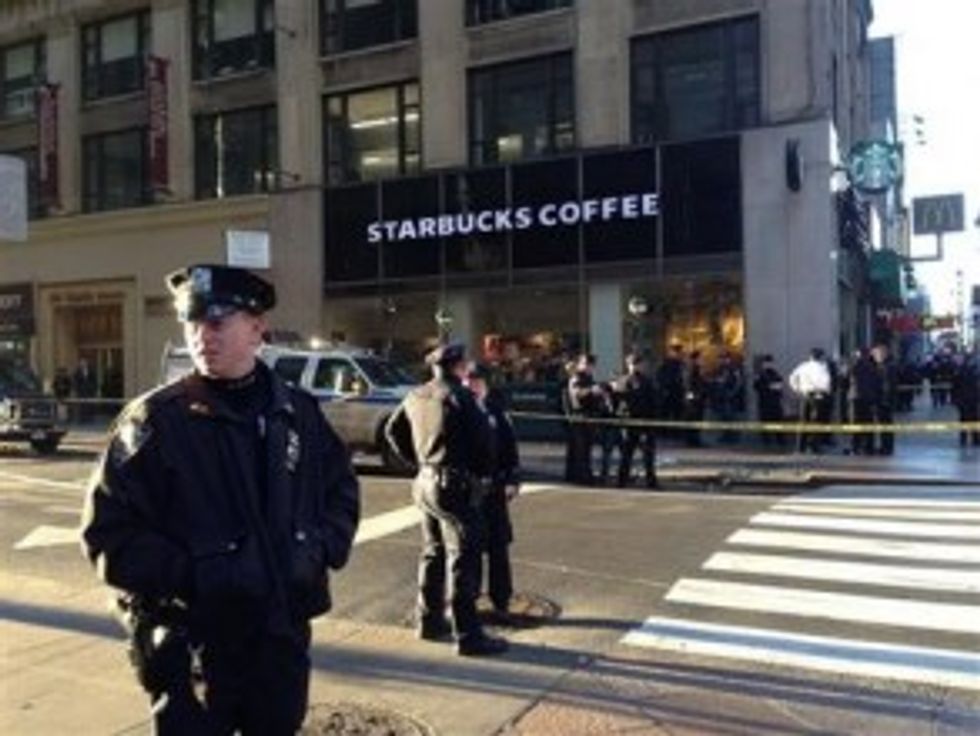 New York Police Department officers investigate a shooting at 35th Street and Eighth Avenue, Monday, Nov. 9, 2015, in New York. Authorities said three people have been shot, one fatally. No suspects have been arrested. (AP Photo/Mark Lennihan)
The shooting happened around 6 a.m. near the entrance of a subway station at 35th Street and Eighth Avenue, a block north of Penn Station, one of the nation's busiest transit hubs. Police said a preliminary investigation indicated that the shooting may have started on the street and continued into the subway station.
One person was killed and two others were taken to a hospital in serious condition. One person was shot in the stomach and the other in the leg; their injuries were not considered life-threatening, police said.
Two men who attend a nearby methadone program at the West Midtown Medical Group said they knew two of the victims, one who was killed and one who was injured. They said both victims came to the clinic for years.
Neither witnessed the shooting.
"This kind of thing doesn't happen over here," said Michael Gessow, 39, of the Bronx, who said he has been coming to the clinic for 10 years. "There's a group of us here that don't let things like this go down here. They were real nice guys, straight guys. I can't believe it."
Richard Buckley, 59, of Queens, who has been coming to the clinic for 14 years, said: "I have never seen anything like this happen. ... This is terrible."
A security guard said no official at the clinic was available to comment early Monday.
Police said they could not immediately confirm that the victims were from the methadone clinic, where people with drug habits receive treatment.
It was not immediately known if the A, C and E subway lines were affected by the shooting, but two entrances were taped off. There was a heavy police presence at the scene.