One man's life from the first day of the year in 1931 to the last was logged in a diary.
Oral "Buck" Hyer, the author of this diary, was a man born in 1907 who died in 1963. His diary might not hold value for most people, but when Robert Prather, an employee of the city of St. Cloud, Florida, spotted the book lying in the street, he knew it must be important to someone.
"Just kind of looked through it real quick, and it would mean something to me if it was mine. I have things that belong to me from my grandfathers from both sides," Prather told WFTV-TV upon finding the book in the road while he and his colleagues were tree trimming last week.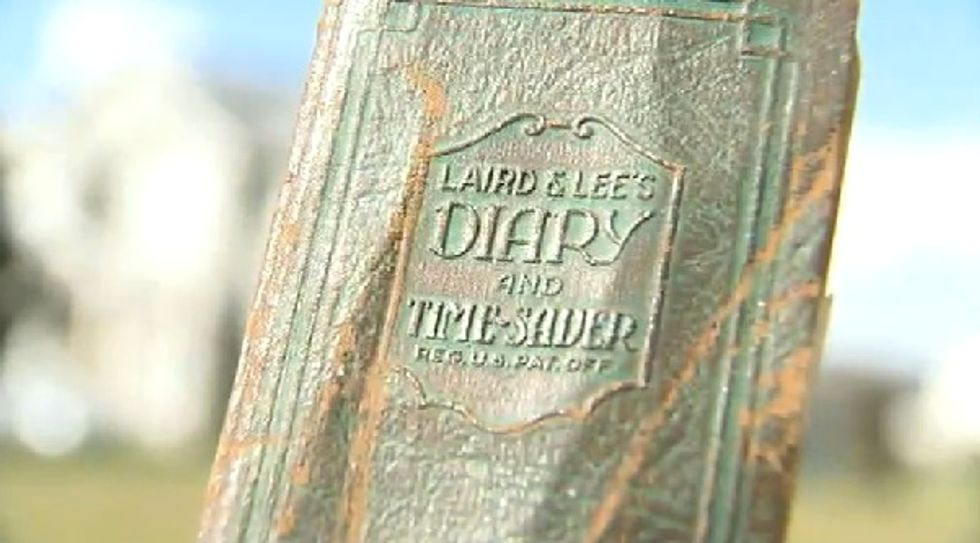 A city worker found this diary from 1931 in the middle of the road. After the local news coverage, its current owner was found. (Image source: WFTV-TV)
Here's more on what the diary revealed about Hyer from WFTV's report:
In pen or pencil, it records nearly every event in the author's life that year. The death of his mother, interactions with his children, but mostly, he documents about how hard life was during the Great Depression.

"He was not a lazy guy by any means. Everything in here is talking about him building hay barns and corn cribs and stacking hay and repairing his own shoes. Every day, even holidays, he was working," said Prather.

The author records his excitement at having finally saved $100 in a bank account.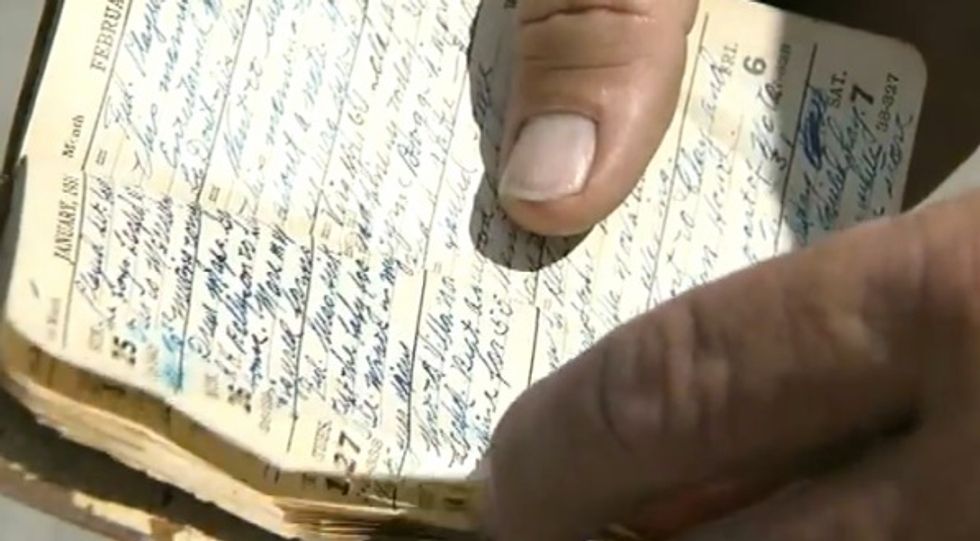 The diary gives a glimpse into one man's life during the Great Depression. (Image source: WFTV-TV)
Taking to social media in the hope of identifying the diary's owner, Prather learned even more about Hyer through the crowd-sourcing power of the Internet:
In a life spanning two world wars, Hyer fought in one of them, became a school teacher, married and had four children.

While Hyer was a church-going man, he wasn't afraid to gamble some of his hard-earned money.

"He had went to Villanova and beat a slot machine for 55 cents. 55 cents! 55 cents means nothing to anybody nowadays," said Prather.
A newspaper clipping of Hyer's obituary, originally published in the Charleston Daily Mail, revealed he died after a long illness and was buried in Clay County, West Virginia.
By Sunday, WFTV reported that the owner of the diary had been found. Bruce Hyer, the man's grandson who lives in Georgia, contacted the news station after a family member alerted him to the local story.
Watch WFTV's report:
—