An evangelical pastor in Northern Ireland who is going on trial next month after calling Islam "satanic" and "spawned in hell" during a 2014 sermon is imploring his countrymen to support his right to free speech.
"Again I appeal to every born-again child of God and every true servant of God to support me in my coming trial, by your presence and prayers, regarding the issue of free speech, freedom of conscience and 'lawful' liberty," Pastor James McConnell recently wrote on his website.
He also warned other pastors that their sermons could be the next ones to be scrutinized.
As TheBlaze previously reported, McConnell, 78, who previously preached at Whitewell Metropolitan Tabernacle in Belfast, Northern Ireland, made his comments — which included calling Islam "heathen" — in a sermon delivered in May 2014, the BBC reported.
"The Muslim religion was created many hundreds of years after Christ. Muhammad, the Islam Prophet, was born around the year A.D. 570, but Muslims believe that Islam is the true religion," he preached. "Now, people say there are good Muslims in Britain. That may be so, but I don't trust them."
McConnell continued, "Islam's ideas about God, about humanity, about salvation are vastly different from the teaching of the holy scriptures. Islam is heathen. Islam is satanic. Islam is a doctrine spawned in hell."
Watch the pastor's controversial comments below:
He initially defended his sermon, but relented and apologized for offending anyone after a public outcry; the police were subsequently called to investigate him for a potential hate crime.
In his most recent statement on his website, McConnell addressed these issues, while calling for support.
"It began with the Muslim issue when I protested (through my sermon) concerning the young Muslim woman who was pregnant and had been converted to Christianity," the pastor wrote. "She was to receive 80 lashes and possibly martyrdom. Thankfully she and her husband are now living in the United States. This was not mentioned in any of the Nolan Shows."
His mention of the Nolan Shows appears to be a reference to BBC host Stephen Nolan, whose show McConnell appeared on in the wake of his Islam sermon last year; Nolan could be mandated to appear at McConnell's trail as a witness, though the BBC and the host have both pushed back against his potential involvement.
In addition to asking his countrymen for support, McConnell went on to also speak directly to Muslims.
"I also appeal and challenge every Muslim who lives in this country. No-one is questioning your right to worship here and practice your religion," he wrote. "If I was living in many Muslim countries in the world, I would be forbidden to practice my religion and would probably be imprisoned or even put to death for doing so. Yet you, as a Muslim, have perfect liberty here. So I appeal to you, come with me and protest."
McConnell warned that Christians and preachers should watch his case closely and also step in to protest in his favor, as he said that the ramifications could be profound for every person of faith.
"If I am put in prison then, in a sense, you are also put in prison with me; for every sermon you preach and record will be examined and scrutinized!" he wrote. "Are you content, like many other people, to sit on the fence or in your 'comfort' zone and compromise? Do you not realise the importance of this hour? Your faith is being questioned, curtailed and muzzled!"
These are reflective of comments that McConnell made at a hearing back in September.
"I will stand firm for the gospel. I will not relent one inch," he said. "This is important, not only for me, it is important for every minister of the gospel of every denomination of freedom of speech and freedom of worship. This is, I believe, a test case."
McConnell's trail is set to unfold from December 14-16 at the Laganside Courts in Balfast. The details of the case against McConnell are complex, as he is accused of violating the law after reportedly denying the issuance of an "informed warning," which is not a conviction, though it stays on a person's criminal record for the period of one year.
Accepting the informed warning would have prevented the pastor from being prosecuted in court.
A representative for the Public Prosecution Service in North Ireland told the BBC that McConnell had violated the Communications Act 2003 and that his offence was "one of sending, or causing to be sent, by means of a public electronic communications network, a message or other matter that was grossly offensive."
See a screenshot of this portion of the law below: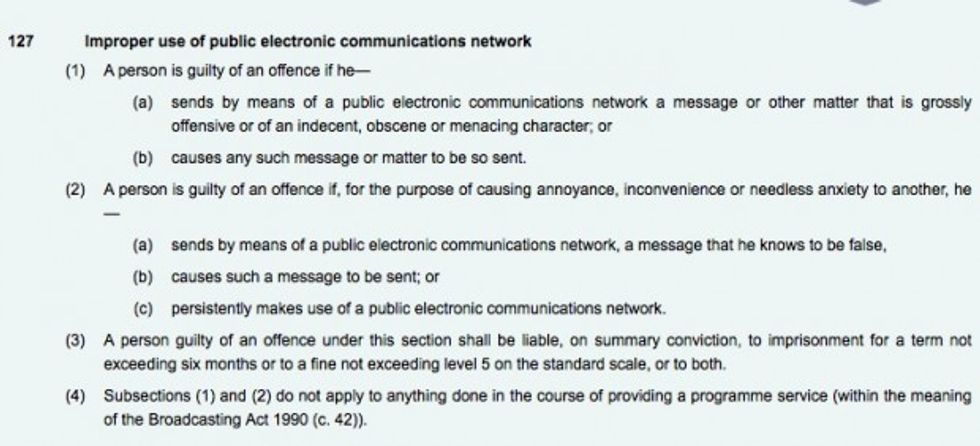 A screen shot of the Communications Act of 2003 (Legislation.gov.uk)
But McConnell — who retired from Whitewell Metropolitan Tabernacle following the controversy — isn't backing down, proclaiming in a past interview that he is "not going to be gagged."
"The police tried to shut me up and tell me what to preach. It's ridiculous. I believe in freedom of speech. I'm going to keep on preaching the gospel," he said, according to the Guardian. "I have nothing against Muslims, I have never hated Muslims, I have never hated anyone. But I am against what Muslims believe."
McConnell continued, "They have the right to say what they believe in and I have a right to say what I believe."
As TheBlaze previously reported, Ashers Baking Company in Northern Ireland was also recently convicted of discrimination after refusing to make a cake with a message supporting gay marriage. The bakery is currently appealing.
(H/T: BBC)
--
Follow the author of this story on Twitter and Facebook: