Dunkin' Donuts is garnering praise after releasing a holiday-themed coffee cup in the midst of intense debate and media attention surrounding Starbucks' plain, red cup design — but there could be yet another twist in the bizarre story that began with one man's viral, anti-Starbucks rant.
An image of the Dunkin' cup — which features the word "Joy" in the middle of what appears to be a Christmas wreath — appeared on Dunkin' Donuts' Instagram page on Tuesday, ushering in a plethora of favorable comments from the coffee giant's followers.
"[Dunkin' Donuts] just destroyed [Starbucks]!!! That's what's up, wrote one fan. Another added, "Merry Christmas Dunkin Donuts! See you tomorrow morning!"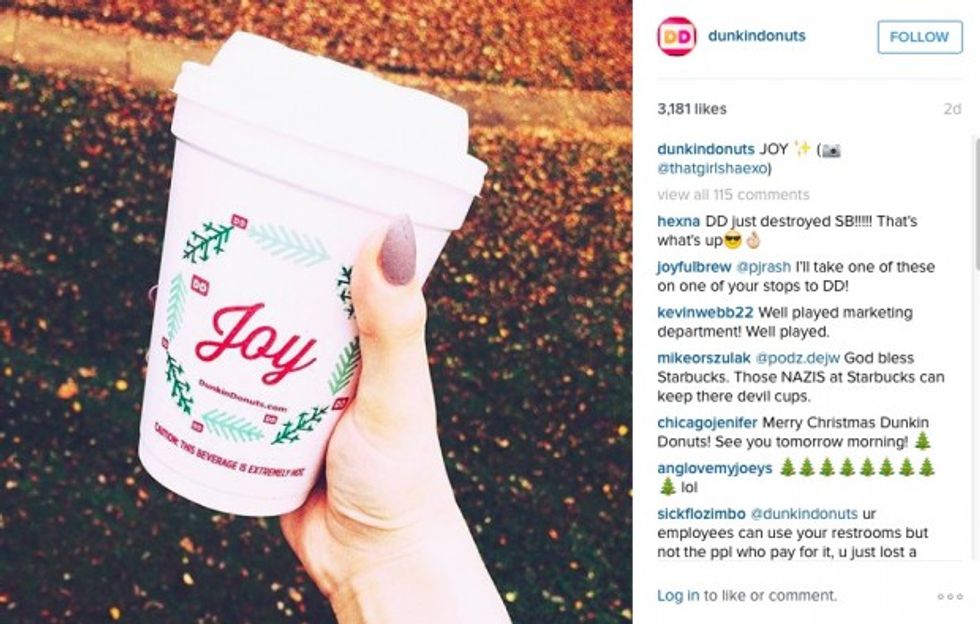 A screen shot from the Dunkin' Donuts Instagram account
Others simply admired the marketing department's decision to release the design in the middle of the Starbucks drama.
As you may recall, the media attention surrounding Starbucks' simple, red cups touched off after Internet evangelist Joshua Feuerstein decried the design — which is devoid of holiday symbols — in a now-viral video as being a part of the so-called War on Christmas.
But as Christian consumer groups and fans shower praise upon Dunkin' Donuts' design, this reporter noticed something curious while in line for a cup of joe at Starbucks this morning: Not every one of Starbucks' coffee cups are adorned with a plain, red design.
In fact, the coffee company is selling a $2 reusable cup at at least one of its locations in Westchester, New York, which — much like Dunkin' Donuts' cup — features the word "JOY" in large red letters.
When asked when these reusable cups were released, a barista said that they were put on display on Monday, just one day before Dunkin' Donuts released its own "Joy" design.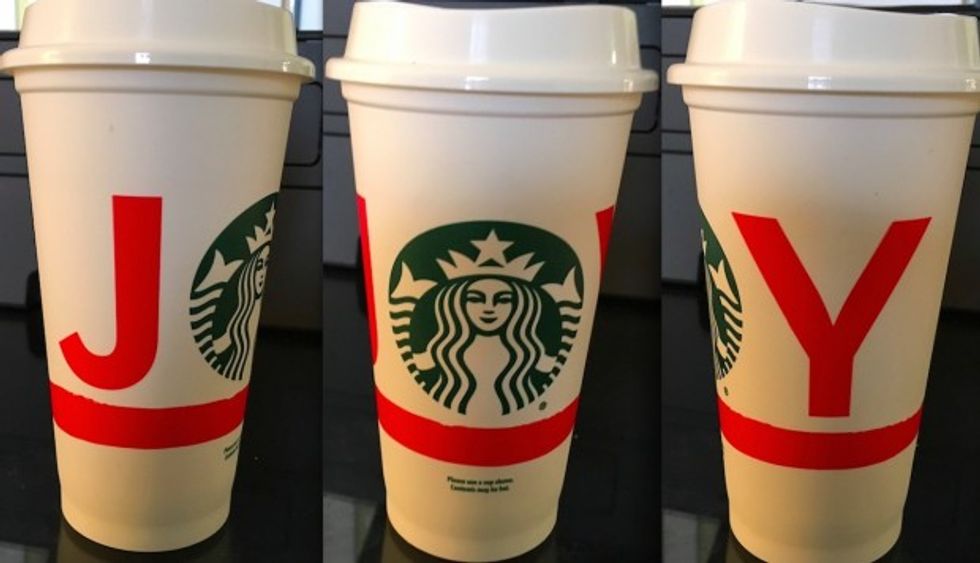 The holiday-themed reusable cup that is on sale at Starbucks (TheBlaze/Billy Hallowell)
The cup isn't currently being actively plugged or sold on the Starbucks' website, and a request for comment from the coffee company inquiring about specific background details has not yet been returned to TheBlaze.
As TheBlaze previously reported, debate over Starbucks' plain, red, non-reusable cups ignited after Feuerstein released his Nov. 5, Facebook video, lambasting the design.
"I think in the age of political correctness we've become so open minded our brains have literally fallen out of our head," Feuerstein said in the clip. "Do you realize that Starbucks wanted to take Christ and Christmas off of their brand new cups? That's why they're just plain red."
Listen to Feuerstein explain his arguments below:
Critics have lambasted Feuerstein's objection to the plain, red cups, claiming that the argument is silly and that Starbucks is not a Christian company and should, thus, not be held to faith-based standards.
The company also responded to the controversy by affirming its commitment to "welcome customers from all backgrounds."
"Starbucks will continue to embrace and welcome customers from all backgrounds and religions in our stores around the world," a statement from Starbucks read.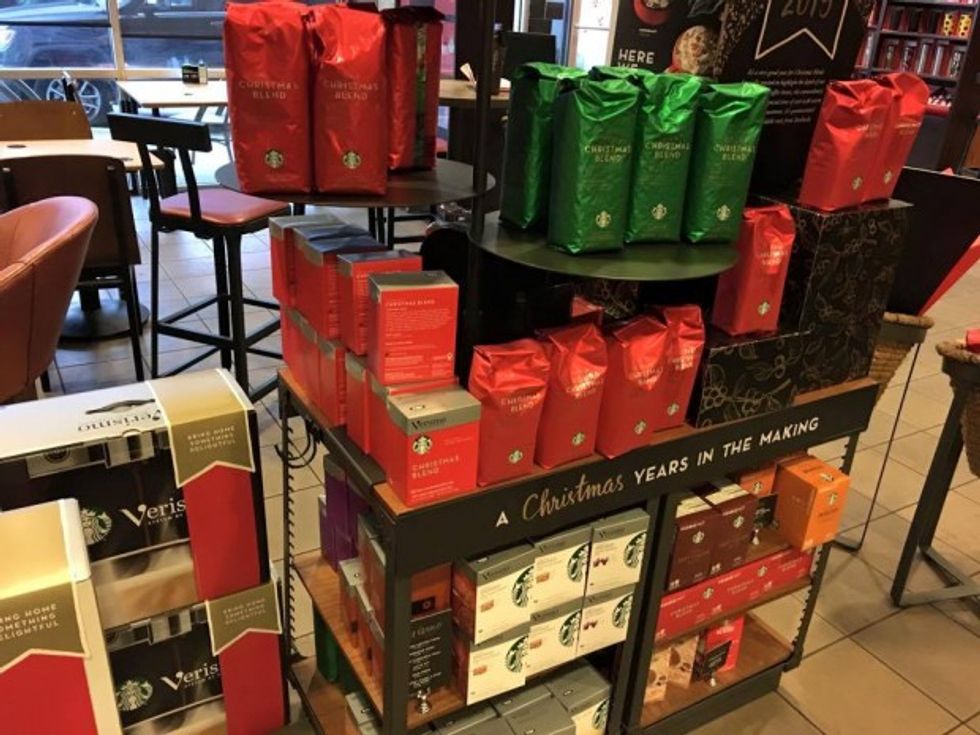 A Christmas display inside Starbucks' Dobbs Ferry, New York location (TheBlaze/Billy Hallowell)
It should be noted that Starbucks sells an advent calendar as well as Christmas blend coffee.
--
Follow the author of this story on Twitter and Facebook: