When mules trekked up into remote regions of Olympic National Park in Washington with packs strapped to their backs last month, the thought that they were doing work for NASA was likely one of that last things people would have imagined.
NASA is often thought of as a high-tech agency, pioneering space travel and other new technologies on Earth, but sometimes century-old methods are simply the best way to get the job done.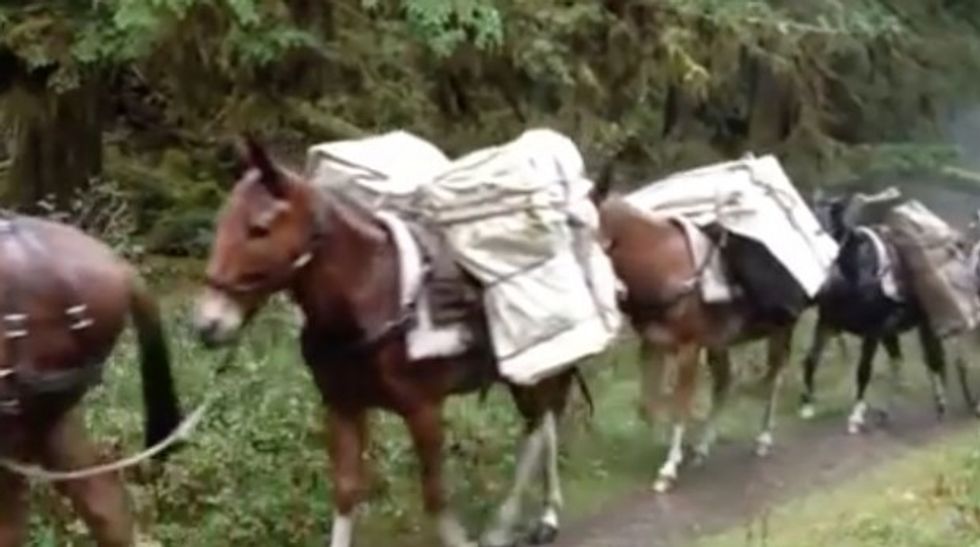 Image source: YouTube
NASA, the National Oceanic and Atmospheric Administration and other institutions employed the mules to carry weather-sensing equipment that will allow scientists to compare what's happening on the ground to the data being picked up by Global Precipitation Measurement satellites.
"All of these measurements are aimed at determining if the assumptions that we're making about interpreting the satellite measurements are correct," Bob Houze, professor of atmospheric science at the University of Washington and principal investigator involved with the project, said in a statement.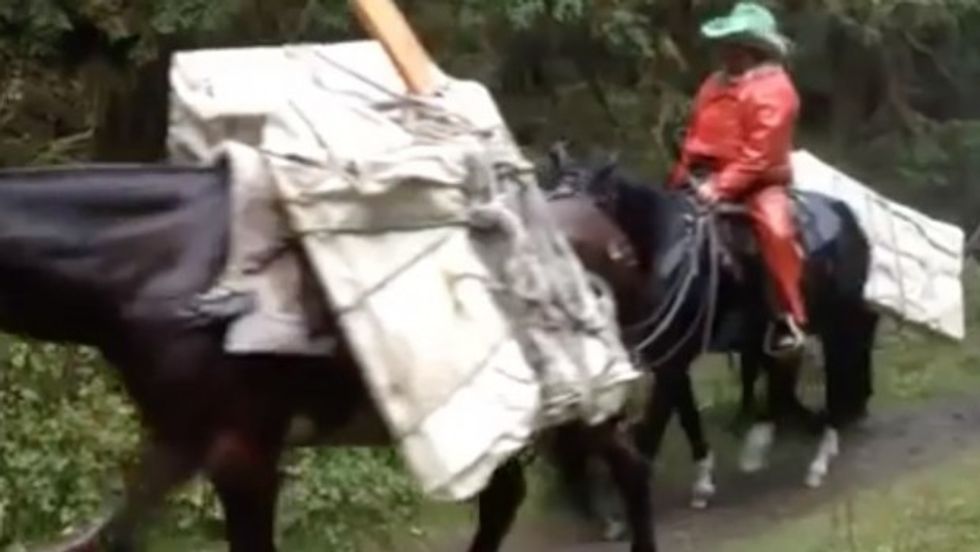 Image source: YouTube
Houze explained that because different cloud conditions can result in the same amount of rainfall, by taking ground measurements, he said it will allow scientists to make sure assumptions they're making from satellite data are right.
"We want to know that we're getting the right amount for the right reasons," Houze said.
Watch this footage of the mules carrying some of the sensing equipment to remote locations:
The study itself began this week and will last through December 21. Here's more on the Olympic Mountain Experiment being conducted via NASA's news release:
NASA's DC-8 flying laboratory, managed by NASA's Armstrong Research Center in Palmdale, California, will fly at an altitude of 36,000 feet above storm clouds that approach the Quinault and Chelhalis River basins on the Olympic Peninsula. In mid-November it will be joined by NASA's ER-2 aircraft, funded by NASA's Radar Experiment to study clouds, which will fly at 65,000 feet. Both planes will carry instruments similar to those flown in space to simulate satellite observations. At the same time, another aircraft, the University of North Dakota Citation, will be flying through the clouds taking direct measurements of the droplets and ice crystals within.

On the ground, advanced weather radars will be looking up at the clouds, studying their internal structure and how it changes as the storms move from the ocean inland. Arrays of rain gauges and other instruments on the ground will collect data on how much rainfall or snowfall reaches the surface. They will also image and count individual raindrops and snowflakes to assess on the micro-scale what heavy or light rain or snowfall looks like.
"The GPM mission is up. We're flying right now. We're making measurements. So the questions are, what can we do right now and what do we have to do to improve?" Walt Petersen, GPM's deputy project scientist for ground validation at NASA, said in a statement.
"This stack of measurements lets us connect the dots between what we see from space, what happens in the clouds and what we measure on the ground," Petersen said.