A North Carolina town encouraged residents to sign a nonviolence pledge and turn in unwanted firearms Saturday.
According to the Greensboro News & Record, the Greensboro Police Department collected all guns that have been cleaned and unloaded from anyone at least 18-years-old during the weekend event. The police department also accepted guns anonymously.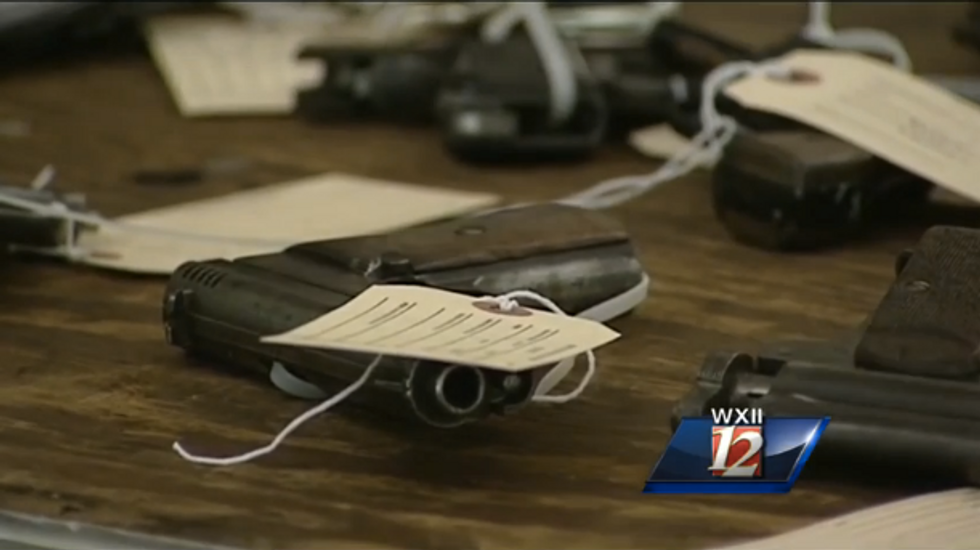 Image source: WXII-TV
Residents were encouraged to sign the "Pledge of Nonviolence" and relinquish any unwanted handguns, rifles, shotguns and ammunition to the police Saturday at the Destiny Christian Center. Guns will be checked to see if they had been lost or stolen; if so, those guns will be returned to their rightful owner, the News & Record reported.
"Violence is on the rise somewhat in our community," Deputy Police Chief James Hinson told WXII-TV. "A lot of that violence is centered around handguns and aggravated assaults. And the ultimate goal is to reduce violence in our community so that our citizens can feel safe when they go out and just continue to improve the overall image of our city."
WGHP-TV reported that the first 1,000 Greensboro residents to sign the pledge would receive a small gift. However, there is no compensation — including monetary — for turning in firearms.
Greensboro citizens who could not attend Saturday's event can still turn over their weapons to the police department at anytime by calling the department's non-emergency phone number, according to the News & Record.