Bethany Salgado and her three friends were walking past the Palais Garnier opera house in Paris Friday night contemplating where they should have dinner when they first noticed the sirens.
Thinking nothing of it, the four American girls, all of them college students studying abroad in Europe and visiting Paris for only the weekend, continued to look for a restaurant  — and headed straight for the Bataclan theater.
It wasn't until one of the girls' concerned parents called shortly after the night's first bombing that they realized something bad was happening. Salgado, a 19-year-old University of Texas at Dallas student, told TheBlaze that, after the call, as they sought shelter "to figure out what to do," a stranger advised them to go in a different direction as they were headed straight for the attack sites.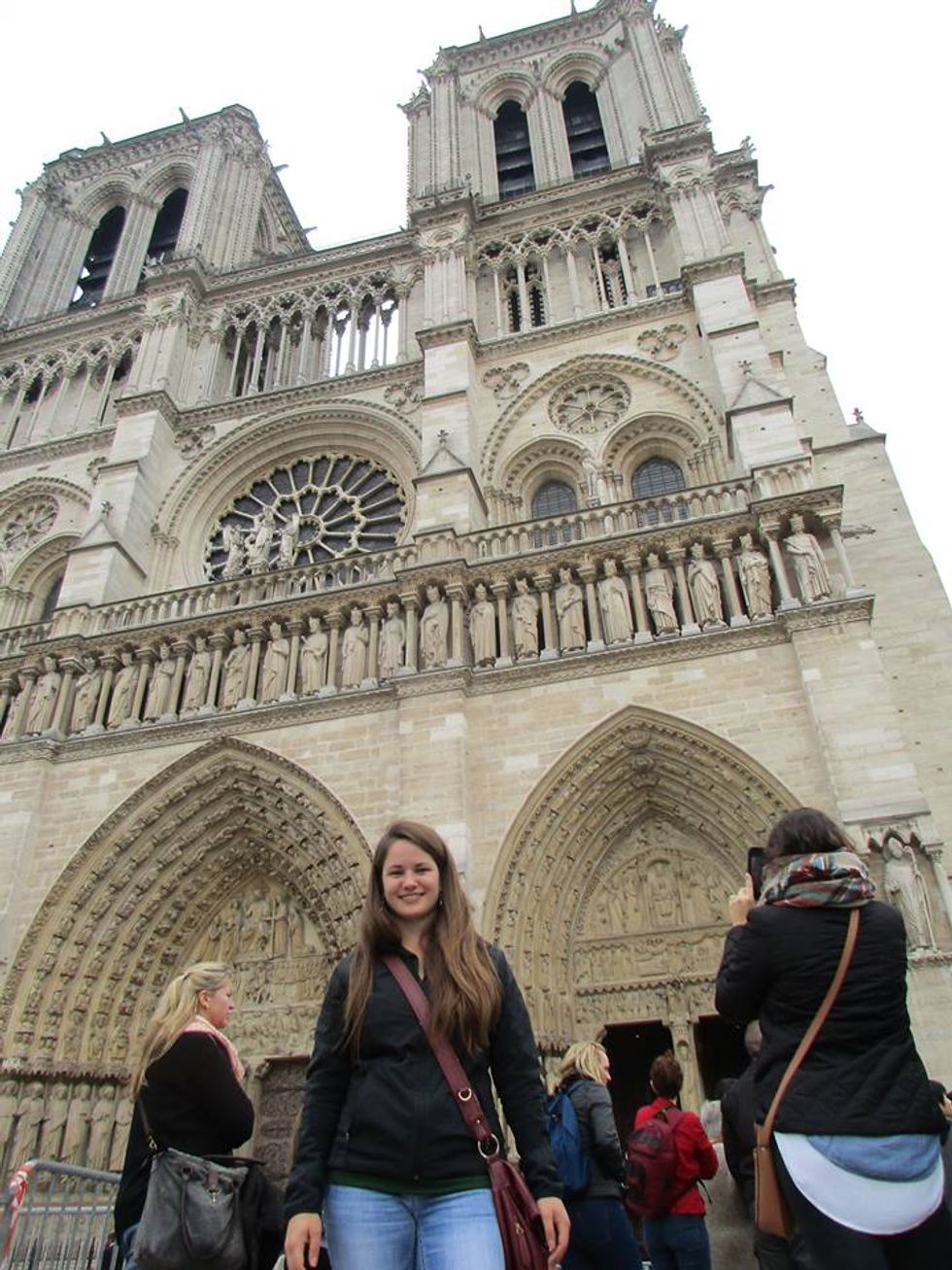 Bethany Salgado, 19, poses in front of Notre Dame prior to Friday's terrorist attacks. A student at the University of Texas at Dallas, Salgado is studying abroad at Universitat Jaume I in Spain for the semester. (Image provided to TheBlaze)
"It was strange to hear that there was a terrorist attack happening, because everyone around us in restaurants, on the streets, et cetera didn't seem to know what was happening, so everything was calm and normal," Salgado said, adding that once they found a restaurant with a television and could see the news coverage, the friends were all "in shock."
The next course of action for the four friends — Salgado, fellow UTD students Jennifer Quiros and Shefali Chauhan and a Murray State student — seemed simple enough, but it was one of the most daunting tasks the young women would wind up facing: finding an available taxi and taking shelter at the U.S. Embassy.  
Not only could the young women not find a single taxi during the 20-minute walk to the embassy, once they arrived, U.S. identification in hand, they were turned away.
Salgado said that during their first attempt to shelter inside the embassy, she and the other young women were turned away by a French military man who suggested they take a taxi home. Again, the young women waited at a taxi stand for several minutes and tried to call a cab company — all to no avail.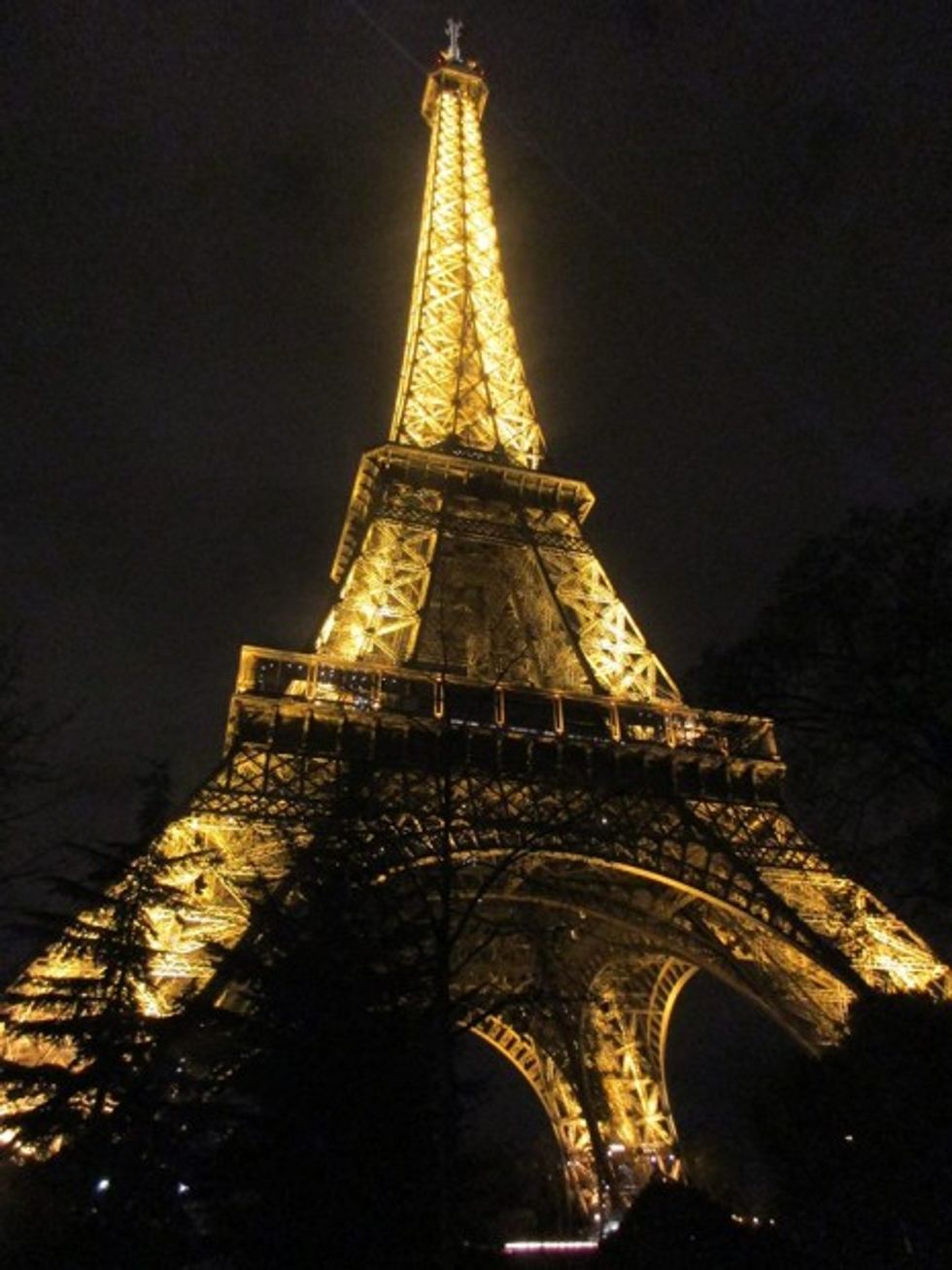 Salgado, 19, visited Paris on Friday while she studies abroad in Europe. (Image provided to TheBlaze)
So Salgado said that she tried to enter the embassy again, this time speaking with a different guardsman. She offered up their IDs and allowed him to do a security check. When he returned with their IDs, he was accompanied by a French man who works for the embassy. 
"The man explained that we could not be let into the embassy because the French president, prime minister and minister of the interior were all meeting in a building [Palais Elysees] just two buildings away from the embassy, and so they had the whole block on lockdown," Salgado recounted. "He also told us that embassies are typically only offered as places of shelter for citizens during wartimes, and since the terrorist attacks were a single, isolated event, the embassy was not available to let in citizens."
The man then suggested the young women take the metro system to return to their hotel — a suggestion the young women were not entirely comfortable with given that it had been less than an hour since they were informed of the attacks and they didn't have any information regarding the whereabouts of those responsible.
It was then, Salgado said, that an American agent emerged from the embassy to speak with the group.
"All four of us young women were scared and at a loss for what to do to get back to our apartment," Salgado said. "The agent was very calming and expressed great understanding and sympathy for our fear."
The American worker calmly reiterated what his French counterpart had said — the embassy could not take in anyone because French officials were so close and the entire block had been locked down. He also told Salgado and her friends that embassies can be major targets during terrorist attacks and advised the young women to avoid it.
Salgado told TheBlaze that she appreciated the worker's understanding and soothing nature as he gave them advice on how to get back to where they were staying. He also provided them with phone numbers for the embassy, French police and European emergency services.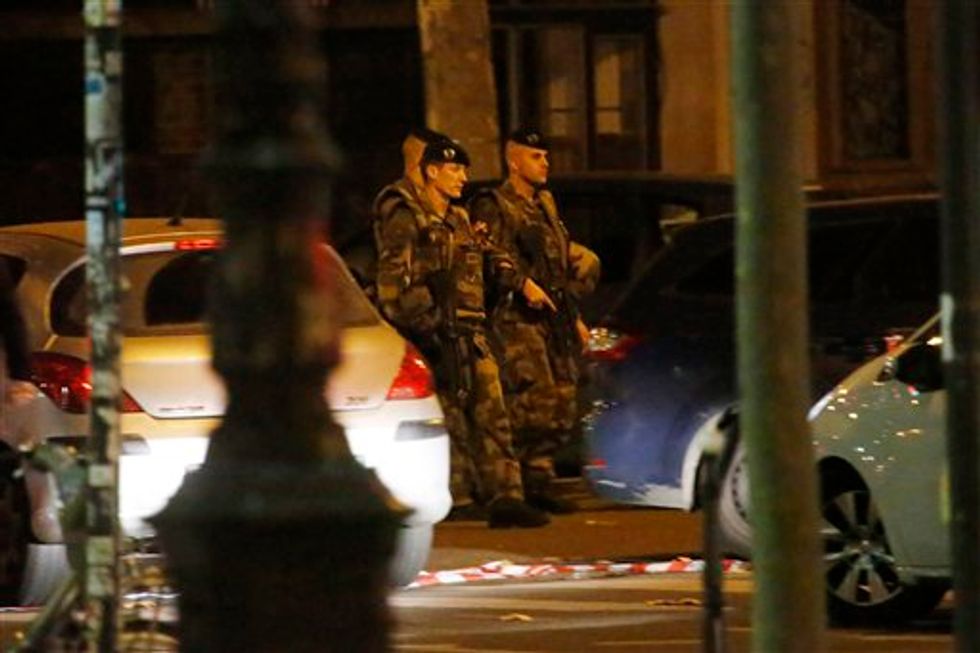 French soldiers patrol after a shooting at the Bataclan theater in Paris Friday. Well over 100 people were killed in a series of shooting and explosions. (AP Photo/Jerome Delay)
"When we first found out about the attacks and started walking toward the embassy, I told the girls to talk as little as possible and — when it was necessary — to talk in low voices," Salgado said. "I wanted to eliminate as many hints of us being American as possible, and our speaking English was the first thing that came to my mind as making us targets. The whole walk to the embassy we were afraid to be on the streets, so we walked as fast as possible. We also didn't want to be staying still in a building and get stuck in there like sitting ducks because at that point we had heard that the shootings were in random restaurants and on the streets."
Eventually, the young women were able to find a taxi and make it back to their neighborhood, which was safe from the attacks. The rest of the night, Salgado said, was spent making sure loved ones knew they were safe. 
"It was a very stressful night," Salgado said from her temporary home in Spain, where she is studying this semester. "We were scared, frustrated when talking to the French guardsmen who turned us away from the embassy, but understanding and grateful when we were told why we couldn't go in."
Salgado and her friends weren't the only ones turned away from the U.S. Embassy Friday night. According to WSB-TV, Will Bogle and his wife Rebecca Hill-Bogle, who is six months pregnant, were in Paris to celebrate Will's birthday when the attacks occurred. The couple also sought shelter at the embassy but were turned away.
According to the State Department's website, an embassy's actions during a crisis "depends on the nature of the crisis."
"In some instances, we may only need to provide information on conditions in the country, such as warning about areas of unrest, how and where to seek help, and other useful advice," the website states. "In more serious situations, we may recommend that U.S. citizens leave the foreign country, and, if commercial transportation is not available, provide departure assistance, as our resources permit."