Skylar Gerrond and Matt Barido are U.S Air Force veterans and gun owners.
About five years ago, the pair was sitting around thinking about home protection, firearm safety and their young children.
"We were thinking, 'What can we do to be responsible gun owners and still be ready and what does market offer?'" Barido told TheBlaze.
For firearms to be stored safely when children are in the house, Gerrond said, they need to be in a locked safe with the bullets stored in a completely different location. That, though, defeats the purpose of being read the moment they might be needed for protection.
On the flip side, to be ready for use at a moment's notice, he explained, firearms are often hid in easy to access but often insecure locations.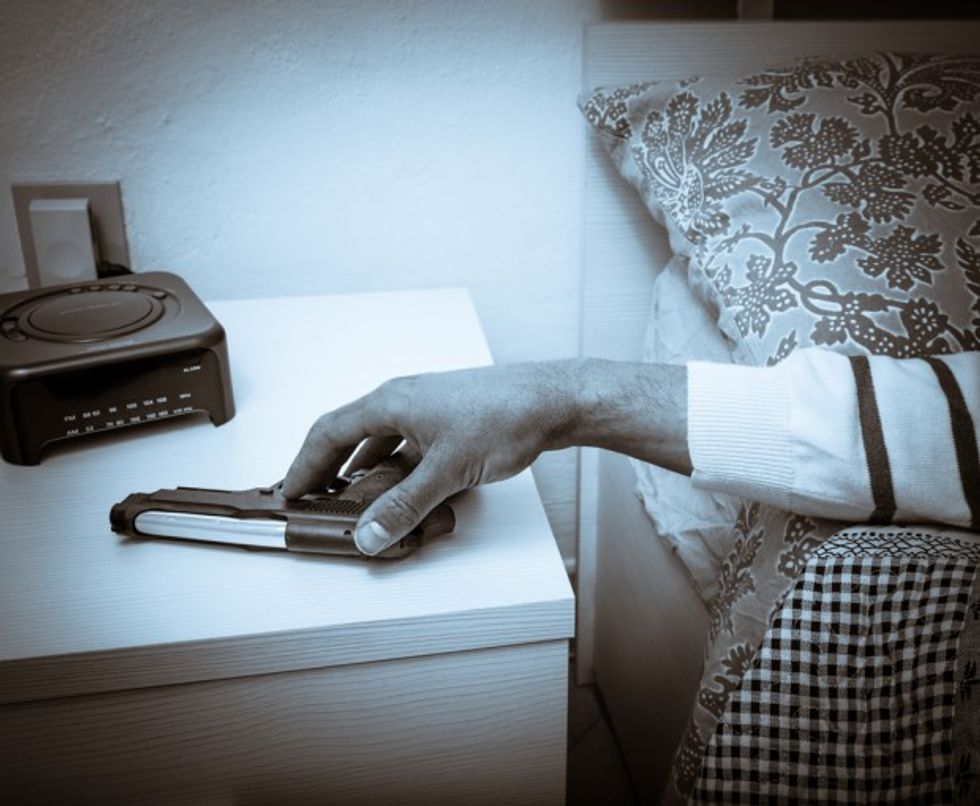 A firearm on the bedside table might be ideal for some owners from a home protection standpoint, but in households with young children, it might not be the most secure location. That's what led two military veterans to develop a a biometric trigger guard. (Photo credit: Shutterstock)
"Obviously, we try to hammer this home: The safest way to store your handguns is locked way separate from ammunition, which is also locked," Gerrond said. "Unfortunately, that leaves you in a position where a handgun you have purchased for home defense can't be used in a situation that you purchased it for.
"That's the dilemma that drives people to taking the worse course of action — a loaded handgun, not secured at all, in 'safe place' where [they think the] kids doesn't know about it," Gerrond said.
This is what drove the two men to develop an on-gun trigger lock that opens the weapon for firing only if it senses the right fingerprint, unlocking in less than one second.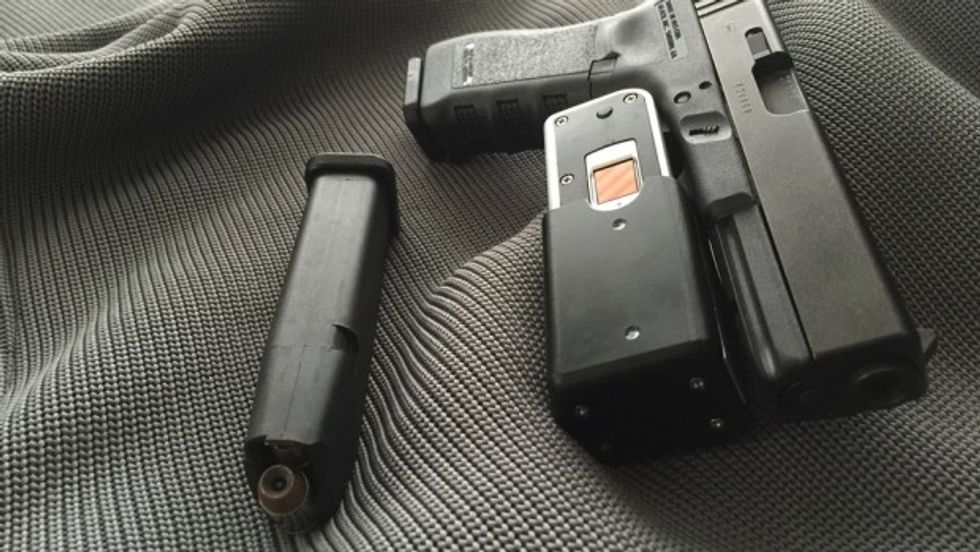 Veri-Fire's Guardian is a trigger guard that opens with a fingerprint or four-digit code. (Photo credit: Veri-Fire)
Guardian, a prototype by their company Veri-Fire, is a custom adapter that slides completely over and blocks the trigger of the gun until an accepted fingerprint or 4-digit pin is entered.
"We wanted something that never actually left handgun. The slide retracts forward and moves forward in front of trigger guard, allows access for you to physically insert finger into trigger well," Gerrond said of how the device unlocks.
Watch how it works:
Here's a live fire video:
When the firearm is unlocked either with a fingerprint or pin, it remains open until the user relocks it. The apparatus as well can be physically removed, but it's not an instantaneous process, requiring a tool to remove the screws.
Guardian fits most semi-automatic handguns but is not compatible with revolvers. According to the company's FAQs, they are in the early stages of developing similar products for rifles and handguns.
Guardian is also not designed to be shared among multiple weapons as the adapter to attach the guard to the gun is custom, made via a 3-D printer for the specific make and model of the firearm.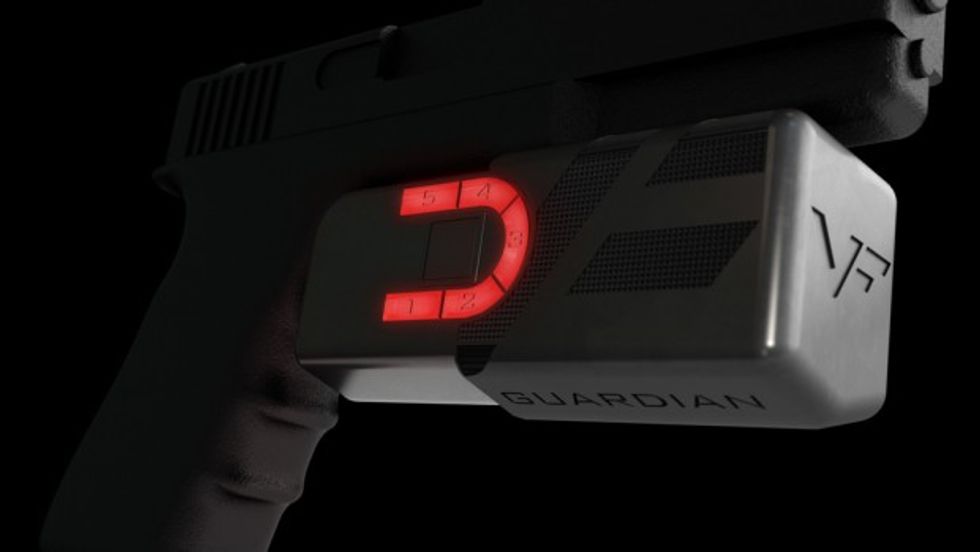 Though the creators are confident in the fingerprint scanner, as a backup, they also included a keypad for users to type in a code as well. (Photo credit: Veri-Fire)
"We have designed Guardian so that the primary pieces of it are universal and will be the same for every Guardian that we ship," Gerrond said. "The piece that is custom is only the piece that attaches to the individual handgun. It will basically sandwich around the trigger guard portion of that gun and allows the part that's universal to mount to that."
And if you're worried about the security of your biometric data as a whole. Here's what Veri-Fire has to say about that:
Guardian is completely self-contained and has no external data connections or wireless communication capabilities.  That means that fingerprints that are enrolled in Guardian cannot be remotely accessed by anyone, including Veri-Fire.  It also means that Guardian cannot be remotely locked, unlocked, or altered in any way.  You maintain full control of your personal information.
The makers tout that Guardian does not impede normal function or use of the firearm when in the unlocked position.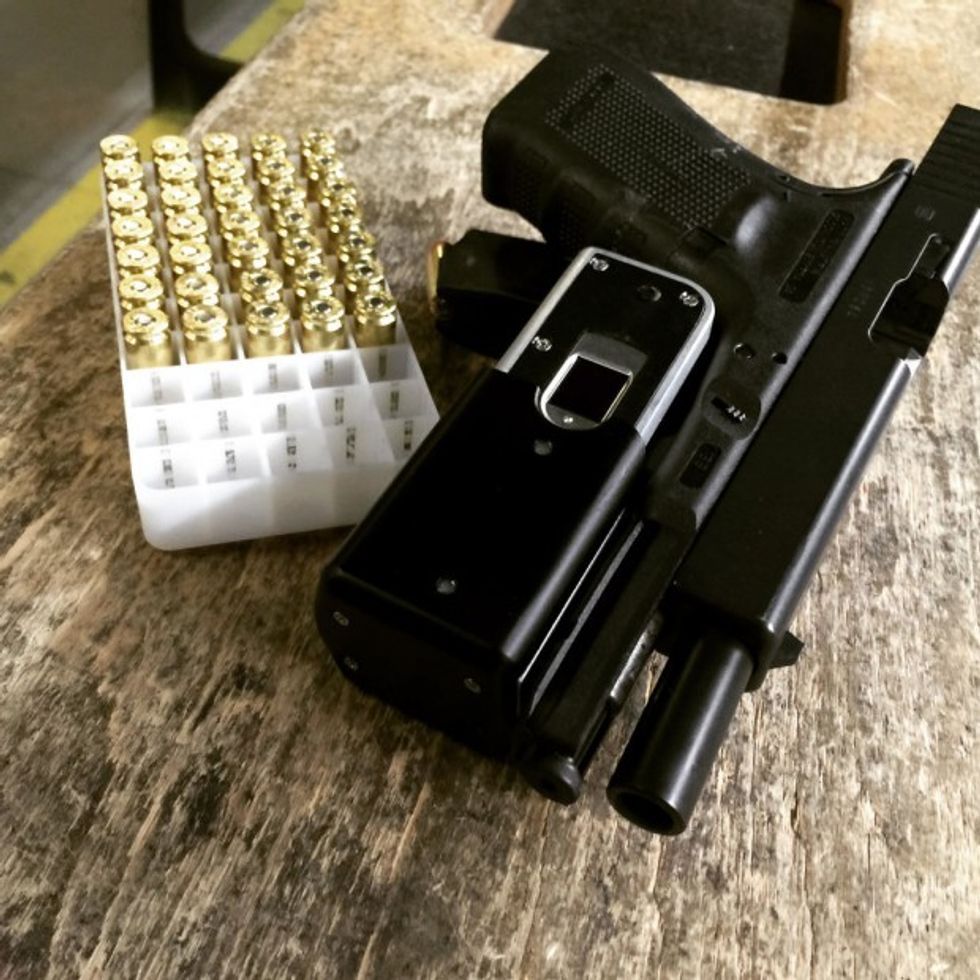 Photo credit: Veri-Fire
Gerrond and Barido are quick to emphasize that Guardian is not a smart gun.
"This is something that's optional and it's available to consumers for their existing handguns," Gerrond said. "We don't want to get into the smart gun debate and all the associated stigmas. We want to offer this for consumers who choose to use it, if it makes sense for their application."
The idea of a biometric-activated smart gun has been a controversial topic in gun communities. Gun safety advocates hail the technology for having the potential to stop firearms from being used by the wrong people. On the other hand, gun advocates believe the technology is not up to snuff and they also lament any mandated requirements of smart gun technologies.
"Smart guns don't solve what we're trying to solve. There are 150 million existing handguns, 19 million used for home defense, 6 million reported to be in homes with children. It's the home defense with kids in the home," Barido said of the problem that Guardian is meant to help solve.
"The smart gun doesn't solve that today," Barido said, adding that it might never.
Guardian, however, "is literally the same thing as a biometric safe. It's the perfect application of that security to an existing gun," he said.
At this point, Barido and Gerrond are trying to bring Guardian to the market via a crowd-funding campaign.
Their Indiegogo campaign with a $100,000 funding goal launched Monday and as of the time of this posting has over $10,000 in funding.
While the makers provide some lower level perks for those who just want to support the campaign, early birds wishing to get a Guardian can do so for $159, which is half off the $299 retail price it will be sold for after the campaign. Once all the early bird backing slots have been filled, the device will be offered for $179 and then $199 for a limited time in the campaign. Deliveries, if the crowd-funding goal is met, are planned for July 2016.
Learn more about Guardian on the Veri-Fire website.