A Chicago woman has a plan to stop gun violence in her community — and it's taken right out of a new movie.
April Lawson told WLS-TV that when she saw a group of men camped out in front of a new shoe store, seemingly apathetic in the wake of a season riddled with gun violence, she knew she had to act.
"You're watching these guys just like buying gym shoes and carrying on like life is normal," Lawson said.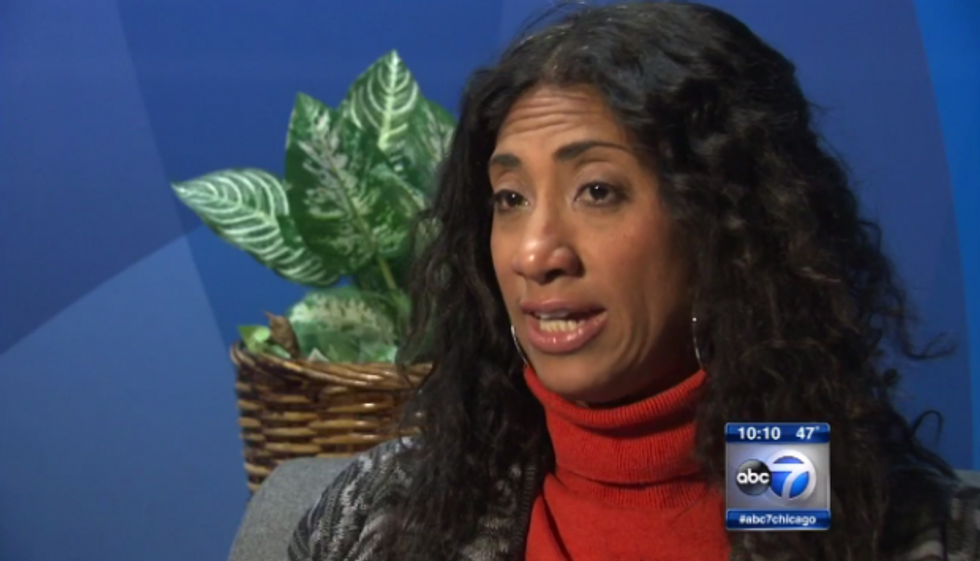 Image source: WLS-TV
Then she saw a preview for the new Spike Lee film "Chi-Raq," which features a group of women who decide to withhold sex — or go on a sex strike — until the men eradicate gun violence in the neighborhood.
With that movie in mind, Lawson created a Change.org petition that calls for women to go on a "sex strike" and close the "candy store."
Lawson's petition includes this pledge:
Until an official treaty is signed and an actionable plan is in place by all black men who live in this city, I take a vow of celibacy. I vow to refuse sex to any man I'm dating, engaged to or married to until the perpetrators of these heinous crimes are brought to justice. I vow to keep my affections for men vocal, spirit filled and non-sexual until all children on the south side are safe to play outside their doors. I vow to stay celibate until black men organize and create a strategy to keep the peace in our neighborhoods. All men must take responsibility to take back their communities and behave as global citizens who patrol their own streets until every block in every neighborhood can all breathe again in ease.

Until ALL men in every neighborhood take a solemn oath that they will stay proactive instead of passive I will remain vigilant to the cause.
In the petition's description, Lawson makes sure to note that she does not condone using sex as a "weapon" in relationships, but adds that "drastic times calls for drastic measures"
"In a patriarchal society, a problem will not be addressed until it directly affects men," Lawson wrote in the petition. "Abstinence has been used as a means of nonviolent protesting throughout history. Sex strikes are forms of resistance often used to meet political, social or economic goals.
The petition ends, "GENTLEMEN, THE CANDY STORE IS OFFICIALLY CLOSED. WE ARE ON STRIKE. PANTIES UP. SKIRTS DOWN. Let the lockdown begin."
At time of publication, the petition had 17 signatories.