Thomas Tran Dinh said he was attending the Eagles of Death Metal concert in Paris when the terrorists struck the Bataclan concert venue — and it was his favorite song that saved his life.
Dinh, whose LinkedIn states that he is a digital commerce manager with IBM in France, wrote on the social media page that he moved down to the front of the show when the band began to play his favorite song, "Oh Girl." It was then, while Dinh was down in the front, that the terrorists entered the building and began to shoot.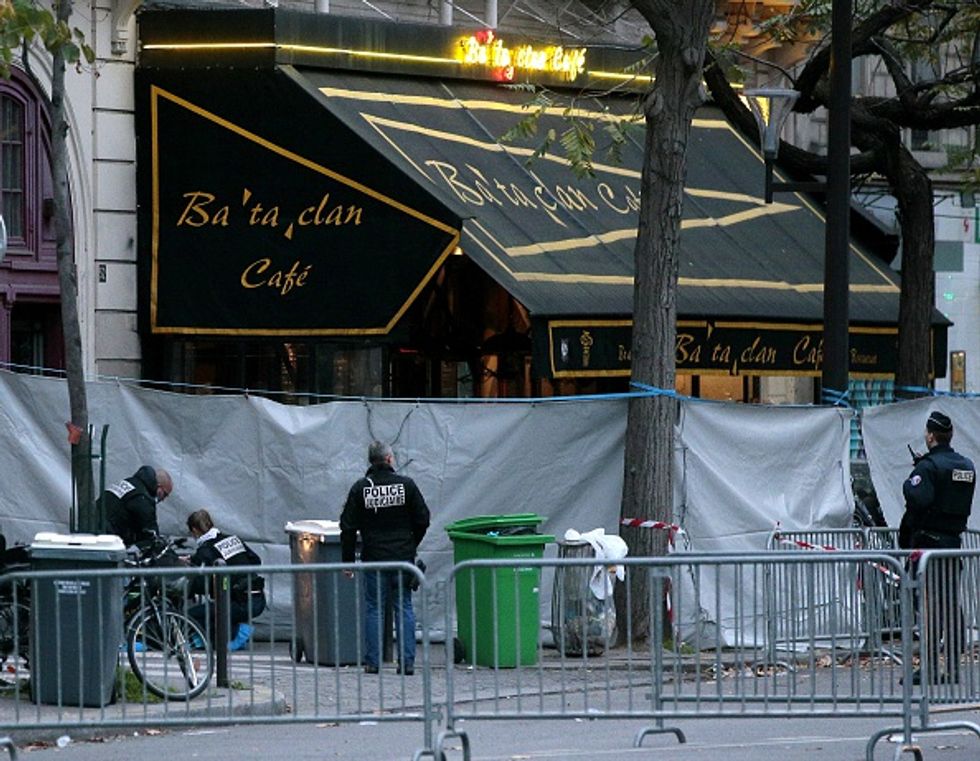 Police officers carry out investigastions behind a cordoned off area at the Bataclan theatre in the 11th district of Paris on November 14, 2015, the day after a series of six attacks on the city resulted in the deaths of over 128 people and 200 other injured. More than a hundred people were gunned down at the Bataclan theatre in Paris during a concert by the US band Eagles of Death Metal. (Photo credit should read JACQUES DEMARTHON/AFP/Getty Images)
Dinh wrote:
The guy next to me got shot in the leg and we laughed: "damn i'm gonna miss Sunday's Foo Fighters concert." I was there for 15 minutes, a hundred rounds were shot. I waited for a window to run away. Someone then said, they're going upstairs. I knew I was dead, with my tall body coming out from everywhere and with them shooting from above, I decided to run away. The path was full of bodies drenched in blood. The people who tried to escape earlier. Fortunately they all took the stairs at once so no one was watching and no one shot me. One minute before or after they would have shot me. And then I ran fast and far away. In the few hours after I finally learnt that all my friends that I convinced to come with me to that concert were safe... although one received a bullet in the eye. Please pray for him and everyone else. I've learnt the Foo Fighters guy was safe too.
"If I hadn't been on the front row, I never could have made it out through the emergency exit. The chorus of Oh Girl is 'You've got to save me,' Dinh wrote. "And Jesse Hugues became a priest. Thank God. In all this mess someone was looking for me."
Dinh concluded his brief personal essay with an admonishment for all — "let's love each another" — and encouraged his readers to start the new day with love instead of hate.
At least 120 people were killed when terrorists attacked several areas, including the Bataclan concert venue, in Paris Friday night. French President Francois Hollande, who was inside of a stadium when bombs were detonated nearby, vowed to lead a "pitiless" war against the attackers.
Read Dinh's essay at his LinkedIn account here.
(H/T: NBC News)