French Prime Minister Manuel Valls warned Thursday that terrorists could launch a chemical or biological attack, as he urged French lawmakers to extend the country's state of emergency for an additional three months.
"We must not rule anything out. I say it with all the precautions needed. But we know and bear in mind that there is also a risk of chemical or bacteriological weapons," Valls said according a translation by the Daily Telegraph.
"The macabre imagination of the masterminds is limitless," he added.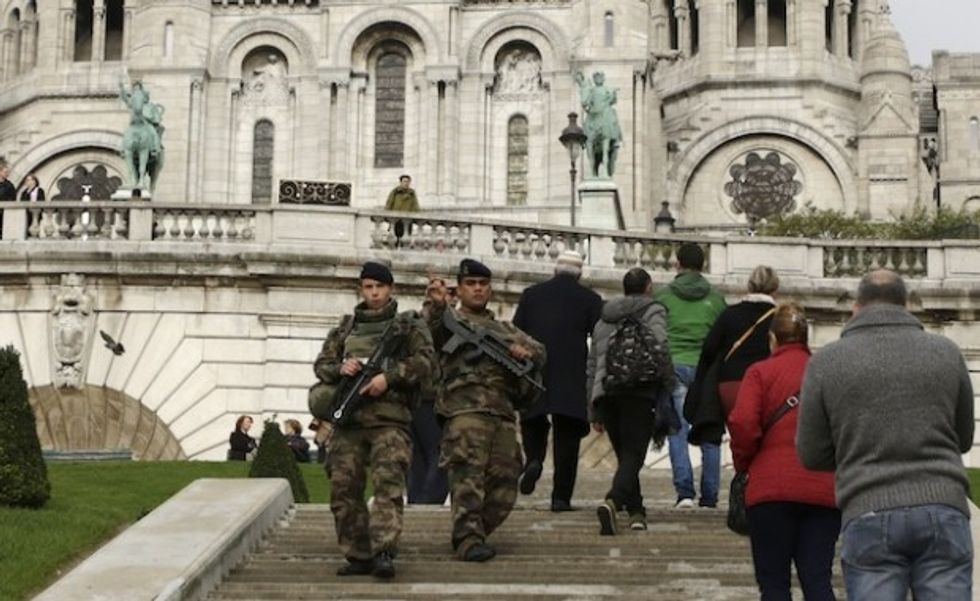 French soldiers patrol at the Sacre Coeur basilica in Paris, France, Wednesday, Nov. 18, 2015. A woman wearing an explosive suicide vest blew herself up Wednesday as heavily armed police tried to storm a suburban Paris apartment where the suspected mastermind of last week's attacks was believed to be holed up, police said. (AP Photo/Amr Nabil)
Meanwhile, Belgian police Thursday morning launched six raids in the Brussels area, where Abdelhamid Abaaoud, the suspected mastermind of the coordinated Paris attacks, grew up.
The raids were focused on associates of one of the suicide bombers Bilal Hadfi, security sources said.
An unnamed official in the Belgian federal prosecutor's office told the Associated Press that the raids were in Molenbeek and other parts of Brussels.
Hadfi was one of the three attackers who targeted the Stade de France stadium in Friday's attacks claimed by the Islamic State group.
"Terrorism hit France, not because of what it is doing in Iraq and Syria ... but for what it is," Valls said according to the AP.
French officials on Thursday said they still did not know if Abaaoud, the suspected ringleader of Friday's attacks, was one of two killed during the police raid Wednesday at an apartment building in the Saint-Denis suburb of Paris, only that a man was killed by police and a woman was killed when she detonated her suicide vest.
The Washington Post reported Wednesday night that Abaaoud had been killed, quoting two senior European officials who had been briefed on the investigation. As of Thursday morning, French news outlets and news agencies had not confirmed that information.