Rumors and reports had been swirling over the last few days that a Georgia college student was fired from her job after posting criticisms of Black Lives Matter on social media, but new information Friday indicates those rumors were false.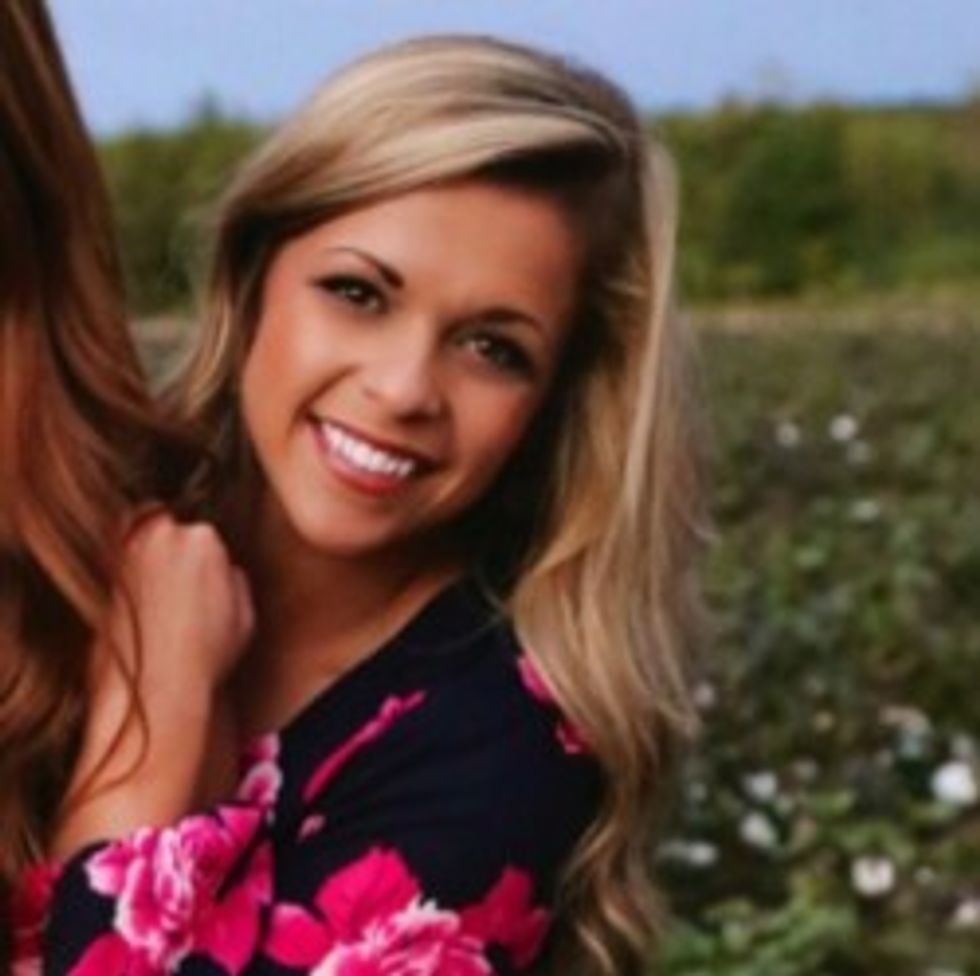 Emily Faz (Image source: Facebook)
Emily Faz — a senior at Georgia Southern University and an employee of Wild Wing Cafe in Statesboro — posted a Facebook message Monday saying Mizzou protesters and Black Lives Matter supporters were wrong for being upset that the Paris terrorist attacks were stealing their headlines.
"I swear if I see this B.S. at Southern I will make you regret even knowing what a movement or a hashtag is and you'll walk away with your tail tucked," Faz wrote, adding that the Black Lives Matter movement is "misguided and out of hand" and that "all lives matter."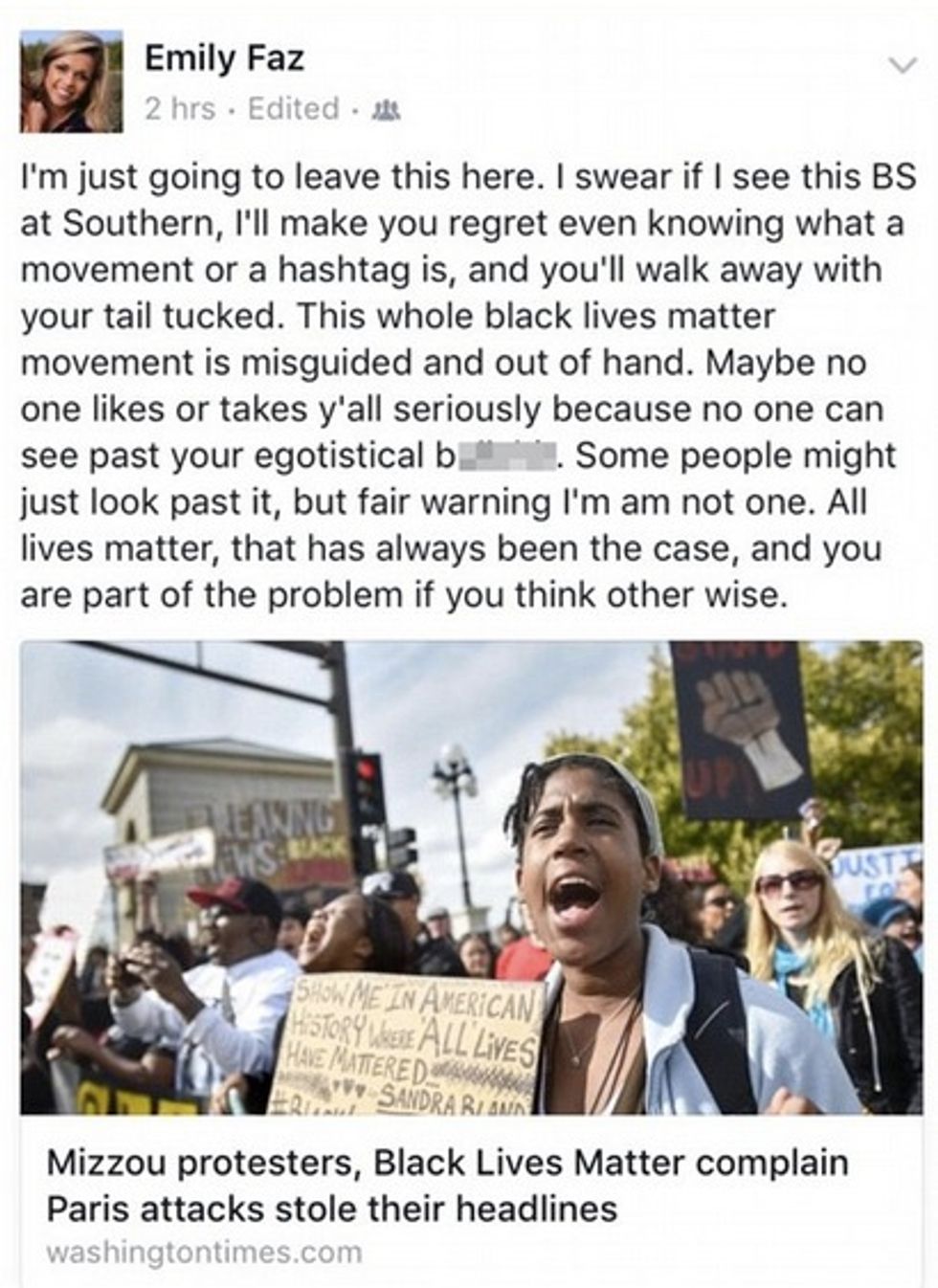 Image source: Facebook via Coed
However, once the objects of her message found out about it, they lashed back:
I say we all find Emily Faz on campus and make her read that Facebook post to all of black gsu.

— Baby D (@KaliforniaSun_) November 16, 2015
We gotta find this Emily Faz

— Tony Brizown (@21_ShumpStreet) November 16, 2015
Black Gsu is lit right now , they made shawty a hashtag #EmilyFaz #SouthernNotState #GSU.

— Ed, Edd and Petty (@Delosandro) November 16, 2015
Somebody should've warned this #EmilyFaz chick... don't come for Black GSU unless we send for you

— Tamearia (@GreatGrayMatter) November 16, 2015
Faz got so popular that a hashtag emerged. One Twitter user even posted personal information about her: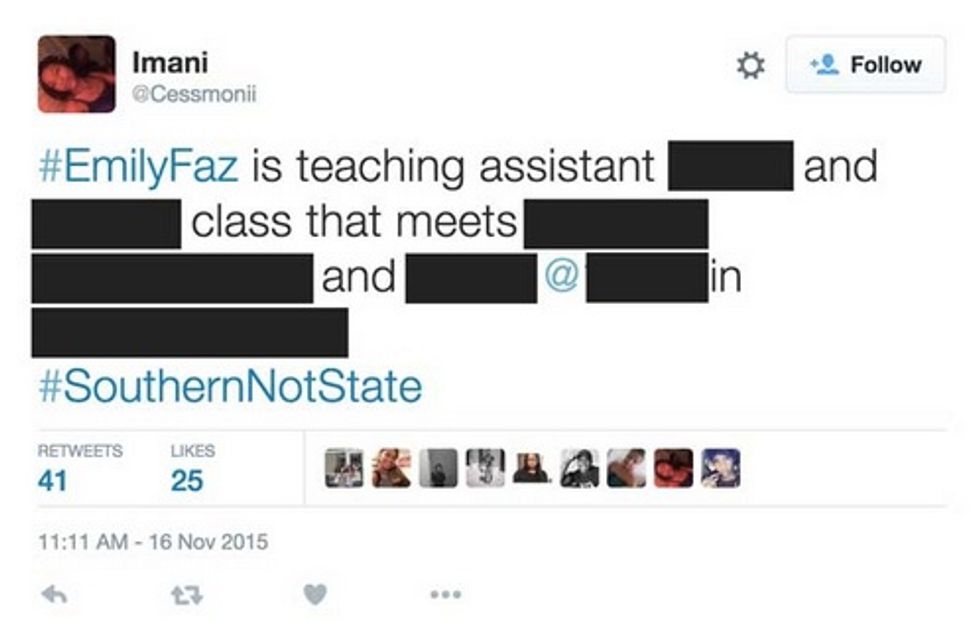 Image source: Twitter via IJReview
Faz caught wind of the fallout and tried to explain things with another post: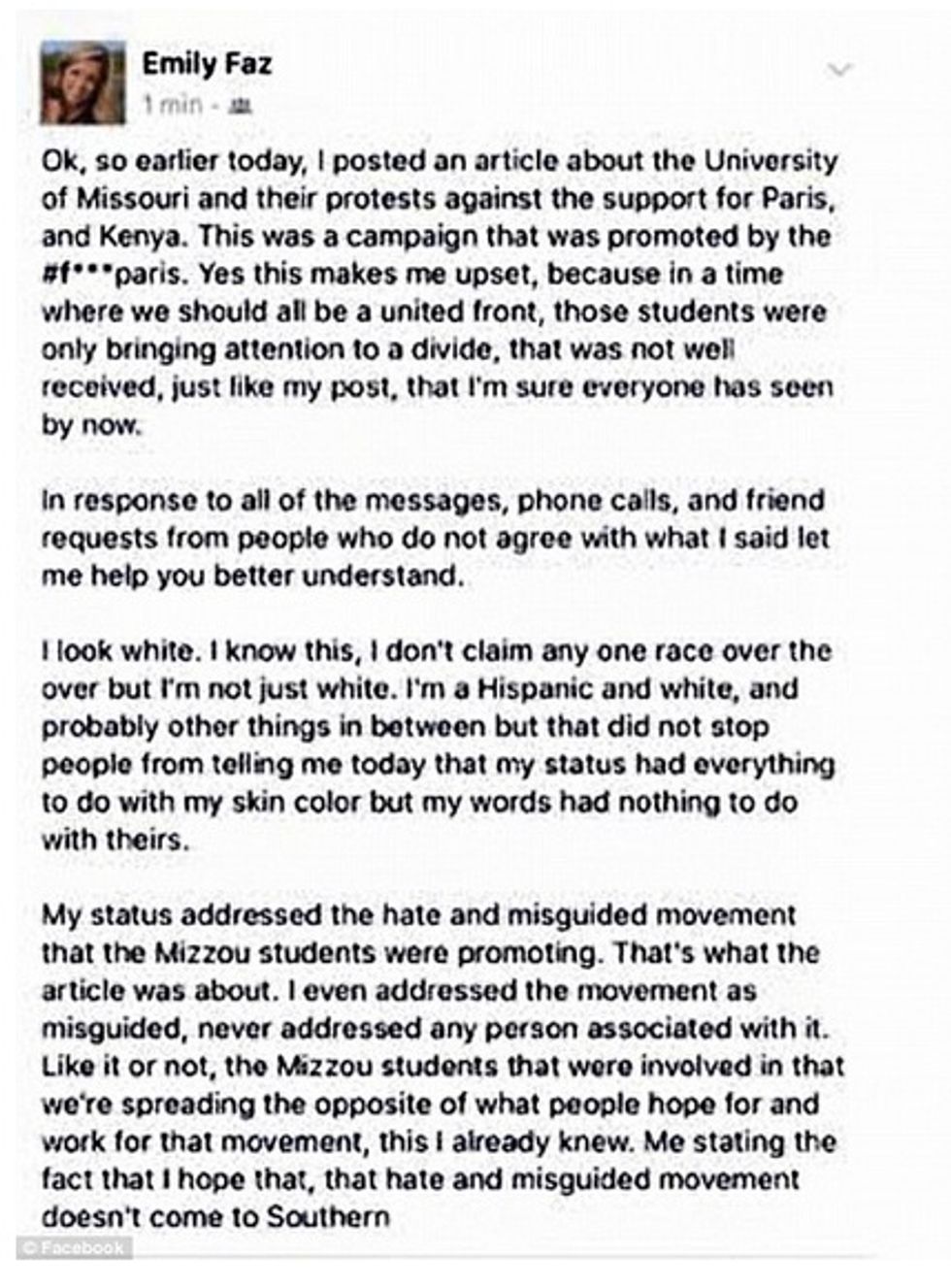 Image source: Facebook via Coed
But to no avail — and the next day, black students at GSU staged a walkout.
"This is not necessarily in response to the comments the young lady made," NAACP 2nd Vice President Jamar Boyd told WJCL-TV, "it's to show that the black student population does matter."
The furor caught the attention of the school's president, who issued a statement saying that despite calls for disciplinary action against Faz, the school couldn't disclose related information.
Soon rumors were flowing that Faz had been fired from Wild Wing Cafe since posting her Facebook message, with numerous outlets reporting the rumor as fact.
After all, social media posts encouraged phone calls to her place of employment: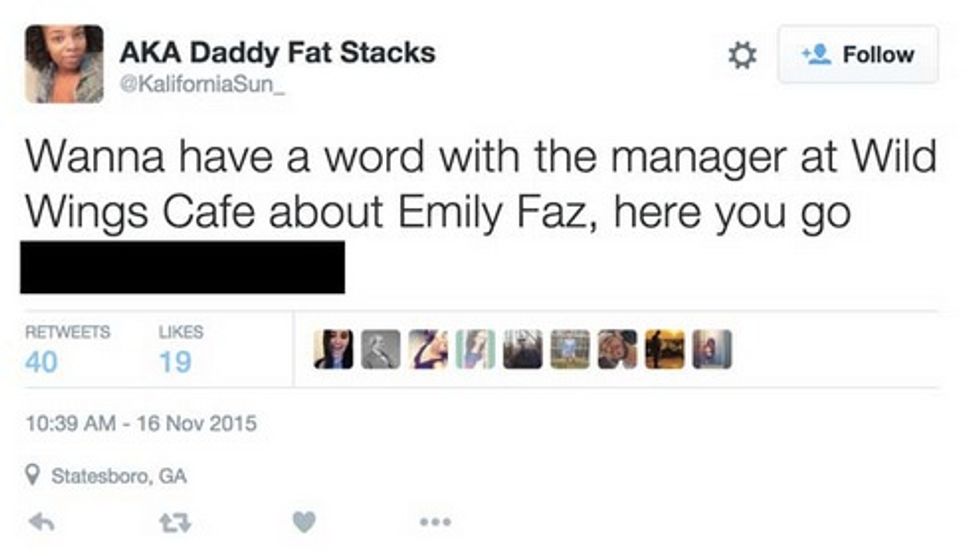 Image source: Twitter via IJReview
Then on the heels of these rumors, Wild Wing Cafe was deluged with boycott threats from Faz's supporters: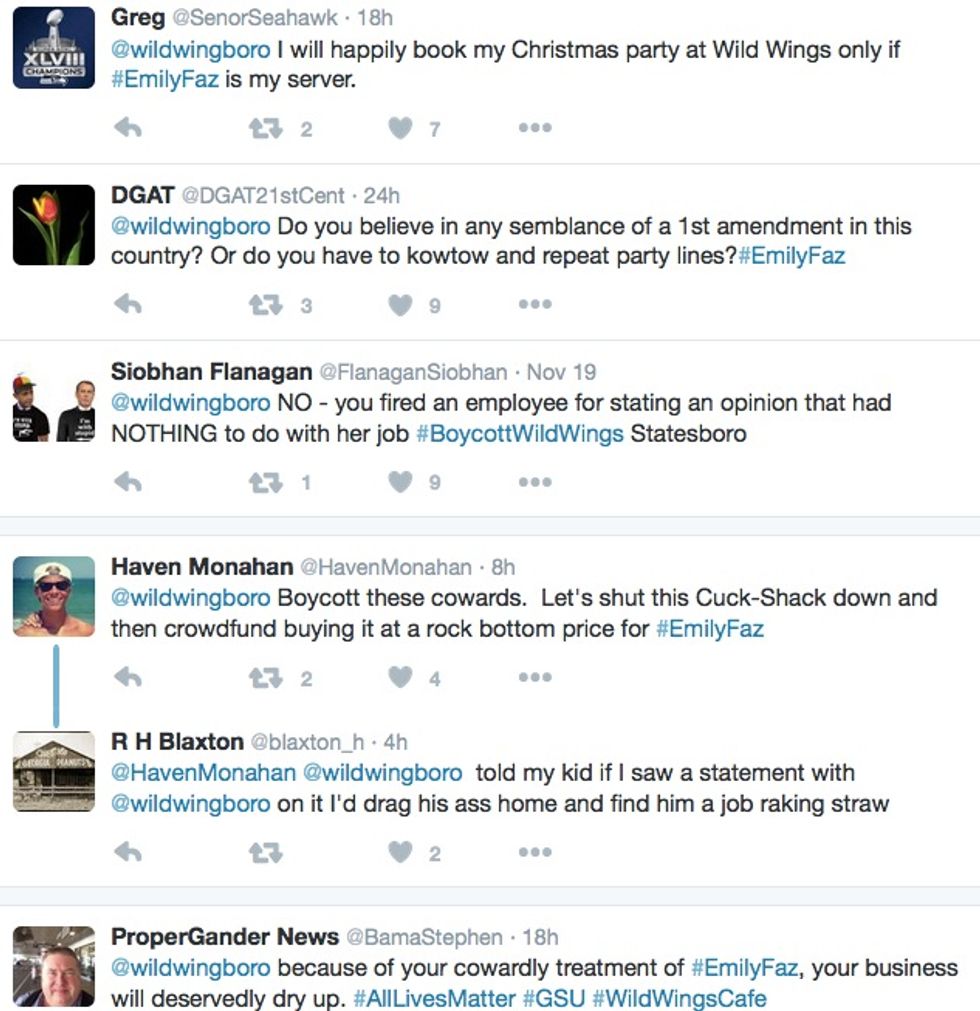 Image source: Twitter
Faz finally came out of the woodwork Friday and attempted to set the record straight, posting another Facebook message saying she was never fired from Wild Wing Cafe but is taking time away until after Thaksgiving:
Ok, this is Emily, saying what people need to know. This whole ordeal has been insane. I feel like I have experienced all four seasons in a weeks time. Here are things people need to know from me, because it is the truth. In regards to my job, I WAS NOT FIRED. When all of this began to unfold, I received death threats, threats to show up at my job, my job experienced people walking in looking for me, people stalking the outside of the restaurant, and they called the local sheriffs office to report it.

As we all know, safety is the number one priority to those you love. I LOVE my work family, I love Wild Wing Cafe, I have been with this wonderful company since we opened almost two years ago, my coworkers are my family, they are my best friends, and I would do anything to protect them. My boss and I agreed that for my safety and my coworkers safety that I wait to come back to work until after Thanksgiving break. I agreed because even though I was under fire a few days ago, I could not just think about myself, I had to think about those I loved, so sacrificing a few days of work to insure that my work family was safe was nothing for me. I had already requested off work for the holidays before any of this happened. So with all of this being said I HAVE NOT EVER BEEN FIRED.

Secondly, I am not expelled. I won't even go into detail on this, because my college career is my college career which has been very successful despite what's happened. I have had a very busy week yes, but I still live my normal life. Things have calmed down a lot for me, the opposing side has expressed their feelings, and they have every right to. I will never condemn them for that because it is their right.

There are more important things to be concerned with right now besides me.

I am thankful for all the support, I really am, but please don't attack innocent people, who's livelihood's are dependent on this restaurant, these people are my family, don't make those suffer, who have never hurt me in the first place.

I will not comment on the issue on any news show, or any news paper, or any blog site because this is so small compared to the other problems that are going on in the world right now.

Thank you for all of your support and contributions, please if you have any extra contributions, please don't send them to me, please donate them to the charity of your choice.

People, focus on what's important, focus on the holidays and your loved ones, focus on your families, and enjoy your time off, I know I will be enjoying mine.

Happy Holidays, Go Eagles, Go Dawgs, USA, and God Bless!
A Friday statement from Wild Wing Cafe in Statesboro concurred with Faz's words, saying that "you cannot believe everything you hear on social media" and that the restaurant "supports each citizen's First Amendment right."
Part of a Thursday statement from Wild Wing Cafe home office in South Carolina said that those connected with the restaurant "are firm believers in the First Amendment and believe everyone is entitled to their own opinion. Unfortunately, the manner in which an employee's opinions were so publicly expressed has created an unsafe environment in our restaurant."
—
Follow Dave Urbanski (@DaveVUrbanski) on Twitter