France's Prime Minister Manuel Valls said on Friday that at least some of the terrorists involved in last week's Paris attacks, including the mastermind, used the Syrian refugee crisis to get into the European country.
"These individuals took advantage of the refugee crisis ... of the chaos, perhaps, for some of them to slip in" Valls said, according to Fox News. "Others were in Belgium already. And others, I must remind you, were in France."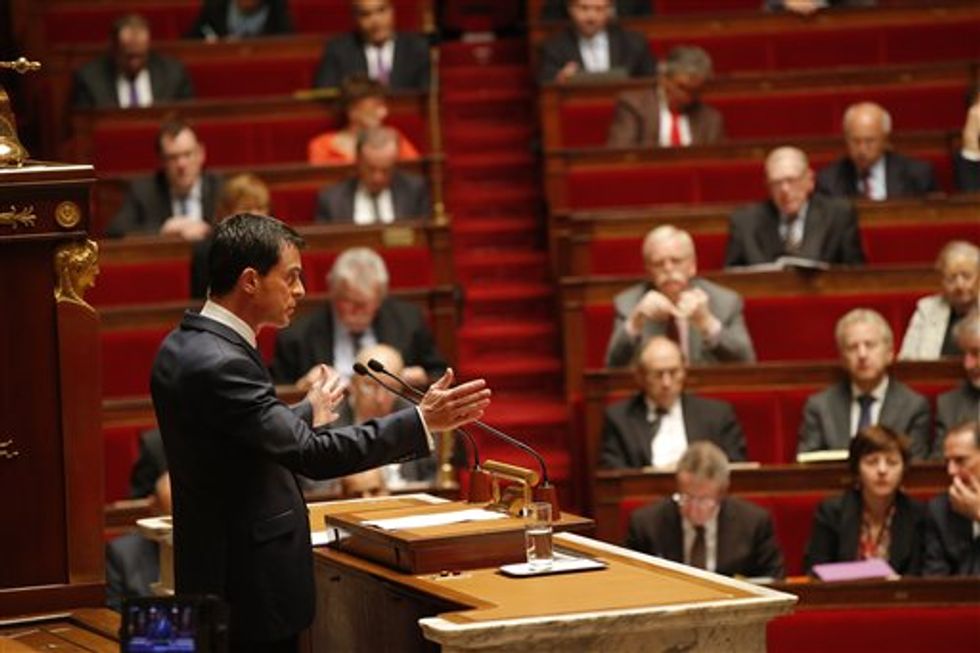 French Prime Minister Manuel Valls addresses the parliament at the national assembly in Paris, Thursday Nov.19,2015. Valls is warning that the associates of extremists who targeted France last week could use chemical and biological weapons, as he urged Parliament to extend a state of emergency. (AP Photo/Michel Euler)
Valls also warned of the potential risk to France and the rest of Europe if the European Union does not "take responsibility" and tighten border controls in the so-called Schengen zone, or the 26 European countries that do not require passports or otherwise have border controls at their common borders.
EU leaders are expected to meet in Brussels, Belgium, where they are likely to tighten security at the borders shared by the 26 member countries, including France. The meeting comes as lawmakers in Washington voted Thursday in an overwhelming, bipartisan vote in the House of Representatives to strengthen controls over the Syrian refugee program.
The bill passed 289-137, with support from Democrats, giving it the 2/3 majority needed to override a likely veto by President Barack Obama. It's still unclear whether the bill will ever reach the president's desk, with Senate Democrats now vowing to block the bill from being vote on in the upper chamber.
"The problem is not with refugees," Sen. Harry Reid (D-Nev.) said Thursday, according to the Hill newspaper. "I don't think we'll be dealing with it over here [in the Senate]."
–
Follow Jon Street (@JonStreet) on Twitter