Air travel has been on high alert in the week following the deadly terrorist attack in Paris and security experts expect the same vigilance to continue next week into the start of holiday travel, leading them to advise passengers to keep a level head.
"Certainly people do need to be vigilant," Steven Jaffe, the director of product marketing for a commercial airplane manufacturer, told TheBlaze, noting that some credible terror threats have been thwarted based on alerts from passengers in the past.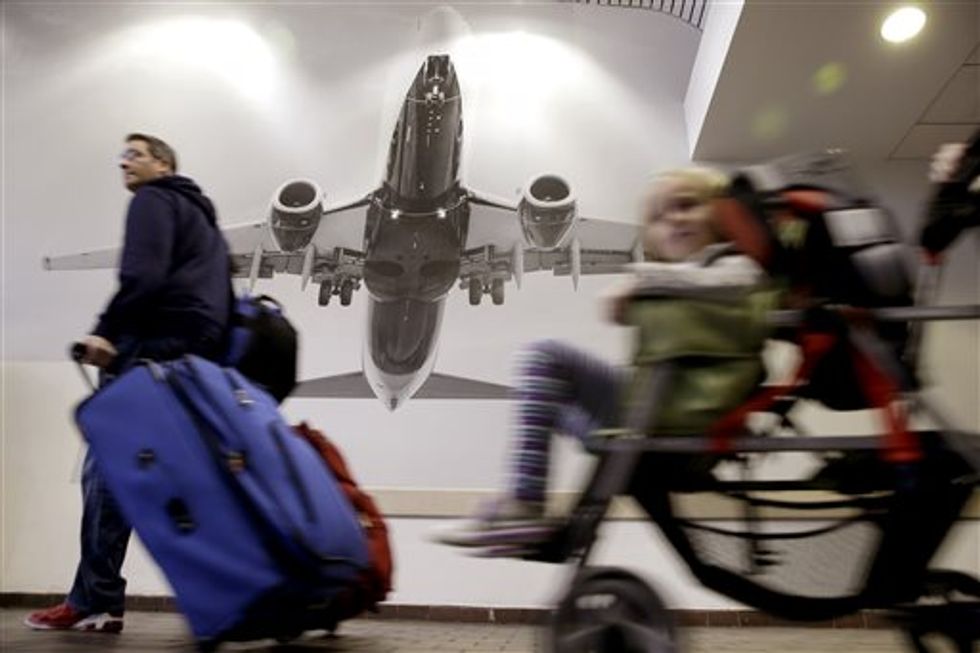 There seem to be more reports and checks of suspicious activity at airports in the wake of the Paris attacks, but flight security experts share some advise for travelers ahead of the Thanksgiving holiday. (AP/Seth Wenig)
But, he added, "people need to remember to pack their intellect and wits along with their swimsuits and Thanksgiving turkey."
In the wake of the attacks on a soccer stadium, concert venue, and multiple cafes and restaurants by several assailants with the Isalmic State group that left 129 people dead and hundreds more injured in France, air travel has seen some "knee-jerk reactions" to potentially suspicious activity, Jaffe, who previously worked for US Airways and the Federal Aviation Administration, said.
Such a horrific event "raises public concern and anxiety and we start to get reports like we did this week," he said.
Here are a few examples.
Anonymous threats had two Air France planes from Los Angeles and Washington, D.C., bound for Paris diverted on Tuesday. After the planes landed at new, temporary destinations without incident, they were eventually cleared to continue on to France.
Also on Tuesday, four people were removed from a Spirit Airlines flight at Baltimore-Washington International Airport for "suspicious activity" on board before departure. WBLA-TV later reported that these passengers were questioned and released without charges. One of the reports of suspicious activity made to a flight attendant, included a man watching a video on his smartphone.
And on Sunday, passengers on a flight at Reagan National Airport just outside of D.C. were deplaned so K-9s could conduct a sweep after suspicious activity was reported. When no threat was found, the plane departed as usual.
Events like this after an attack are just part of the atmosphere right now, said David Kalinske, a graduate of the United States Navy Strike Fighter Tactics Instructor program more commonly known as Topgun.
"There is increased scrutiny and in many cases these are not just knee jerk reactions to what's going on," said Kalinske, COO of ImagineAir, a company that seeks to make private air travel more accessible and affordable to people flying out of smaller, non-hub airports. "There is probably a very noticiable increase in intelligence activity right now."
Kalinske added that the apparent uptick in reported suspicions is probably a mix of reactions to the current news and intelligence information.
And while it might "make things inconvenient for travelers this holiday season in particular," Kalinske said, the old adage of "better safe than sorry" comes to mind.
"Everybody's got to be vigilant. We like to say everybody is a safety officer," he said.
Kalinske also advised that those traveling by air head to the airport with the expectation that things might be delayed, in some cases for safety reasons.
"As long as the public knows these delays are for their own safety, go into your travel day with that in mind. It just lessons the stress overall, he said, encouraging people to have a "more cooperative mindset" with security agents.