The White House Council on Environmental Quality is not operating legally, says one Republican Senate committee chairman.
In a letter to President Barack Obama Friday, Environment and Public Works Chairman James Inhofe (Okla.) pointed out that, because the CEQ's members have not been confirmed by the Senate as required by law, all actions by the council are legally questionable. Inhofe went on to blast the president for not fulfilling his constitutional obligation to nominate a chairman to the council for consideration.
"Your reliance on lower-level staff to function as the Council indefinitely, without any apparent intention to nominate a Chairman, is contrary to your constitutional duty to ensure that the Vacancies Reform Act and NEPA are faithfully executed," Inhofe said in the letter. "The result of this failure is the fact that CEQ is no longer a lawfully functioning government agency and any actions purporting to have been taken on behalf of the Council during this vacancy period are ultra vires."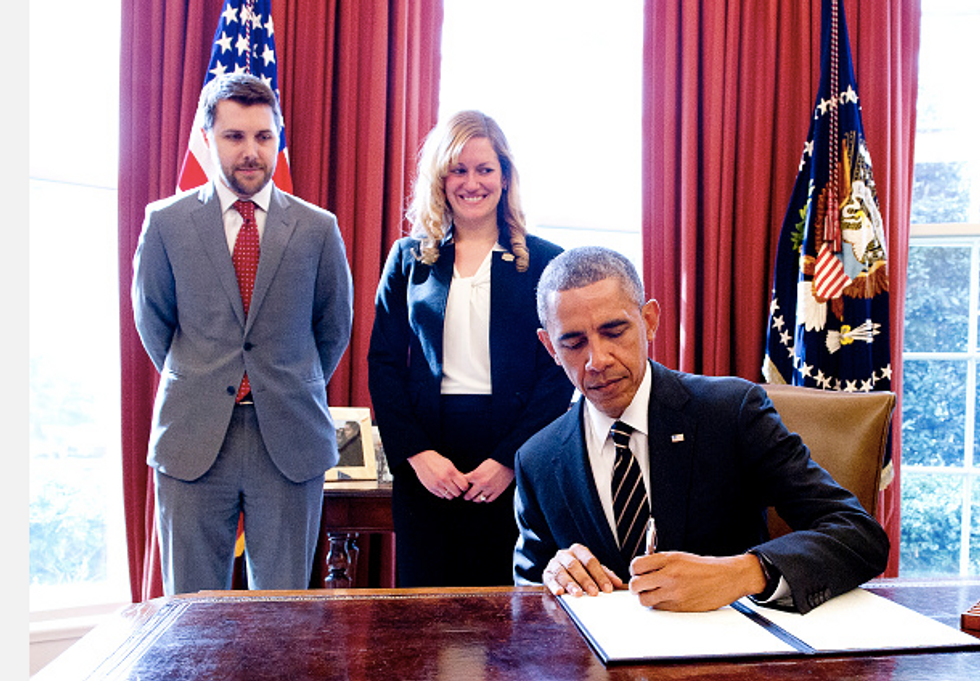 President Barack Obama signs an executive order March 19 to cut the federal government's greenhouse gas emissions. Standing behind the president are Brian Deese, senior advisor, and Christina Goldfuss, managing director of the Council on Environmental Quality. (Ron Sachs-Pool/Getty Images)
The White House Council on Environmental Quality has been without a Senate-confirmed chairman since February 2014, which could violate two laws.
The White House did not immediately respond to an inquiry from TheBlaze about the Inhofe letter.
Congress passed the National Environmental Policy Act, or NEPA, which established the CEQ. Under the law, the council is to consist of three Senate-confirmed members, one of whom the president can designate as chairman. However, Congress has allowed CEQ to operate with a single Senate-confirmed member serving as chairman.
Generally under the Vacancies Reform Act, any positions requiring Senate confirmation may be filled for a maximum of 210 days by a qualified acting official. After the 210-day period expires, the position must remain vacant and no one may perform the duties.
The Obama administration failed to notify the Government Accountability Office of the vacancy until March 2015, a potential violation of the Vacancies Reform Act, according to the EPW Committee. The chairman position has legally been required to be held vacant since September 2014, pending a nomination by the president; however, CEQ is currently operated under the direction of a managing director, Christy Goldfuss.
In a separate letter to the CEQ, Inhofe explained the law.
"It does not change the fact that, given the president's failure to nominate a chairman within the time frame set forth in the Vacancies Reform Act, as a matter of law, the position of CEQ chairman must remain vacant and no one may perform those duties until the President formally nominates a replacement and an eligible person is found to serve as the acting officer," the Inhofe letter said.