Hundreds descended on Ben-Gurion Airport outside Tel Aviv to pay their respects Saturday night to an American teenager killed in a Palestinian terrorist attack last week while he was delivering food to Israeli soldiers.
The mourners gathered in a circle, arms over shoulders, and sang Israel's national anthem in memory of Ezra Schwartz, the 18-year-old Massachusetts native who chose to spend a year before college in a program that combines studying at a Jewish seminary with community service.
In the middle of the circle they placed a Bible, an Israeli flag, a New England Patriots jersey and a bottle of his favorite soft drink — Apple Schweppes, Haaretz reported.
Schwartz's body was flown back to his family in Sharon, Massachusetts for burial.
The American student was killed Thursday when he and his classmates traveled to the West Bank, just south of Jerusalem, to bring food to Israeli soldiers and to visit a memorial for three Israeli teens around his age who were kidnapped then killed last summer by Hamas militants, the Times of Israel reported.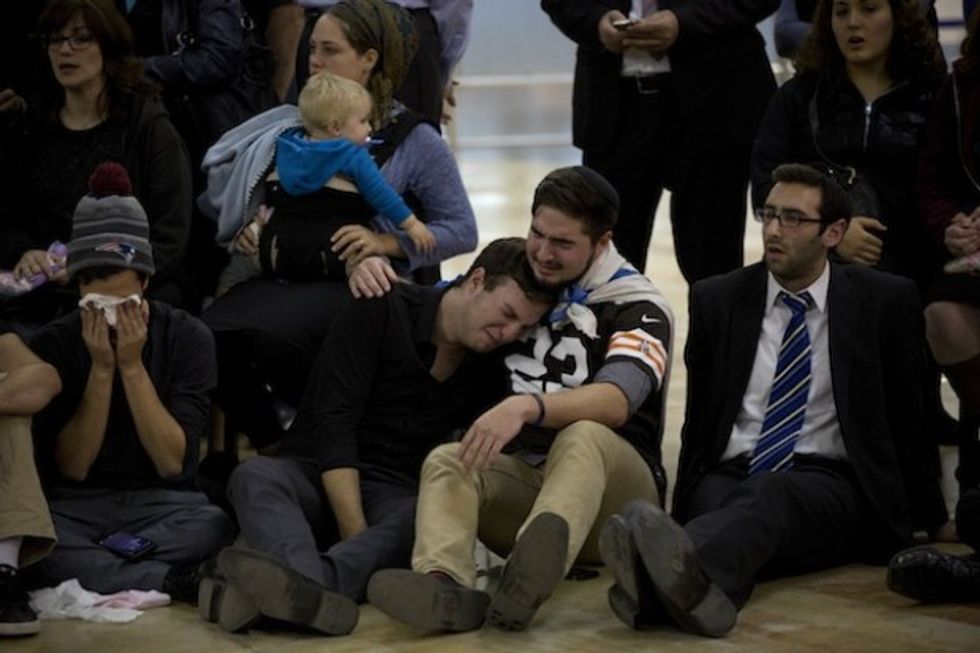 Friends of American victim killed in shooting attack in the West Bank, Ezra Schwartz, attend a private ceremony, before his body being repatriated to Boston for burial, at Ben Gurion airport near Tel Aviv, Israel, Saturday, Nov. 21, 2015. Schwartz was killed Thursday when a Palestinian assailant opened fire from a car near a Jewish settlement bloc south of Jerusalem before ploughing into pedestrians, another Israeli and Palestinian were killed in the attack. (AP Photo/Oded Balilty)
A Palestinian man using an Uzi machine gun shot and killed Schwartz and two others while their minivan was stuck in traffic.
Hamas spokesman Hussan Badran praised the attack, which also killed an Israeli and a Palestinian, describing it as "an act of bravery."
The teen's friends remembered Schwartz as funny, mischievous, caring and charitable.
Jeremy Tibbetts, a former camp counselor told the Times of Israel, "Ezra's soul yearned to help others."
"He was the kind of person who would invest hours in others, who would go out of his way to sit with a kid who was struggling. I wasn't surprised to hear that he was volunteering to distribute food to lone soldiers — it fits who Ezra was and always will be," Tibbetts said.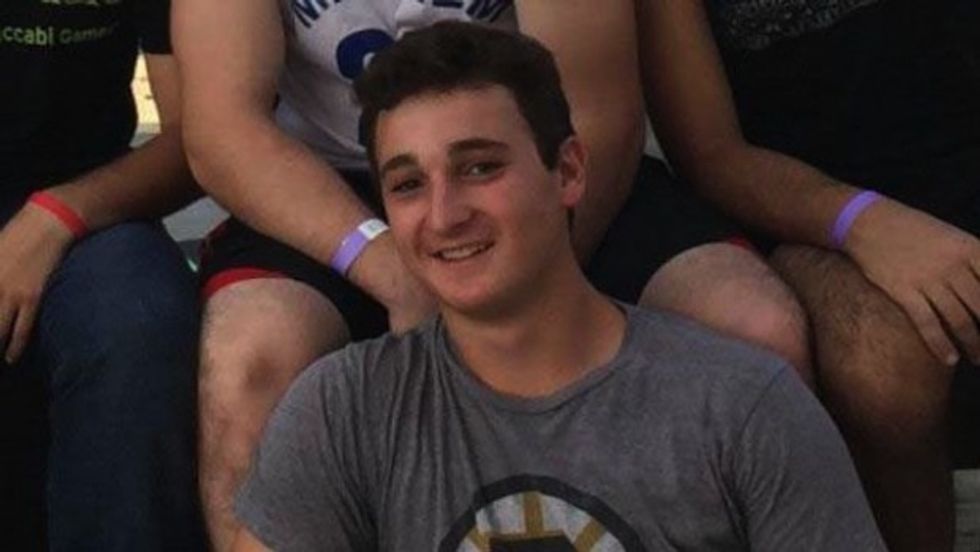 Image source: Facebook
Aliza Abolafia who served as a counselor at a Jewish summer camp in New England told the Times of Israel, "Ezra was always asking me how he could do better, and he was always checking up on even the quietest camper."
This past summer he was chosen as "Outstanding Counselor."
"He brought warmth and silliness to every room that he entered," Abolafia said, adding that he had been a "notoriously mischievous camper" when he was younger.
Former schoolmates at the Maimonides School outside Boston told the Israeli news site that he had served as captain of the baseball team.
"Even though he was one of the shortest guys on the field, he was probably the toughest guy I have ever known. He did the dirty things like diving for grounders or sliding into home plate. He was such a joy to be around every day," former teammate Zachary Blitstein told the Times of Israel.
The wave of Palestinian terrorism plaguing Israel since September continued unabated, with two attempted stabbing attacks so far reported on Sunday.