It's not frost or morning dew – but a finely woven spider web by millions of spiders stretching for nearly a half-mile.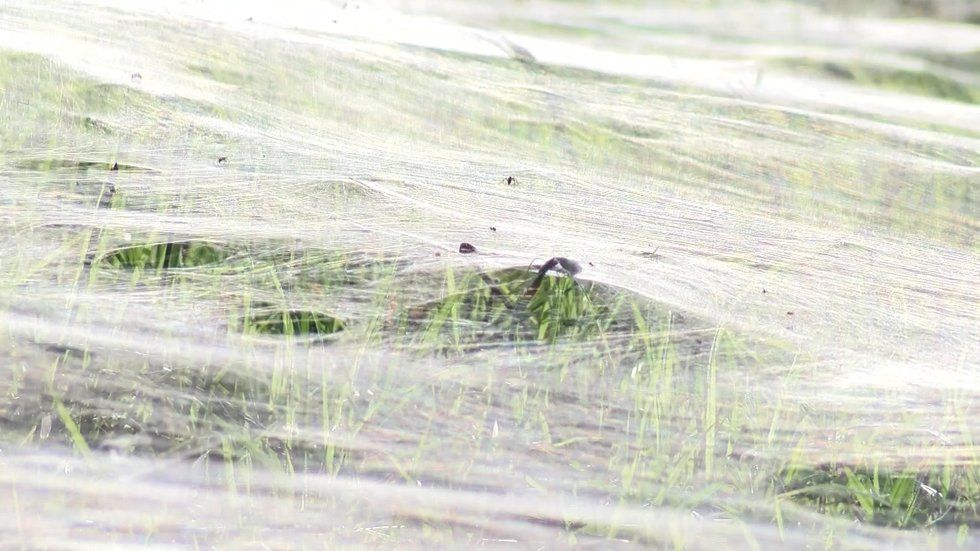 Image source: WMC-TV
Residents of the Memphis neighborhood are trying their best to deal with the rare phenomena, but are quickly realizing they're just outnumbered.
"I've seen about 20 on my porch just in the last day," Ida Morris told WMC-TV.
Morris said neighbors have asked the city to step in and help deal with the spiders since there are kids in the neighborhood at risk of being bitten.
"They're in the air, flying everywhere. They['re] all on the house, on the side of the windows. I've never seen anything like this," Frances Ward said. "It's like a horror movie. Never seen nothing like this before."
So just what is this freakish phenomena that has seemingly taken over the Memphis neighborhood?
"It's a mass dispersal of the millions of tiny spiders that have always been in that field, unnoticed till now," Memphis Zoo curator Steve Reichling said.
"It could be juveniles, millions, in a big emergence event, or adults of a tiny species, probably a sheet web spider, leaving for some reason possibly knowable only to them," Reichling added.
WMC Action News 5 - Memphis, Tennessee
(H/T: WMC-TV)
–
Follow Jon Street (@JonStreet) on Twitter