During the Talking Points segment of Monday night's "The O'Reilly Factor," Fox News host Bill O'Reilly contended that the majority of Americans oppose the relocation of Syrian refugees to the United States not because of religion or ethnicity, but for security reasons.
"The cold truth is the majority of Americans have no confidence that the Obama administration can protect them from harm; that's the crux of the matter," O'Reilly began. "President Obama and the Democrats are so liberal, so frightened, so chaotic, they cannot provide security for 'We the People.'"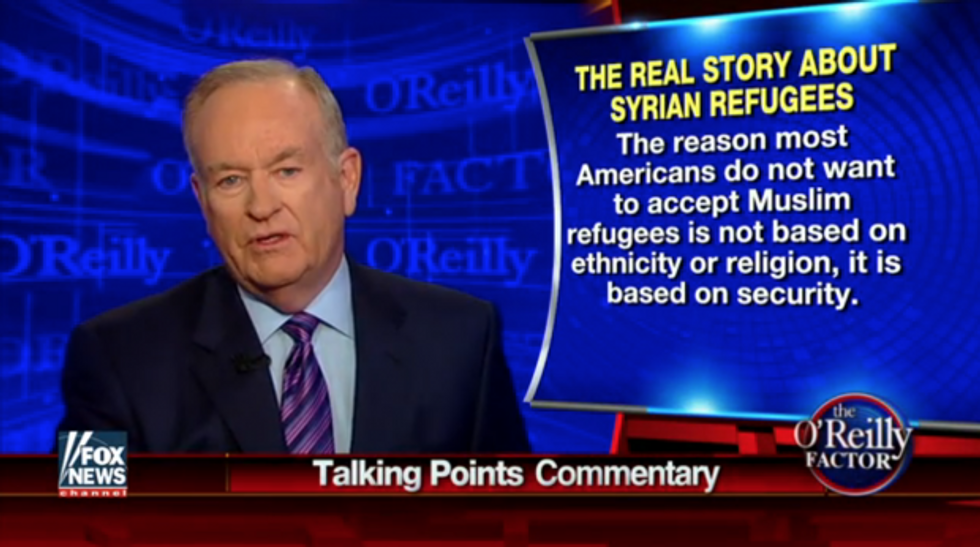 Image source: Fox News/screenshot
To support his claim, the host invoked the "porous" U.S. southern border.
"After seven years, the Obama administration has not been able to secure the southern border, despite the deadly terror threat facing the U.S," O'Reilly continued. "That is simply disgraceful, a danger to all of us and is directly on the president, who could not care less."
Instead of taking action, O'Reilly said, President Barack Obama chooses to "chastise" Republicans who oppose his plan to relocate Syrian refugees to the U.S.
"What President Obama does not understand is that he has lost all credibility in matters of security," the "Factor" host added. "Allowing 10,000 Syrians into America would not endanger us any more than we are already endangered."
"The signal sent to the president is: We do not trust you to protect us, so no more generosity to overseas visitors," O'Reilly concluded. "The Democratic Party is completely ineffective in fighting terrorism."
—
Follow the author of this story on Twitter and Facebook:
[facebook //www.facebook.com/plugins/like.php?href=