A story published on CNN's website Tuesday referenced the fatal shooting of Michael Brown, but failed to note that Ferguson officer Darren Wilson was exonerated by the Department of Justice and not indicted by a grand jury for the incident.
The CNN story made the reference to the 2014 incident in a story chiefly focusing on the release of a video tape which showed a Chicago officer gun down a 17-year-old.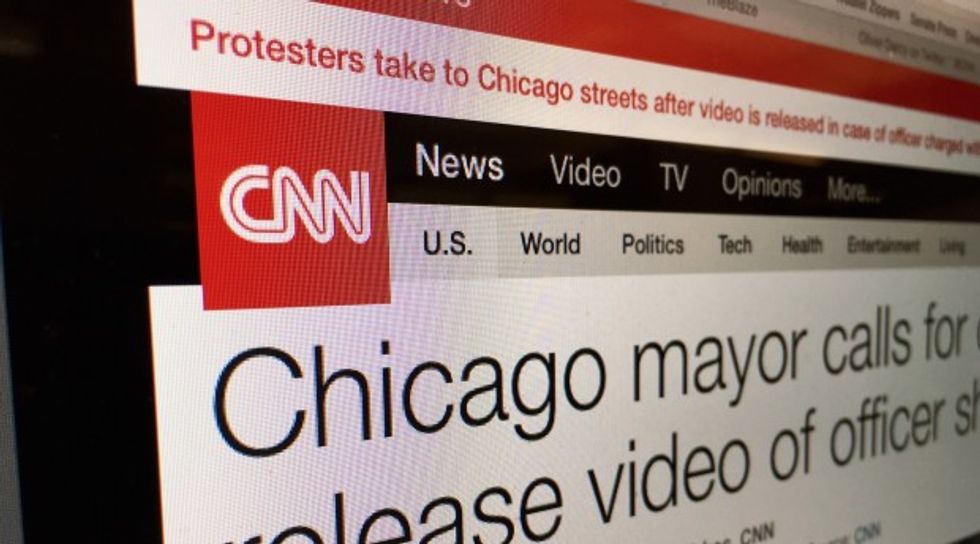 Image source: Oliver Darcy / TheBlaze
Rev. Roosevelt Watkins told CNN that Chicago "could be just like Ferguson," prompting the news outlet to provide background information on what happened in the St. Louis suburb.
"Watkins was referring to Ferguson, Missouri, which imploded in protests and riots after a white police officer shot to death unarmed black teen Michael Brown in 2014. Unrest in the St. Louis suburb lasted for months afterward," the story said.
.@CNN fails to mention that Darren Wilson was exonerated by DOJ, not indicted by grand jury https://t.co/3JJb3r3vcj https://t.co/NFdlEvb83Y

— Oliver Darcy (@Oliver Darcy) 1448412339.0
Nowhere in the CNN article did it mention that Wilson was not indicted by a grand jury or that the DOJ had corroborated his story and found his use of deadly force was not "objectively unreasonable."
Critics have often skewered many in the media for pushing a narrative that suggests Brown was wrongfully shot by the Ferguson officer after surrendering with his hands up. The "hands up, don't shoot" version of the story was not consistent with evidence.
The byline gave credit to Dana Ford, Greg Botelho and Bill Kirkos for the story, though it was not clear if they all had a hand in penning the written version.
A representative for CNN did not immediately respond Tuesday night to a request for comment from TheBlaze.
—
Follow the author of this story on Twitter and Facebook: