Making a reference to the Syrian refugee controversy, President Barack Obama said Tuesday that, if Americans abandoned their values, it would be a victory for terrorists.
"It is not just the security professionals who will defeat ISIL and the terrorist groups," Obama said Tuesday during a joint White House news conference with French President Francois Hollande. "As Americans, we all have a role in how we respond to the threats. Groups like ISIL cannot defeat us on the battlefield, so they try to terrorize us at home against innocent people and even as we are vigilant, we will not and cannot succumb to fear. Nor can we allow fear to divide us. That is how terrorists win. We cannot give them the victory of how we change going about living our lives."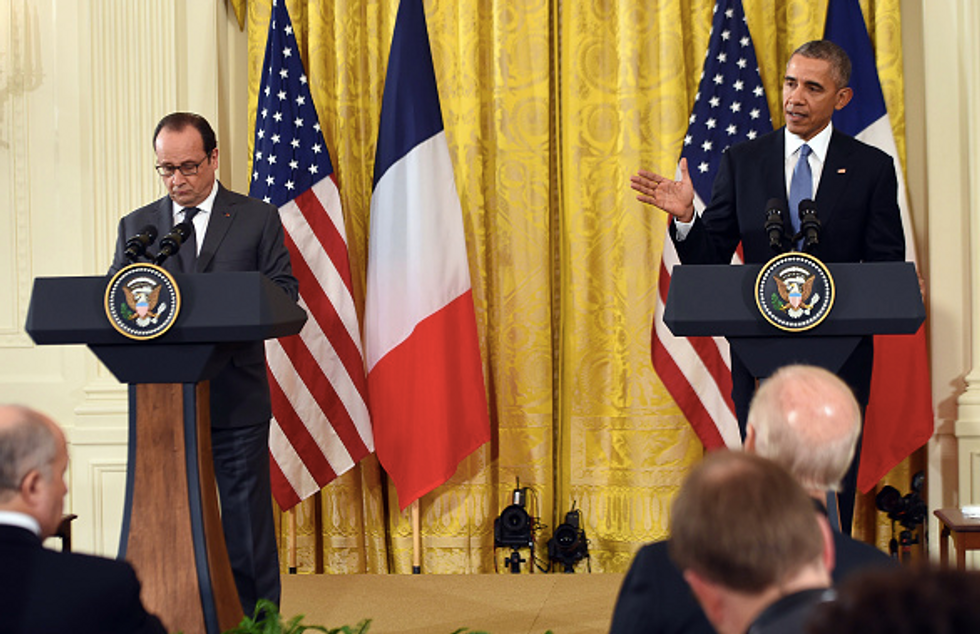 President Barack Obama speaks during a joint press conference with French President Francois Hollande at the White House in Washington, DC, on November 24, 2015. AFP PHOTO/NICHOLAS KAMM / AFP / NICHOLAS KAMM (Photo credit should read NICHOLAS KAMM/AFP/Getty Images)
Obama said that Americans must continue to uphold the values of freedom and tolerance it shares with France.
"Another part of being vigilant and defeting a group like ISIL is to uphold the rights and the freedoms that define our two great republics," Obama said. "That includes freedom of religion. That includes equality before the law. There have been times in our history in moments of fear when we have failed to uphold our highest ideals and it has been to our lasting regret. We must uphold our ideals now, each of us, all of us."
"We must show that America is strengthened by people of every faith and every background," Obama continued. "Under President Hollande, France plans to welcome an additional 30,000 Syrian refugees in the next two years. Here in the United States, refugees coming to America go through up to two years of intense security checks and biometric screening and nobody who comes to America goes through more screening than refugees, and we are prepared to share these tools with France and our European partners."
Obama went on to talk about the Statue of Liberty.
"On the Statue of Liberty, a gift from the people of France, there are words we know so well. 'Give me your tired, your poor, your huddled masses yearning to be free.' That's the spirit that makes us Americans," Obama said.
Talking about the Islamic State's attack on Paris this month, Hollande issued a stern statement about the need for resolve.
"Together with President Obama we want on the occasion of that meeting first of all to share our determination, relentless determination to fight terrorism everywhere and anywhere," Hollande said. "We also mean to tell the world that we will not allow those who want to destroy what we have built and we will not allow them to do it, to destroy what we have built generation after generation. they will not be able to damage the world. and against that, we need a joint response, and implaquable joint response. france and the united states stand together many that response."