Senator Rand Paul's (R-Ky.) chief campaign strategist is calling on CNN to address "this bias and lack of journalistic integrity" after newly released emails revealed one of the network's journalists colluded with a Hillary Clinton aide to target Paul in 2013.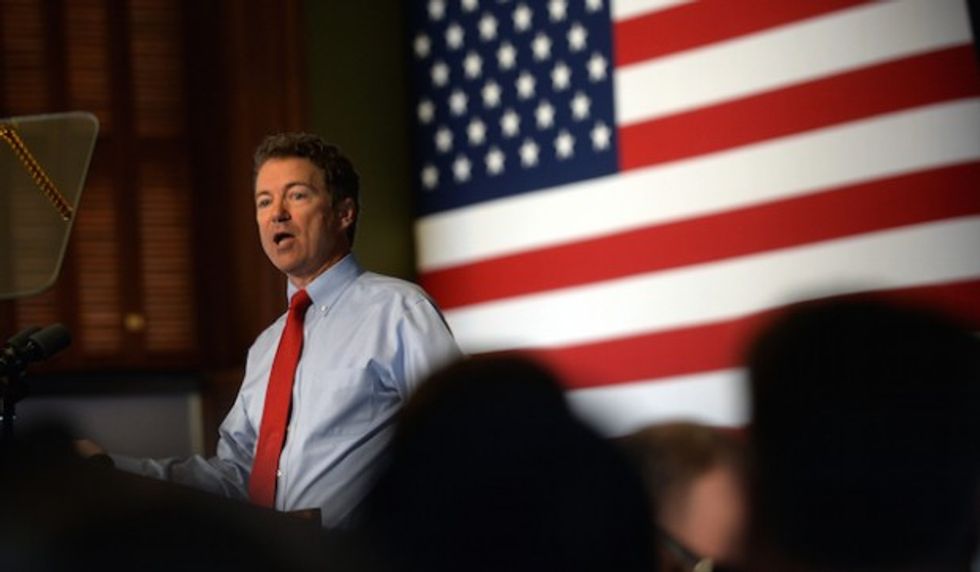 MILFORD, NH - APRIL 8: U.S. Sen. Rand Paul (R-KY) speaks during a rally at Town Hall April 8, 2015 in Milford, New Hampshire. Paul declared his candidacy for the Republican presidential nomination on April 7, and is the second Republican candidate to jump into the race. (Photo by Darren McCollester/Getty Images)
"The liberal media has taken their Clinton sycophancy to a new low. CNN needs to address this bias and lack of journalistic integrity," Doug Stafford said in a statement. "This email revelation should give Republicans pause as to their coverage and possibility of fair treatment towards Sen. Paul during the next debate. All eyes will be on CNN's response to their employee colluding with Hillary Clinton in order to attack a prominent U.S. senator on their dime."
A collection of emails, obtained and published by Gawker on Tuesday, show that CNN global affairs correspondent Elise Labott worked closely with senior Clinton advisor Philippe Reines to go after Paul after he peppered Clinton with tough questions during a 2013 hearing on Benghazi.
The emails also suggest Labott even coordinated some of her tweets with Reines.
This one appears to also have been on-request. https://t.co/ETlmcHhH6Spic.twitter.com/o3GrXmVxIJ

— Phil Kerpen (@kerpen) November 25, 2015
A reporter who Tweets on request! pic.twitter.com/vdFGrYisgU

— Phil Kerpen (@kerpen) November 25, 2015
The development comes as Labott is already serving a two-week suspension for tweeting last week that the Statue of Liberty bowed it head in "anguish" after the U.S. House passed a bill to strengthen the vetting process for Syrian refugees with a bipartisan "veto-proof" vote.
---