After a Wednesday meeting with the National Security Council, President Barack Obama sought to reassure Americans on the eve of Thanksgiving that the military, intelligence community and homeland security officials are working overtime to keep the country safe.
"It is understandable that people worry if something similar could happen here, and the events in Paris made the threats feel closer to home as we are going into Thanksgiving weekend," Obama said. "I want the American people to know that we are taking every possible step to keep our homeland safe."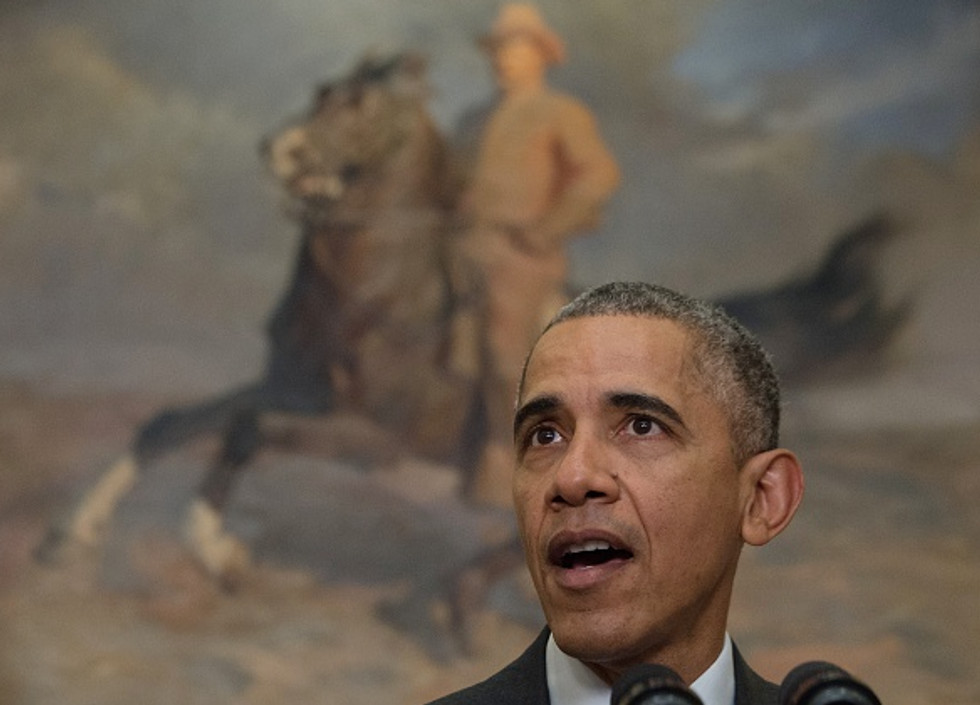 President Barack Obama makes a statement in the Roosevelt Room at the White House in Washington, DC, on November 25, 2015 following a meeting with his national security team. President Obama assured Americans Wednesday that 'every possible step' is being taken to keep the country safe during the Thanksgiving holiday. (NICHOLAS KAMM/AFP/Getty Images)
Flanked by Attorney General Loretta Lynch, Secretary of Homeland Security Jeh Johnson, National Security Adviser Susan Rice, Homeland Security adviser Lisa Monaco and FBI Director James Comey, the president spoke for about five minutes and went on to state that currently there is not a clear threat.
"Right now, we know of no specific and credible intelligence indicating a plot on the homeland," Obama said. "That is based on the latest information that I just received in the Situation Room."
He later added, "In the event of a specific, credible threat, the public will be informed."
He also called for Americans to be vigilant, saying, "If you see something suspicious, say something."
Obama said the U.S. military is going after the Islamic State, doing "everything possible to prevent the attacks at home and abroad"
"As Americans are traveling this weekend to be with their loved ones, I want them to know that the counterterrorism and security and law enforcement professionals at every level are working overtime, and they are continually monitoring threats at home and abroad, continually evaluating our security posture," Obama said. "They are constantly working to protect all of us. Their work has prevented attacks. Their efforts have saved lives."
"I want the American people to know that entering the holidays that the combined resources of our military, our intelligence and our homeland security agencies are on the case," Obama said.