The Colorado Fraternal Order of Police issued a searing statement on its public Facebook page aimed at those who might question why the Colorado Planned Parenthood suspect was taken into custody alive.
"Sadly there are race baiting delusional ignorant fools with an agenda of hate that use any tragic event to peddle their corrupted opinion," the Colorado FOP said Saturday. "What they don't understand is our job is to preserve life not take it. You see for us all lives matter. That is the primary reason we join this profession. The standard we live by."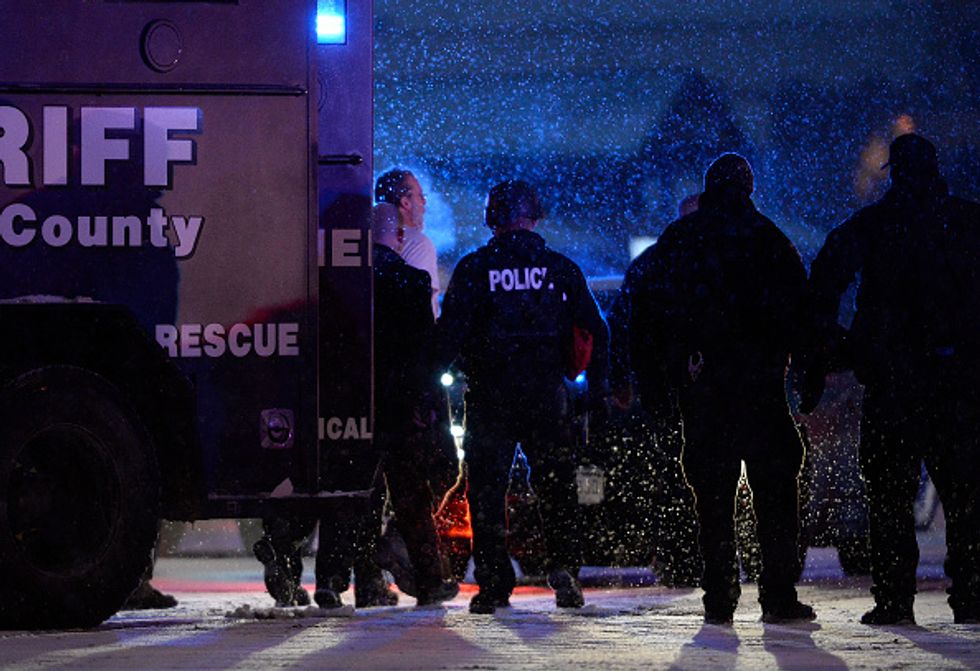 COLORADO SPRINGS, CO - NOVEMBER 27: Police escort a shooting suspect out of a armored vehicle at the intersection of Centennial and Fillmore November 27, 2015. Four police officers have been injured with unknown number of casualties. (Photo by Andy Cross/The Denver Post via Getty Images)
Colorado police engaged in several shooting battles with the suspect inside a Planned Parenthood center on Friday for around five hours. According to the New York Times, police officers eventually drove an armored vehicle into the facility and were able to rescue some of those trapped inside.
"We're exchanging gunfire," one officer was heard saying over the police scanner. "We are trying to keep him pinned down."
"Put gunfire through the walls," an officer responded. "Whatever, we got to stop this guy."
The Colorado FOP maintained that the suspect was captured alive because he was given an opportunity by police to surrender. The suspect took that opportunity and subsequently followed the commands of law enforcement officials afterward, according to the colorado FOP. In the statement, the Colorado FOP said the opportunity to surrender is given no matter what the suspect's race as Colorado police have captured numerous people alive, including those of a minority race, in other shootings involving police officers.
"What the race baiting morons who believe that he was spared because he was white fail to acknowledge is that just this year alone there have been numerous shootings of police officers where the suspects were taken into custody. Many of those suspects were persons of color. They were not executed. They were taken into custody," the Colorado FOP said. "The delusional fools that would have the world believe otherwise promote their hatefilled agenda on the foundation of a national lie rooted in the Michael Brown incident. 'Hands up don't shoot' is their mantra and a false narrative surrounding the events in Ferguson."
Police arrested Robert Lewis Dear, 57, after the attack on a Planned Parenthood in Colorado Springs came to an end and left one police officer and two others dead. Planned Parenthood of the Rocky Mountains vice president of public affairs, Cathy Alderman, said all of the facility's staff members were believed to be safe.
Early reports suggest that Dear told law enforcement officials "no more baby parts" during questioning, among other ramblings, and previous police records for a Robert Lewis Dear in South Carolina show a dark past.
As of Sunday morning, the Colorado FOP Twitter account had been set to private.