Pastor James David Manning — the fiery, anti-gay faith leader at Atlah Worldwide Church — is locked in an ongoing battle with New York City officials over a sign that the Landmarks Preservation Commission said was installed without proper permits.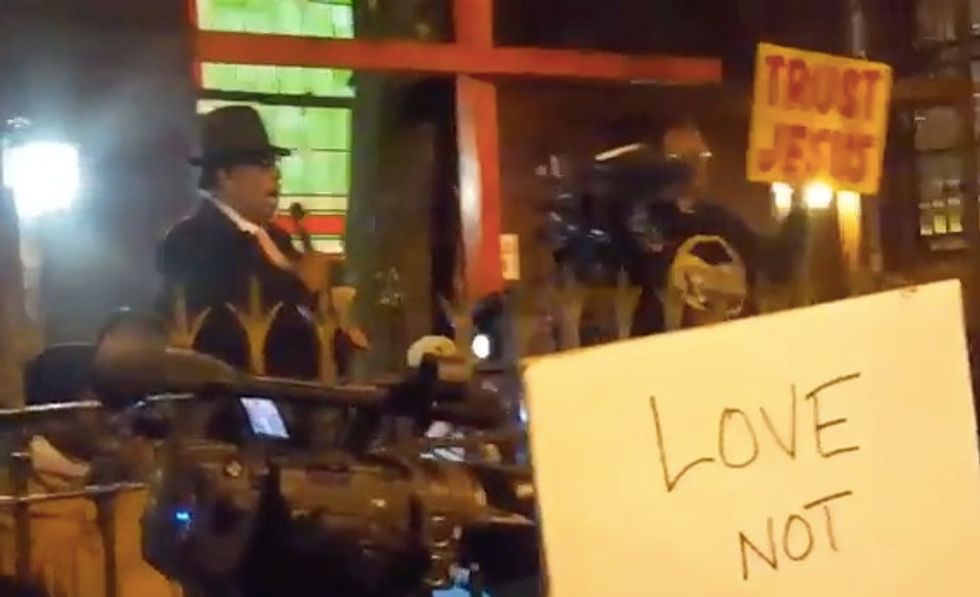 Pastor Manning clashes with protestors (YouTube)
It's the same marquee posted outside of the Harlem church that has continuously riled locals with shocking messages such as "Jesus would stone homos," "You sodomites and freaks have soiled Harlem" and "Obama has released the homo demons on the black man. Look out black woman. A white homo may take your man," among others.
Over the years, these messages have led to protests, with the most recent event outside Atlah Worldwide Church last Monday attracting 100 locals who are tired of what they deem to be hateful rhetoric from from Manning and the church, DNAInfo reported.
"More than 50 languages are spoken in Harlem. Hate shouldn't be one of them," read a Facebook description for the "Love Not Hate" rally. "Together we say no to hate speech that calls for the murder of gay, lesbian, and transsexual people, denigrates black people, insults Muslims, and libels President Obama. A climate of hatred hurts everyone."
The rally, which was organized by Harlem Against Violence, Homophobia, and Transphobia, included many residents holding signs opposed to Manning's message and vocally speaking out.
The pastor, who is black, reportedly responded by yelling what some outlets deemed racist and anti-gay sentiment.
Video of the event reportedly captures Manning saying, "Oh, f*ggots, please come out tonight" and "Where are all the n***** f*ggots?" before later yelling about a "n***** lesbo." Watch it below:
See the chaos unfold below (caution: strong language):
The rally was held as Atlah Worldwide Church has been found guilty of numerous landmarks violations due to the sign and could face up to $11,500 in fines for ignoring the infractions, according to DNAInfo.
The church is scheduled to appear before the Environmental Control Board sometime in December, though the city has been sending letters about the violations to Manning since 2013.
The landmarks commission is accusing the church of adding the sign and making other alterations to the building without permission, though the pastor said at a hearing this past summer that he believes that he's being unfairly targeted due to his anti-gay messages.
But city officials deny that this is the case.
"Please keep in mind that the Commission cannot legally regulate the content of a sign, however, permits must be obtained for the installation of signage on landmark properties," Landmarks Preservation Commission spokeswoman Damaris Olivo said earlier this year.
A request for comment from Manning has not yet been returned to TheBlaze.
(H/T: DNAInfo)
--
Follow the author of this story on Twitter and Facebook: