It's been reported in numerous outlets that 53-year-old Youssif Z. Omar — accused by police of slapping and dragging a teen girl from school over not wearing a Muslim headscarf — is a University of Missouri professor.
But Mizzou said Sunday that's not the case.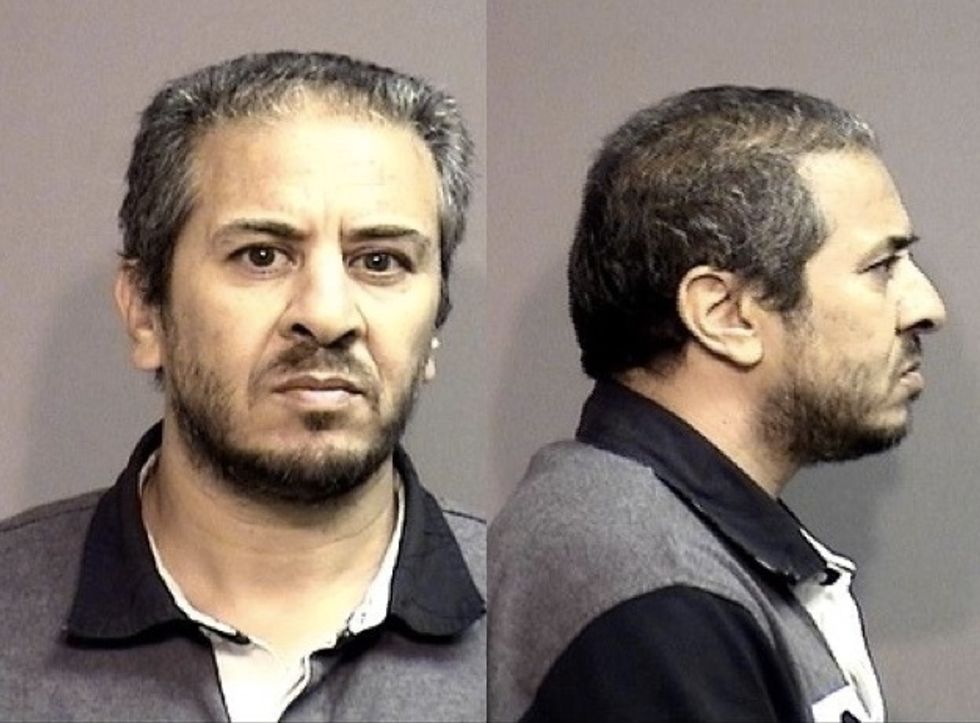 Image source: KMIZ-TV
"Mr. Omar is not employed at Mizzou," the school's official Twitter account noted. "He was formerly a graduate student with an assistantship." The tweet added that Omar's job ended in July.
. @NYDailyNews Mr. Omar is not employed at Mizzou. He was formerly a graduate student with an assistantship. Job ended in July.

— Mizzou (@Mizzou) November 30, 2015
When another individual tweeted "what is your stance on your professors assaulting women?" the school responded, "Mr. Omar is not a Mizzou professor."
Omar was arrested Wednesday on suspicion of felony child abuse after Columbia, Missouri, police said he became irate seeing his 14-year-old relative at Hickman High School without her hijab — a traditional Muslim headscarf — the previous day.
He then grabbed her "very violently by the hair," pulled her down a flight of stairs, allegedly slapped her face and pulled her into his car by her hair, police said. At least one teacher witnessed the incident, KOMU-TV reported.
Omar was released from the Boone County Jail after posting a $4,500 bond, according to the Columbia Daily Tribune. Court documents indicate prosecutors haven't yet formally charged Omar, KRCG-TV reported.
Despite Mizzou's statements, a LinkedIn page for a Youssif Omar notes he's an assistant professor at Mizzou as well as the manager of Artifacts Journal at the school's bookstore. It also indicates he headed the English department at the University of Benghazi for over four years.
A Facebook page for a Youssif Zaghwani Omar — which includes a home address that matches the block and street where police arrested Youssif Z. Omar — indicates he's married, lives in Columbia and hails from Benghazi, Libya.
On the Facebook page is a photo of a Mizzou class which includes Omar, along with his comment: "Last day of class Thursday, May 7, 2015 with my students from left to right: Nadav, Luke, Ian, Jeniez, Kayel, Estafania, Sadiga, Jack, Bilal, Taylor, Eizabila, and Kate. It was a good class. I am fully proud of all of you."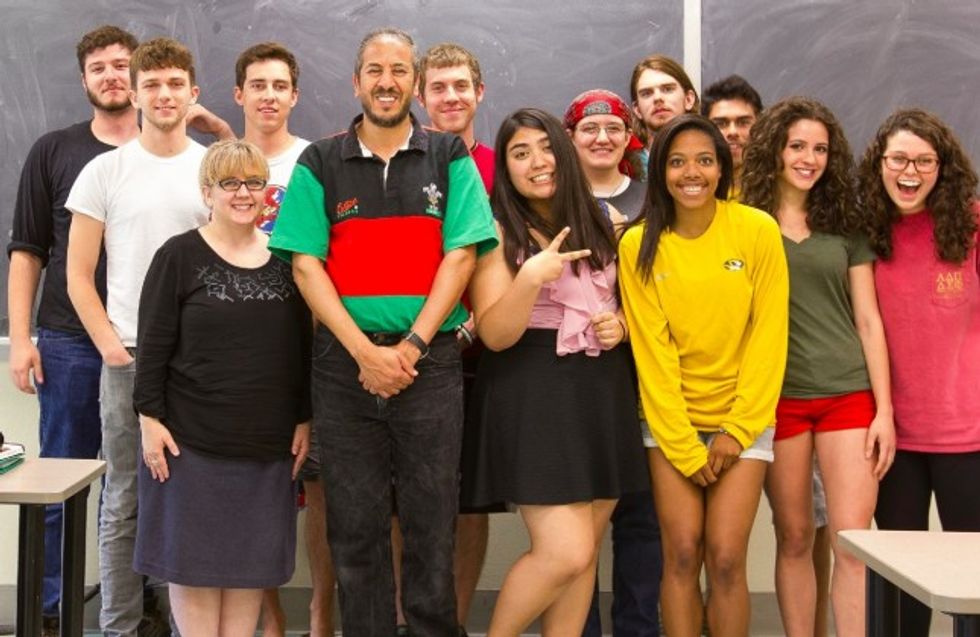 Image source: Facebook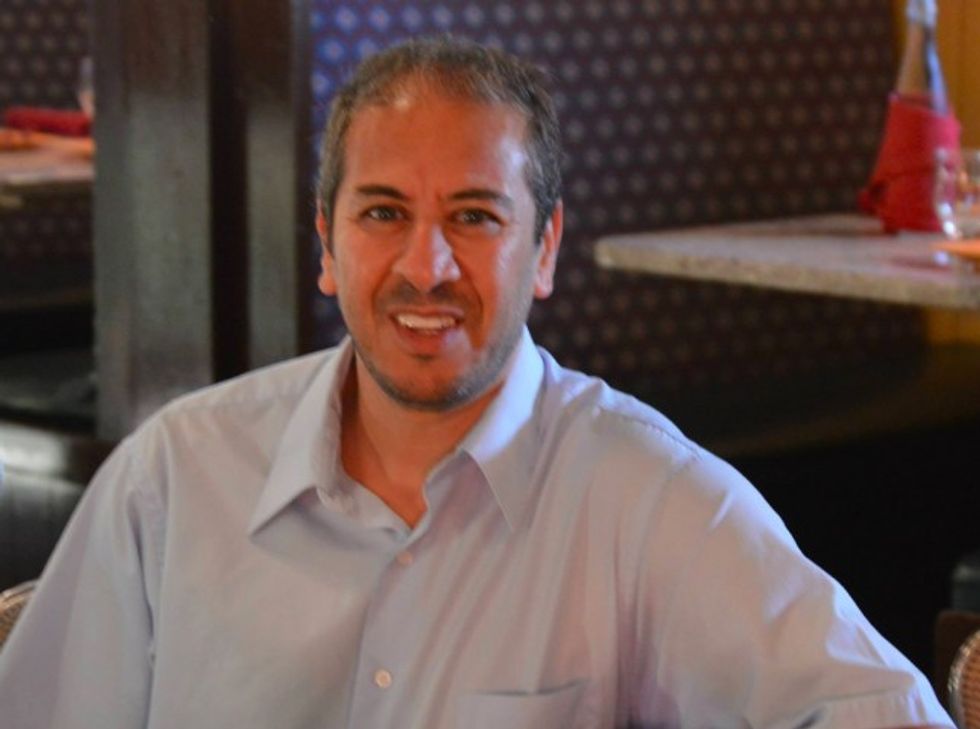 Image source: Facebook
A now-disabled video on Omar's Facebook page shows him giving an academic presentation in Hawaii during which he describes himself as teaching foreign languages at the University of Missouri, Columbia, where he's an "assistant professor."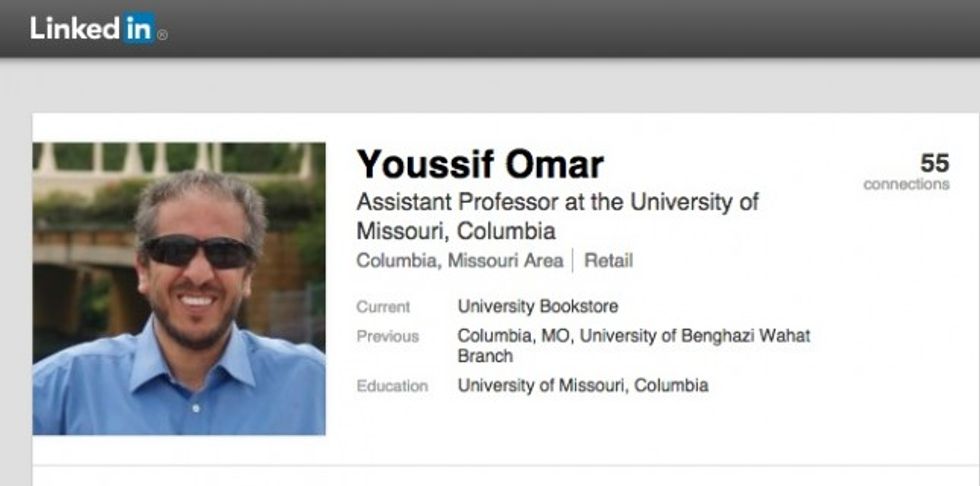 Image source: LinkedIn
Columbia police didn't immediately respond Sunday to a request from TheBlaze for information regarding Omar's present place of employment, if any, the specific family relationship with the 14-year-old girl he's accused of slapping and dragging and if charges will be filed against him.
This story has been updated.
—
Follow Dave Urbanski (@DaveVUrbanski) on Twitter