Speaking to reporters in Newton, Iowa, on Sunday, Republican presidential candidate Sen. Ted Cruz pushed back against the notion that last week's Planned Parenthood shooter was driven by the anti-abortion movement, saying all information isn't known yet.
When asked by a reporter if he believes the Planned Parenthood videos were in any part a cause of Friday's violence, Cruz took issue with the "vicious rhetoric" coming from the left, which is "blaming those who are pro-life."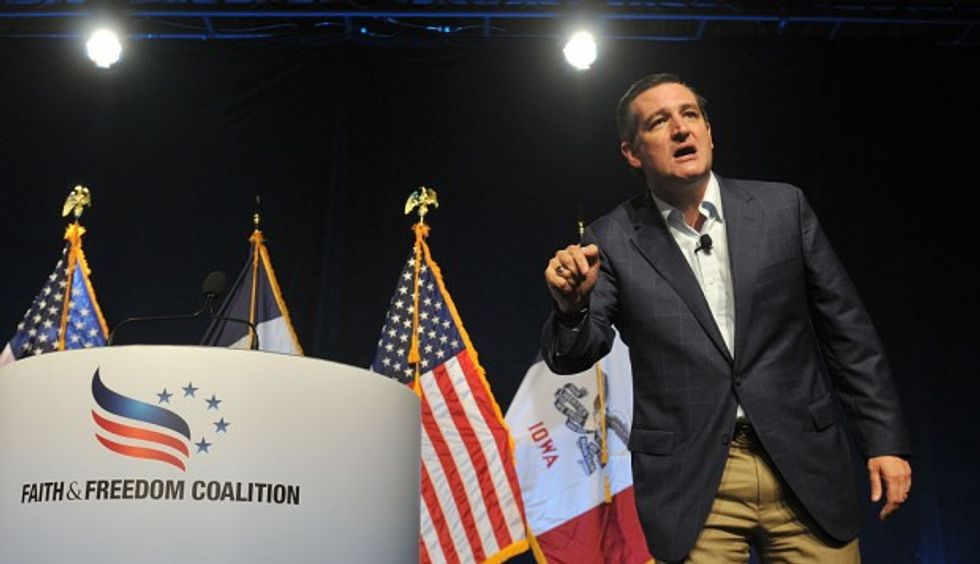 (Getty Images/Steve Pope)
"The media promptly wants to blame him on the pro-life movement when at this point there's very little evidence to indicate that," the Texas Senator said. "This murder that occurred in Colorado is a tragedy."
"We don't fully know the motivations of this deranged individual," he continued. "We know that he was a man who registered to vote as a woman."
Cruz added that there is "very little evidence" to indicate that the shooter was a product of the pro-life movement, despite the media wanting to "promptly blame him on the pro-life movement."
When the reporter told Cruz that the shooter made a comment about "baby parts" when apprehended, Cruz reminded the reporter that those comments have not yet been confirmed by police.
"It's also been reported that he was registered as an independent and a woman and a transgendered leftist activist," Cruz said. "If that's what he is, I don't think it's fair to blame on the rhetoric on the left. This is a murderer."
When a separate reporter followed up, asking Cruz if he would refer to the incident as "domestic terrorism," Cruz said he doesn't believe people should jump to conclusions.
"I would call it a murder, and we'll see what the facts are," the presidential hopeful remarked. "It was a multiple murder of what appears to be a deranged individual. And it was horrific, it was evil, and we'll find out more out about the facts, but I don't think we should jump to conclusions."
However, as the media was quick to jump onto Cruz Sunday night into Monday for his "transgendered leftist activist" comments, a spokesperson for the Cruz campaign reiterated to Buzzfeed that Cruz was not suggesting anything particular about the shooter's identity, but was merely making a point that not all of the details and facts are known.
"His reference to that news story was to make the point that we don't know all of the details," the unknown spokesperson said.
—
Follow the author of this story on Twitter and Facebook:
[facebook //www.facebook.com/plugins/like.php?href=