© 2023 Blaze Media LLC. All rights reserved.
We're Playing Old School': Glenn Beck Says U.S. Needs to Focus on 'Meaning Behind ISIS
"Our president is fighting under an old system."
Glenn Beck drew an unlikely comparison Monday morning between current U.S. foreign policy and the Islamic State. The radio host compared the United States' war efforts to cable networks and the Islamic State to streaming networks like Netflix.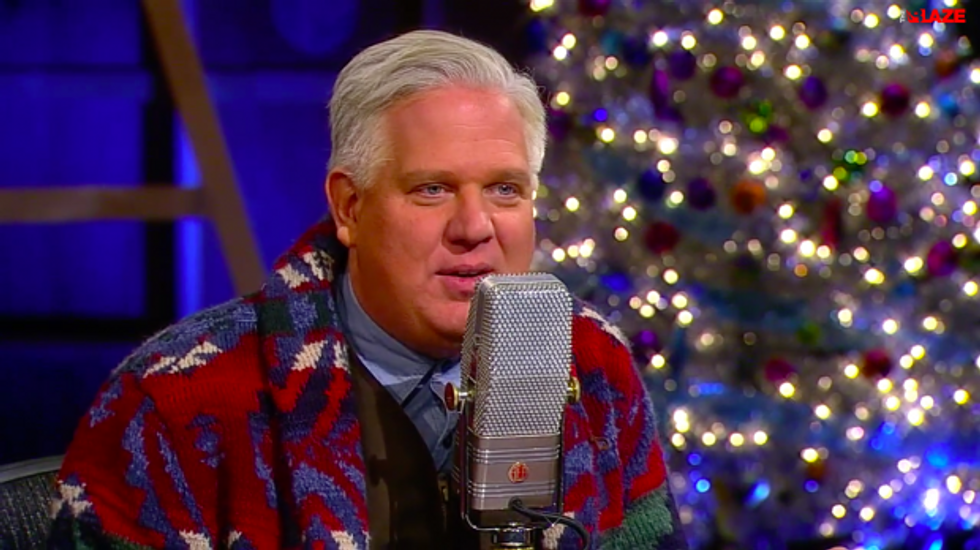 Glenn Beck discussed the Islamic State and U.S. foreign policy on The Glenn Beck Radio Program Monday.
"I'm guessing Netflix doesn't really like that analogy," co-host Pat Gray quipped after Beck's comments on The Glenn Beck Radio Program.
According to Beck, the U.S. is "old school" in its approach. He said current U.S. policy is operating under an "old system" that is no longer relevant, likening it to cable networks competing with new Internet streaming technologies.
"All of our presidents and councils and everything else, all of our governments, they're like network television, and ISIS is Netflix," Beck said. "Our president is fighting under an old system. It doesn't work anymore."
"When we're talking about the proxy war, we're talking about, 'What is NBC going to air Thursday night at 8 o'clock?' Nobody gives a flying crap. The new model is what you should be talking about," Beck continued.
Beck believes the "new model" is the Islamic State and their "end times prophecy." The radio host's comments came in response to a recently released Islamic State propaganda video in which the radical Islamist group outlines its prophetic mission.
"What they believe is that they are the army of Armageddon, that Islam is the religion of — now, hear this carefully — the Antichrist," Beck said. "Meaning, they are going to do everything that is anti-Christian. They will destroy everything Christian — they will be anti-Christian, or Antichrist."
Beck says the Islamic State is fighting a "religious war" and that the U.S. is not at war with Muslims, but radical Islamists "are fighting us," trying to get America to engage.
"So while we send missiles and proxies, they'll send us to hell with 50-cent bullets and meet them at the battlefield of Dabiq, which is Armageddon," Beck said.
Rather than engage in "proxy wars" between countries, Beck insists on the importance of cutting off the Islamic State's prophecy.
"We have to find a way to short-circuit their prophecy," Beck said. "And this is why, when anybody says, 'This has nothing to do with Islam,' you have to impress on them, it has everything to do with Islam. Unless you understand that, you'll not be able to defeat them."
According to Beck, it's about defeating the Islamic State's "legend." The radical group wants Western forces to gather in Dabiq, Syria, where they will defeat the U.S., or "Rome," and usher in Armageddon.
"And so they'll all gather in Dabiq, and we send fuel air bombs or tactical nukes or whatever the hell we need to do, and you wipe them out," Beck said. "Legend over. That's what's fueling this."
Complimentary Clip From TheBlaze TV The full episode of The Glenn Beck Program, along with many other live-streaming shows and thousands of hours of on-demand content, is available on just about any digital device. Click here to watch every Glenn Beck episode from the past 30 days for just $1!
—
Follow Tré Goins-Phillips (@tregp) on Twitter
Want to leave a tip?
We answer to you. Help keep our content free of advertisers and big tech censorship by leaving a tip today.
more stories
Sign up for the Blaze newsletter
By signing up, you agree to our
Privacy Policy
and
Terms of Use
, and agree to receive content that may sometimes include advertisements. You may opt out at any time.