For almost 15 years, former active duty Marine John Harkness stood just inside a Medina, Ohio, Walmart to collect donations for the Toys for Tots charity.
This year, Harkness is standing outside in the cold.
"I just said, why can't they put you inside? This is crap," Mary Murdock told WOIO-TV she recalled thinking when she saw the Marine standing outside.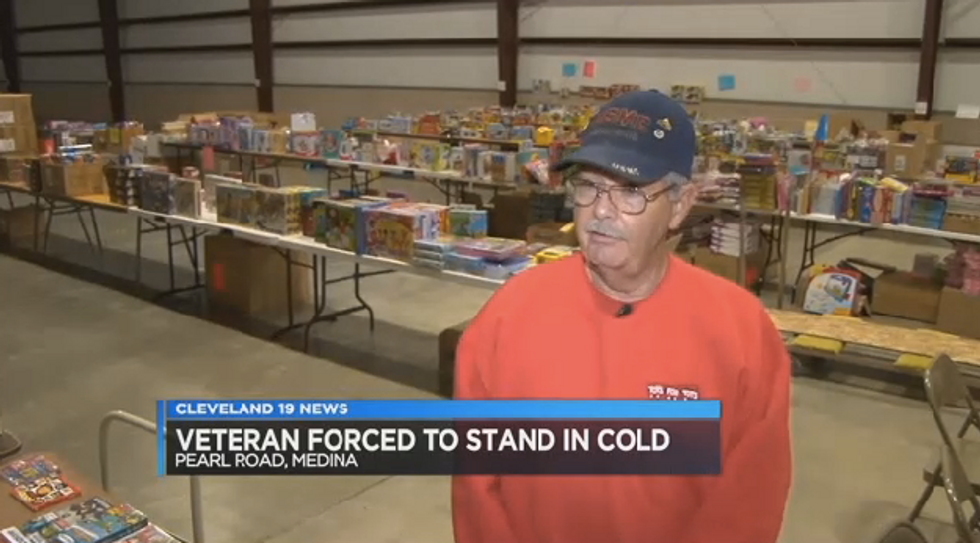 Image source: WOIO-TV
Under Walmart's old manager, Harkness was allowed to stand just inside the doors to collect both money and toys, which a spokesperson said was technically in violation of the company's policy.
"Walmart's corporate policy across our more than 4,500 stores does not allow this type of solicitation inside our stores and we apologize for any confusion about this policy," a statement from the company read. "If a Marine or anyone was treated with disrespect, that is unacceptable and we are looking into this matter further to get the facts."
"It takes two seconds to do the right thing when it's cold and rainy and the holiday season," Murdock said. "You can put [the Marines] in there."
While Harkness remains outside, he told WOIO that he is grateful for the support of the store's patrons who have brought him coffee and sandwiches and offered kind words.
"It's encouraging. It's fantastic," he said. "It's good to have the general public — Vets and non-vets — support you."
(H/T: WOIO-TV)