Secretary of State John Kerry said the U.S. can defeat the Islamic State "if we get our act together," but added success might be up to Russia or Iran.
In an interview with Rolling Stone, Kerry talked about numerous topics, including terrorism, Syria, Russia and climate change.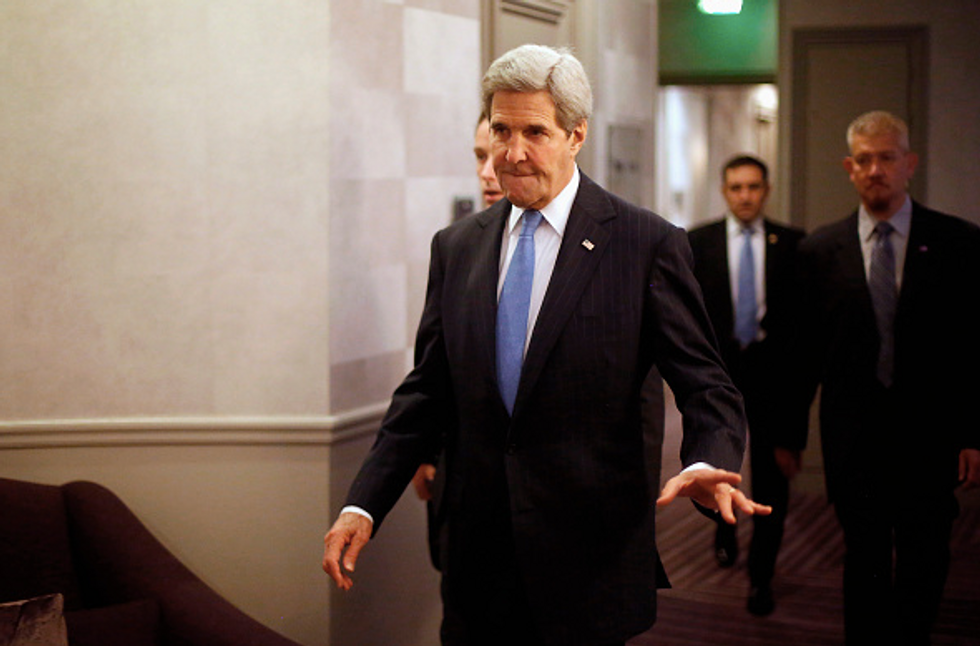 Secretary of State John Kerry arrives to meet the Egyptian Foreign Minister Tuesday on the sideline of U.N. climate talks in Paris. (AFP/Getty Images)
Asked about what victory over the Islamic State looks like, Kerry said it would look similar to victory over Al Qaeda — taking out leaders and making the organization nonfunctional.
"Obviously, you'll have a few radicals around, but you terminate its ability to have a core, a state, as well as revenue-raising, paying salaries, hiring people, attracting people and giving orders to people," Kerry said.
"All of that can come to an abrupt end if we get our act together," he added.
When asked, "Do you feel like that's possible?" Kerry responded,
 "Of course it's possible. Whether it happens or not is up to Iran and Russia."
Also during the interview, when discussing COP21, the U.N. climate change conference in Paris, Kerry was asked, "Were the Paris terrorist attacks further evidence of the link between climate change, global instability and terrorism?"
The secretary was hesitant to directly link global warming and the terrorism seen in Paris.
"Well, it certainly underscores the global nature of Daesh. It's not directly related to climate change, but it's part of the web of global interconnectedness – and it shows how one security challenge is a challenge for everybody," Kerry said.
To read the full interview, click here.