A conservative legal firm is claiming a precedent-setting victory after a federal appeals court ruled that a cross-shaped World War I memorial is constitutional and can remain in its current location.
Atheists sued last year to seek removal of the Bladensburg World War I Veterans Memorial from inside of a public park in Bladensburg, Maryland, claiming that its presence violated the U.S. Constitution and excluded non-Christian military veterans.
"When the government erects an exclusively Christian monument on government property, it violates this central command of the Establishment Clause by sending a clear message that Christianity is the preferred religion over all others," American Humanist Association attorney Monica Miller wrote last year, explaining the lawsuit. "When the religious monument is dedicated to fallen soldiers, it sends an even more egregious message that only Christian soldiers are worth memorializing."
Constructed 90 years ago by the American Legion, a veterans group, the 40-foot memorial — which is located in Veterans Memorial Park —commemorates the lives of 49 men from Prince George County who lost their lives during World War I.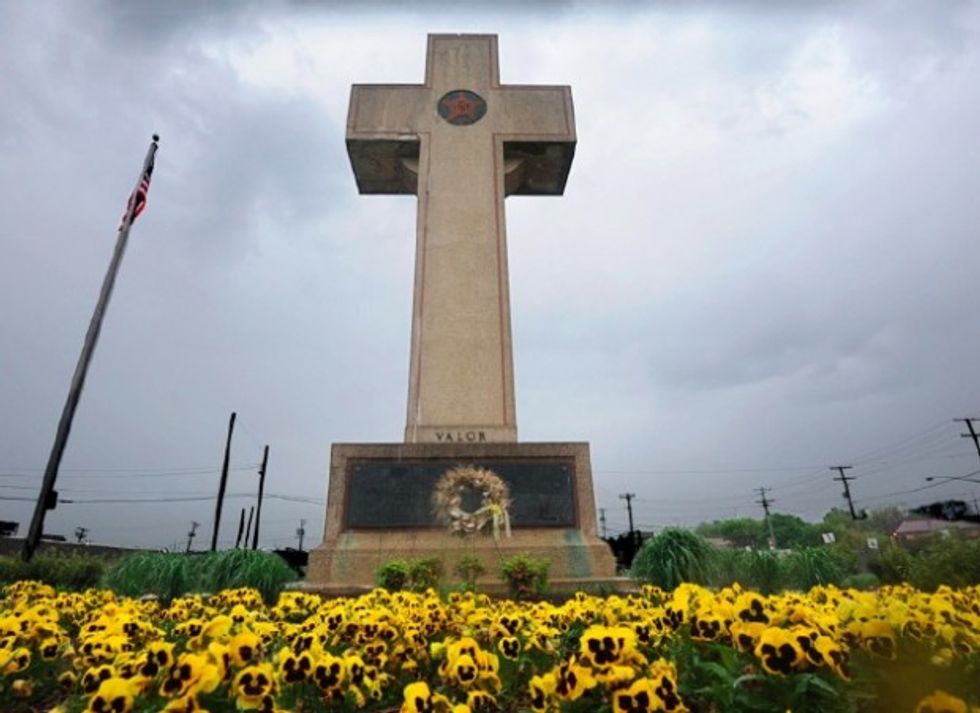 Liberty Institute
In addition to sharing the soldiers' names, a plaque on the monument includes a quote from President Woodrow Wilson that reads, "The right is more precious than the peace; we shall fight for the things we have always carried nearest our hearts; to such a task we dedicate ourselves."
It also features the words "valor, endurance, courage, devotion."
The Liberty Institute was joined by law firm Jones Day in defending the American Legion against atheist plaintiffs, with the firms securing a summary judgment on Monday from the United States District Court for the District of Maryland that deems the memorial constitutional.
"This victory sets an important precedent," Liberty Institute president Kelly Shackelford said in a statement. "It not only affirms the Bladensburg Memorial will remain in its place of honor but helps ensure that all the nation's veterans memorials, and the veterans they honor, will be protected."
As TheBlaze previously reported, atheist activists have been seeking the cross' removal from public land over the past few years. Among those leading the charge has been Fred Edwords, who believes that the cross poses a constitutional violation.
"I thought, 'Well, that's odd. What's that doing there?'" he told the Baltimore Sun last year. "That certainly gives the impression of government endorsement of religion. … I just wondered how that kind of thing had continued."
Edwords filed suit in U.S. District Court in Greenbelt, Maryland, asking a federal judge to remove the monument. Others joined in as plaintiffs, including the American Humanist Association, another secular group that Edwords once led.
"A clearly Christian icon does not belong on public land because public land represents everyone," he told WJZ-TV.
For now, it appears that the American Legion has secured a notable victory.
Updated
--
Follow the author of this story on Twitter and Facebook: