Palestinian Authority Minister of Women's Affairs Haifa Al-Agha said that Palestinian mothers are unique because they celebrate with cries of joy when they hear their child has been killed while attacking Israelis.
Al-Agha — who reportedly was educated in the U.S. — made the incendiary comments earlier this month, an official Palestinian Authority daily newspaper reported.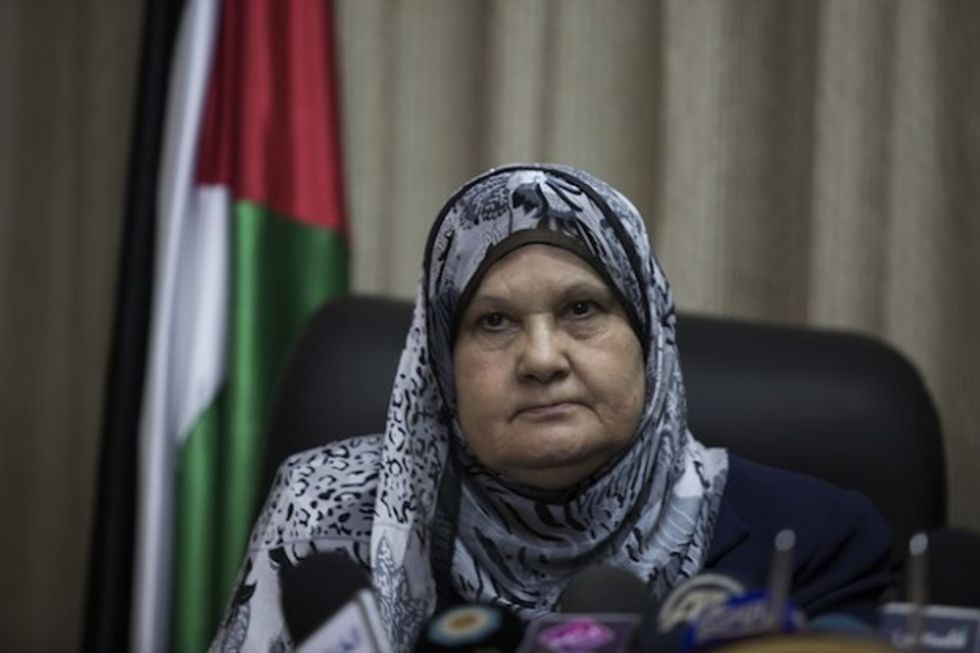 Palestinian Minister of Women's affairs Haifa Al-Agha attends her first meeting with the new Palestinian government June 8, 2014, in Gaza City. (Mahmud Hams/AFP/Getty Images)
On Sunday, Palestinian Media Watch posted a translated excerpt from the Nov. 7 report in Al-Hayat Al-Jadida:
Minister of Women's Affairs Haifa Al-Agha, stated that the ministry is working toward forcing Israel to implement international [UN Security Council] resolution 1325, which guarantees protection of women and children during conflicts...

She noted the Palestinian woman's uniqueness, which differentiates her from the women of the world, as [only] she receives the news of her son's Martyrdom with cries of joy.
Al-Agha appeared to encourage women and girls to attack Israelis, commending them for their "field and battle" activities, Al-Hayat Al-Jadida reported:
She added that the Palestinian girls and women have proven their ability to contribute to their homeland, and that they have a significant presence in the field and battle arenas.
Prime Minister Benjamin Netanyahu's spokesman for the Arabic media, Ofir Gendelman, accused the minister Monday of inciting more Palestinians to attack Israelis.
PA Minister for Women's Affairs incites:A Palestinian woman is different from other women as only she receives news of her son's death w joy

— Ofir Gendelman (@ofirgendelman) November 30, 2015
Noah Pollak, executive director of the U.S.-based Emergency Committee for Israel, noted that the U.S. funds the Palestinian Authority.
U.S. taxpayers pay her salary. https://t.co/9vBYPBbeFG

— Noah Pollak (@NoahPollak) November 29, 2015
Israel has faced a wave of daily Palestinian stabbing and car-ramming attacks since September, in which many of the assailants have been teenagers.
As the minister suggested, Palestinian mothers of some assailants have heaped praise on their children after they were killed while attacking Israelis.
According to the Jerusalem Fund, Al-Agha received her Ph.D. in Educational Studies from Oklahoma State University in 1991.
Palestinian Media Watch is an Israeli non-profit that reports on anti-Israel incitement in the official Palestinian Authority media.