A House Democrat warned Tuesday that the military action President Barack Obama has ordered in the Middle East could lead to "devastating nuclear war" with Russia.
Rep. Tulsi Gabbard (D-Hawaii) delivered the warning during a House Armed Services Committee hearing with Secretary of Defense Ash Carter.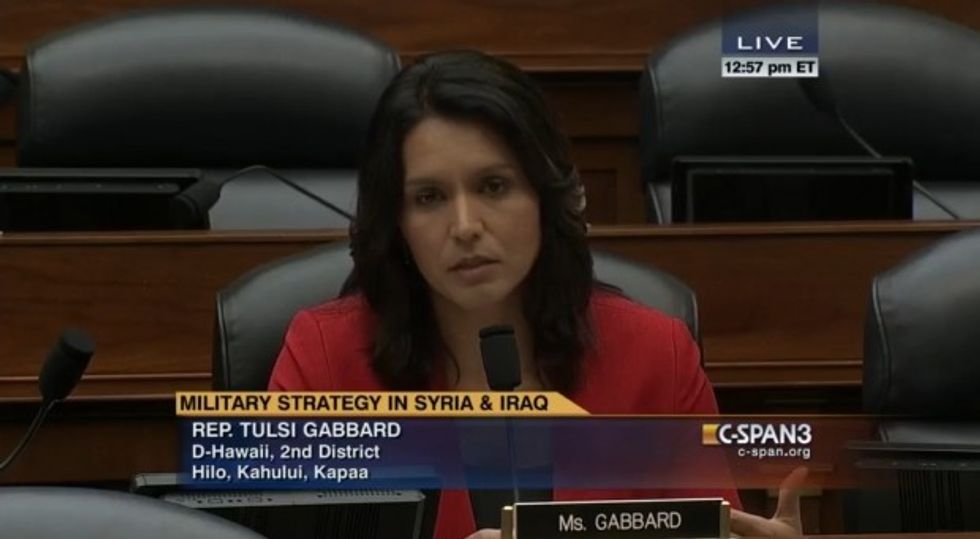 Image source: Screen grab
Gabbard said she was worried that Obama's deployment of F-15s near the Turkey-Syria border — which are meant to "ensure the safety" of NATO allies — could result in a conflict with Russia that could quickly escalate.
"Russia's installation of their anti-aircraft missile-defense system increases that possibility of, whether it's intentional or even an accidental event, where one side may shoot down the other side's plane," she said. "And that's really where the potential is for this devastating nuclear war."
Earlier in the hearing, the two-term congresswoman said disagreements between the U.S. and Russia on policy in Syria "creates that potential, that strong potential, that strong likelihood for that head-to-head combat. Or that head-to-head military conflict."
Carter stressed that the devastation a nuclear war would cause is the reason that it is important world leaders behave responsibly on the world stage. He added that the U.S. is "intent on avoiding an accidental situation in the air over Syria."
—
Follow the author of this story on Twitter and Facebook: