The normally sedate Salvation Army bell ringers have added something new to the typically reserved actions of the group's kettle keepers -- more modern music and dancing bell ringers.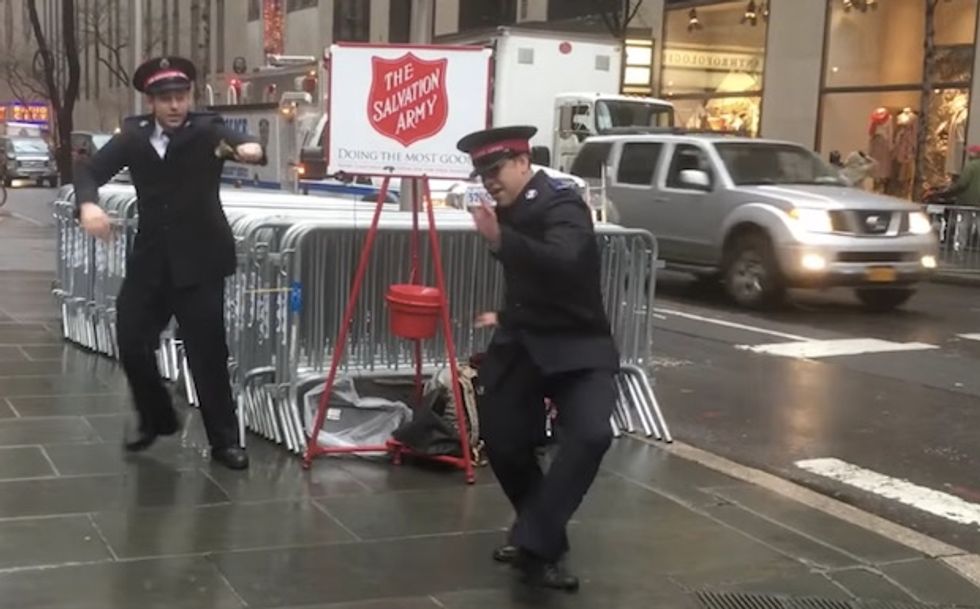 Image source: YouTube
Wednesday night, tens of thousands of people will gather outside Rockefeller Center in New York City to witness the annual lighting of the massive Christmas tree. The event will also be broadcast on NBC.
If you are attending the tree lighting, we encourage you to wander the plaza around the tree and look for the Salvation Army bell ringers in the area.
These two gentlemen were the first to catch our attention. They were dancing to the 2010 techno-dance hit, "Barbra Streisand" by Duck Sauce.
A Beach Boys classic, "Surfin' USA' was also part of the new musical repertoire of the Salvation Army bell ringers.
Just a few steps down the street, these two ladies were "getting funky," dancing to Mr. C's 2004 hit song, "Cha-Cha Slide."
If you're thinking, "I could do that," or want to know more about the bell ringers...This video explains the basics of Salvation Army bell ringing and how you can volunteer to ring the bells, sing, dance, etc.
__
Follow the author of this story on Twitter and Facebook: