Despite what appeared on camera to be a frightening confrontation with a violent man, Rabbi Yoni Lowin said he wasn't nervous.
"I wasn't scared to stand next to him because we have God looking after us all the time," Lowin told the Australian Jewish News this week.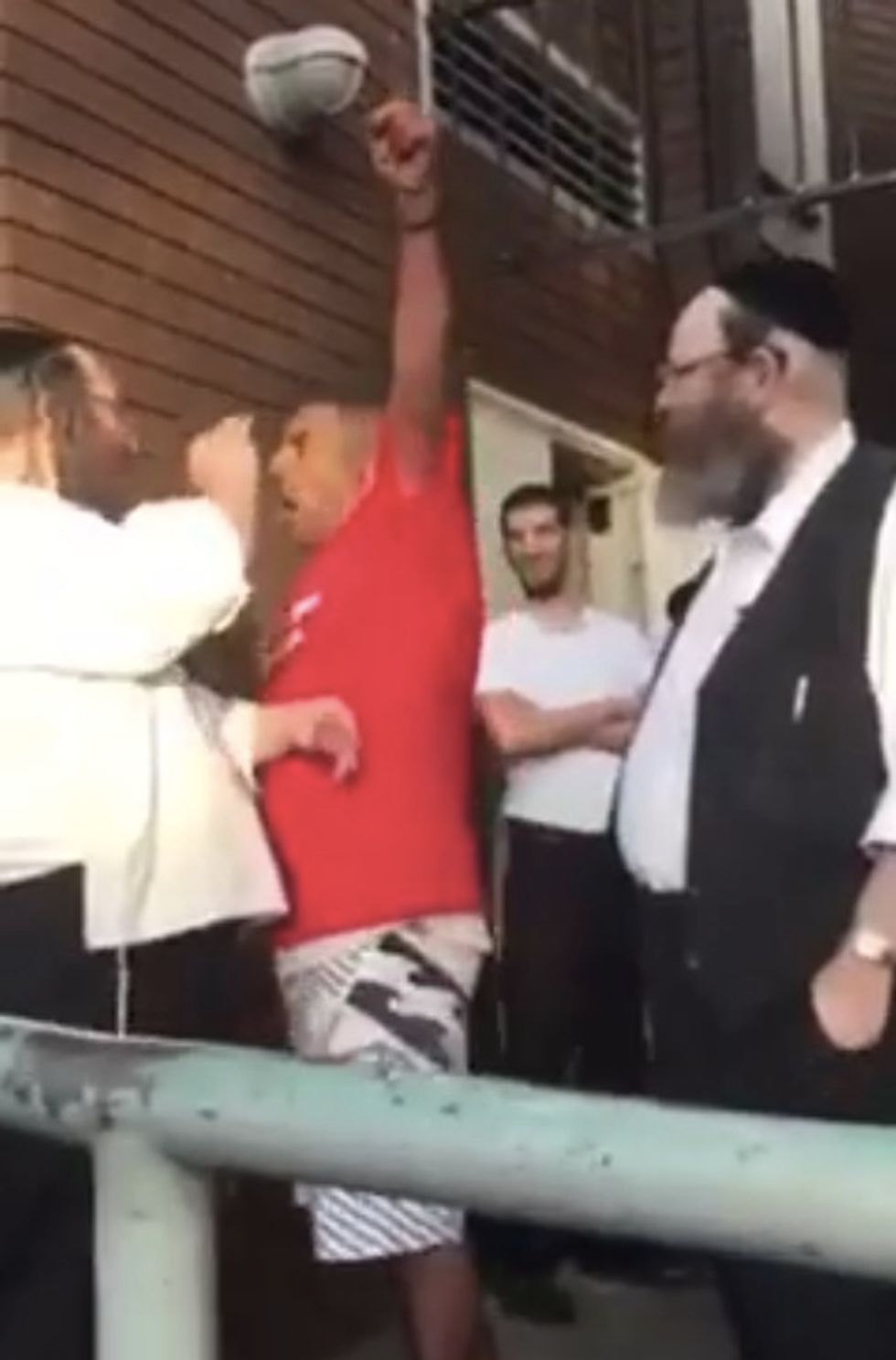 Rabbi Yoni Lowin, left, and the man yelling at him. (Image source: Facebook)
Last Wednesday, the unidentified man was caught on video screaming at a group of people outside Adass Synagogue in Melbourne, Australia, after an apparent theft of a scooter. The man in question was part of a larger group that synagogue members had challenged to return the scooter, which was apparently thrown over a fence, Senior Constable Anthony Myers told AJN — and then the man returned to stand toe-to-toe with Rabbi Lowin.
The red-shirted man was heard yelling "Go back to Israel!" and then seen getting in Lowin's face, pointing his finger to the sky and yelling, "You want to swear to Allah?"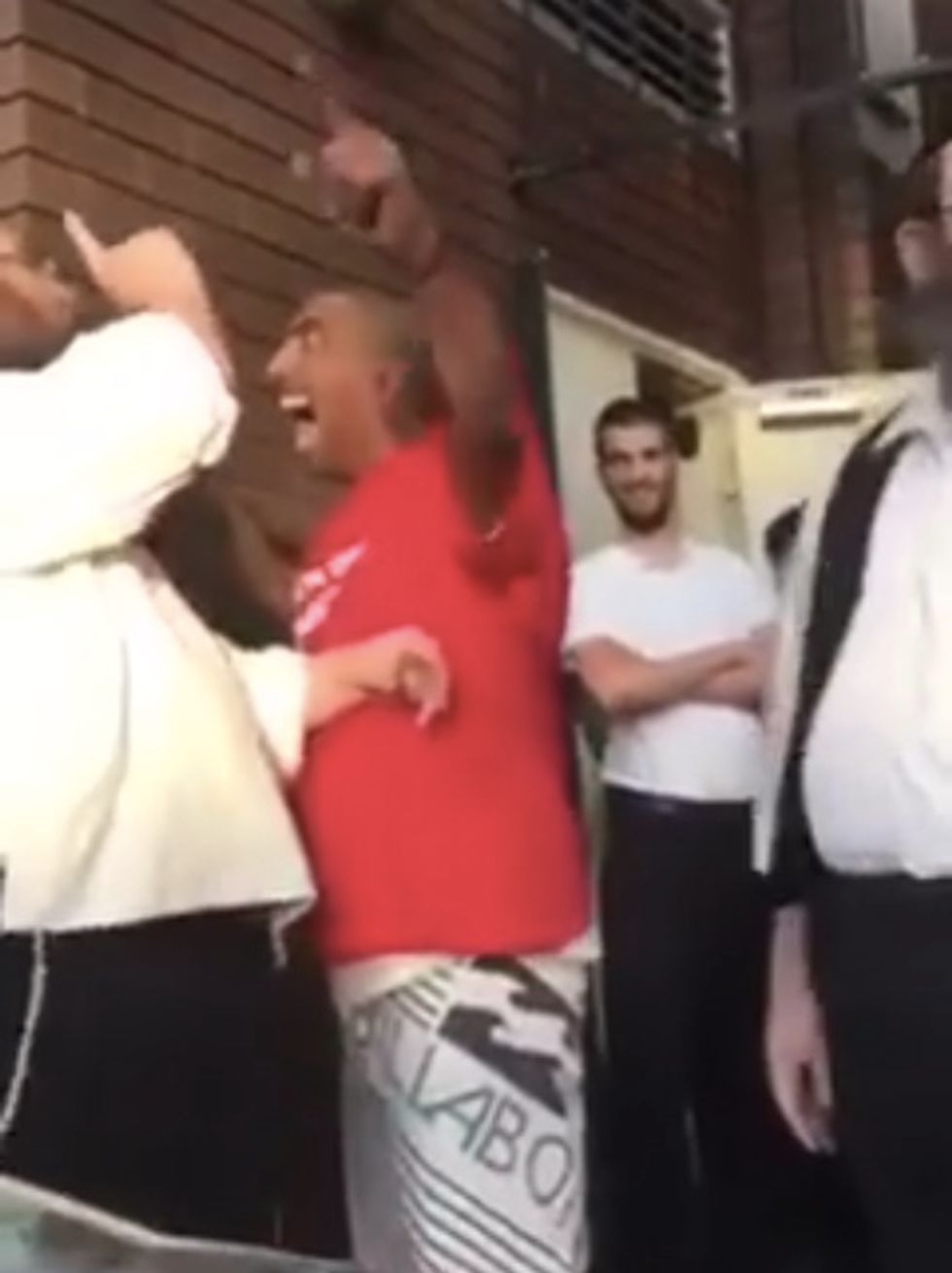 Image source: Facebook
Then the confrontation became physical.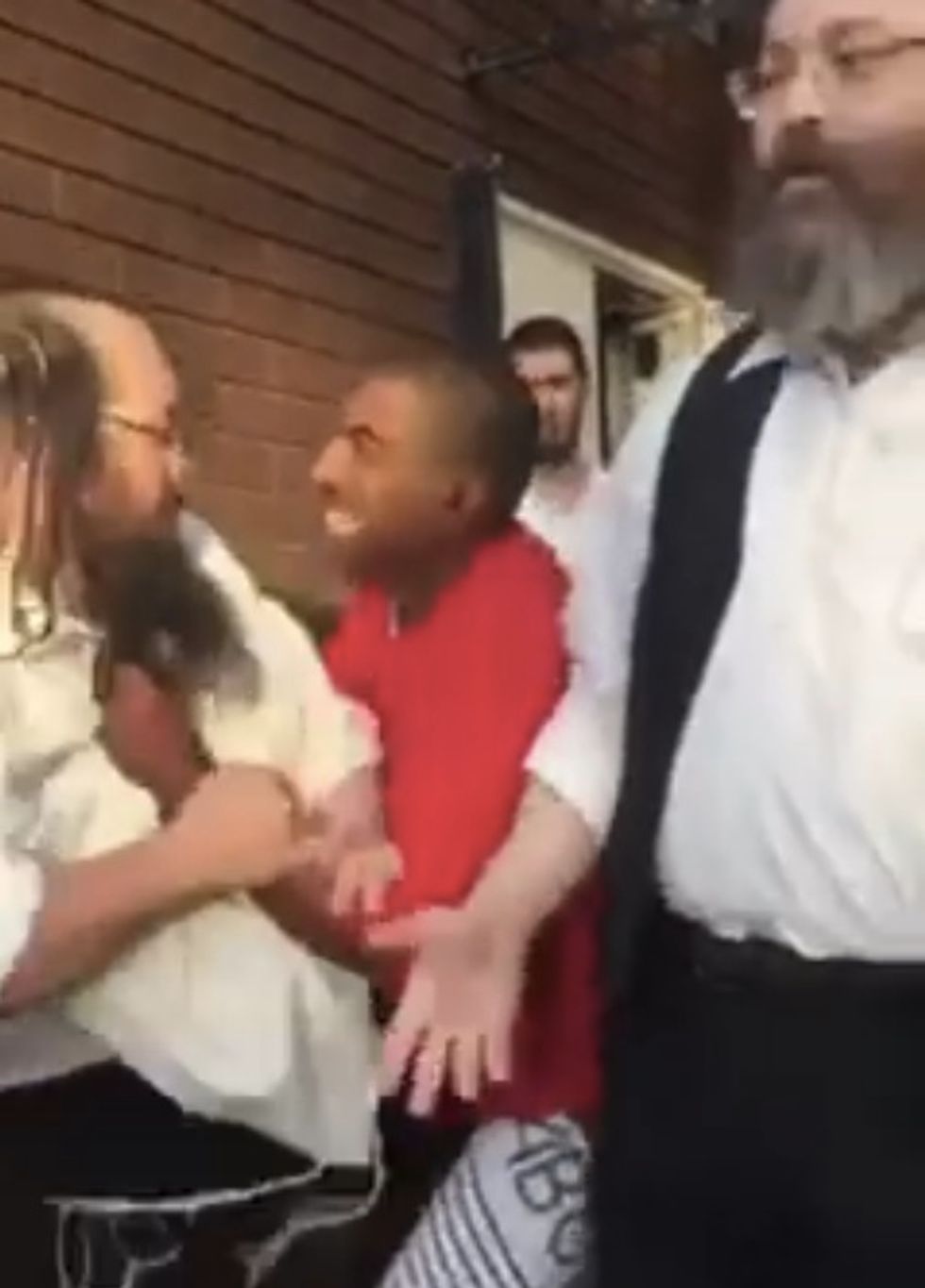 Image source: Facebook
"He just pulled my beard so I put him on the ground," Lowin told AJN.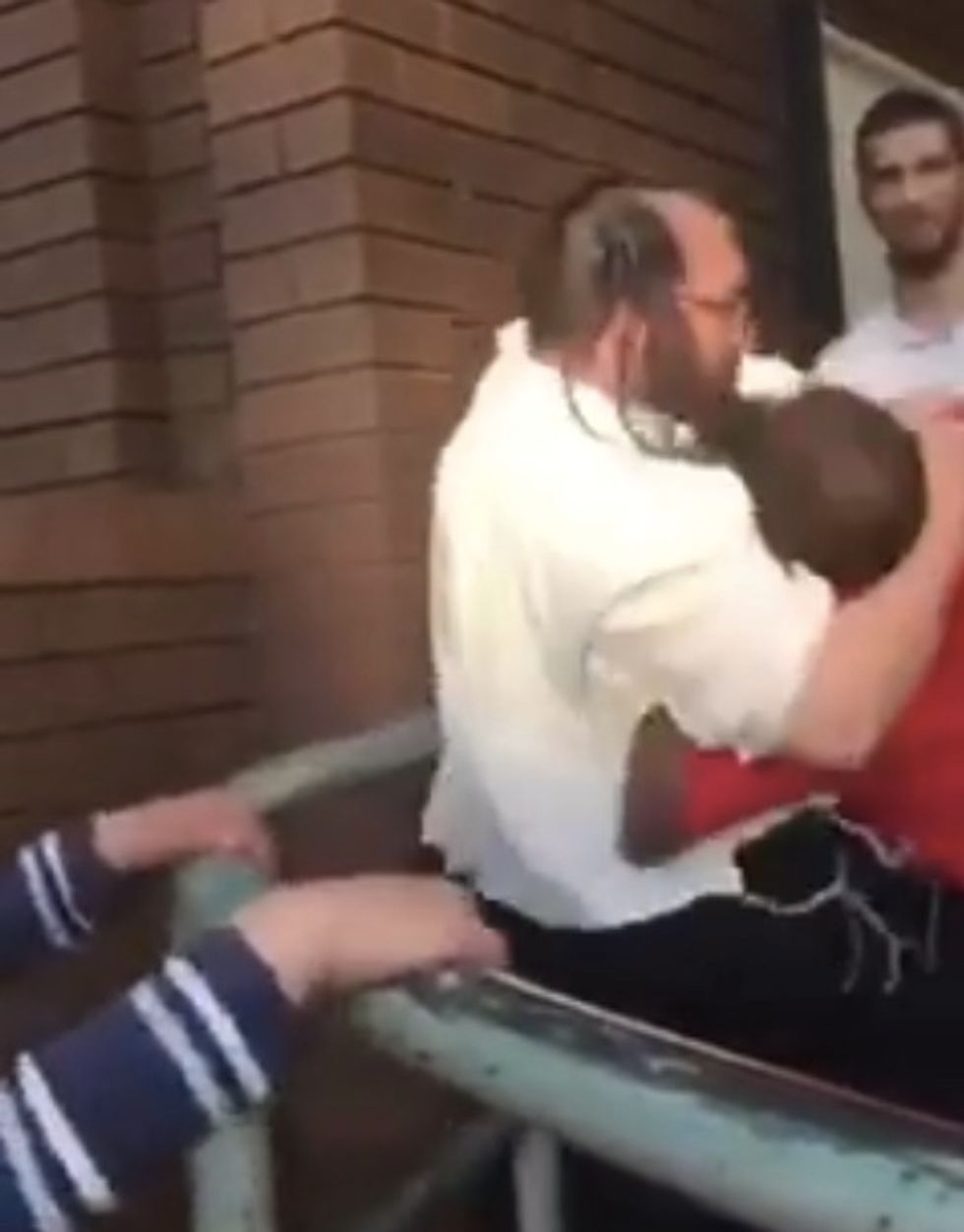 Image source: Facebook
The takedown was quick, as Lowin soon pushed the man to the ground and secured his arms and legs with the help of several other people standing nearby. But even though he was flat on his back, the man was heard yelling, "Do you really think you rule this land?"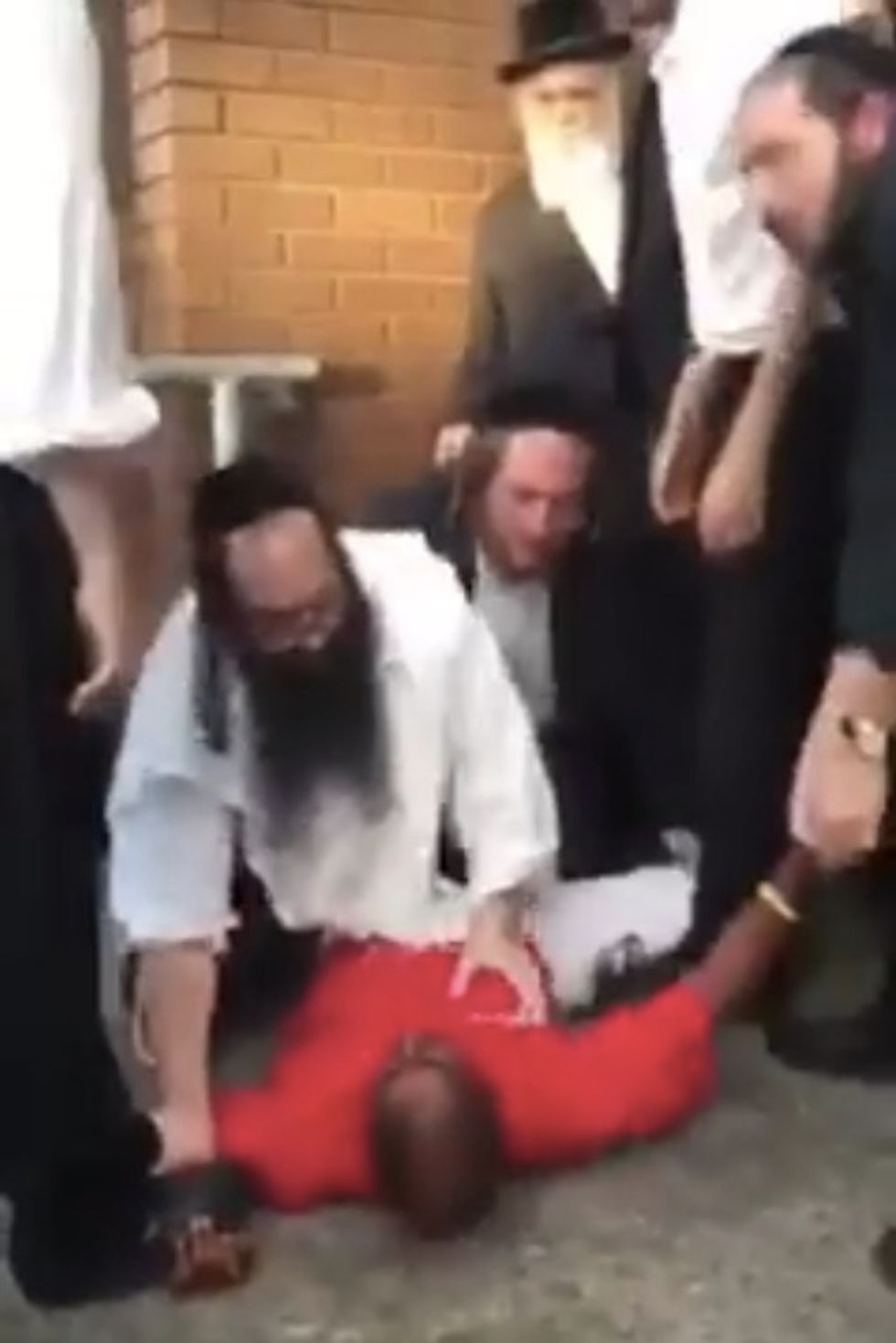 Image source: Facebook
The man was arrested and charged with one count of theft, one count of criminal damage and two counts of assault, AJN reported. But the alleged attacker told the paper he didn't start things and that Adass members chased his family 20 minutes before the video began rolling.
"Get the 10 minute footage from the police before you start talking about you being the peaceful nation and everything," he told AJN. "I went back to ask them what was going on. They all surrounded me in a big mob."
The man also told the paper he's a trained army officer and that Adass is "hiding something, otherwise they wouldn't have scared me off like that." The man is out on bail and will appear in court Jan. 19, 2016, AJN reported.
The senior constable gave kudos to the rabbi and other synagogue members for how they handled the incident. "They were very calm and dealt with him very well," Myers told AJN.
The synagogue's president was surprised by the reaction the confrontation has drawn.
"This is the first incident of a physical nature for some time," Benjamin Koppel told AJN.
The video on the AJN Facebook page had been viewed more than 324,000 times as of Wednesday afternoon:
Terrifying scenes at Adass Synagogue in Melbourne today. In the event of an emergency call Police 000 then CSG on 1300 000 274.

Posted by The Australian Jewish News on Thursday, November 26, 2015
Here are two other clips that precede the one above:
An earlier video from the same scary incident at Adass Synagogue in Melbourne yesterday.

Posted by The Australian Jewish News on Thursday, November 26, 2015
(Content warning: Some strong language in below clip:)
(H/T: Right Wing News)
—
Follow Dave Urbanski (@DaveVUrbanski) on Twitter