A Los Angeles Times reporter incorrectly reported Wednesday night that a suspect in the deadly San Bernardino shooting was a citizen from Qatar.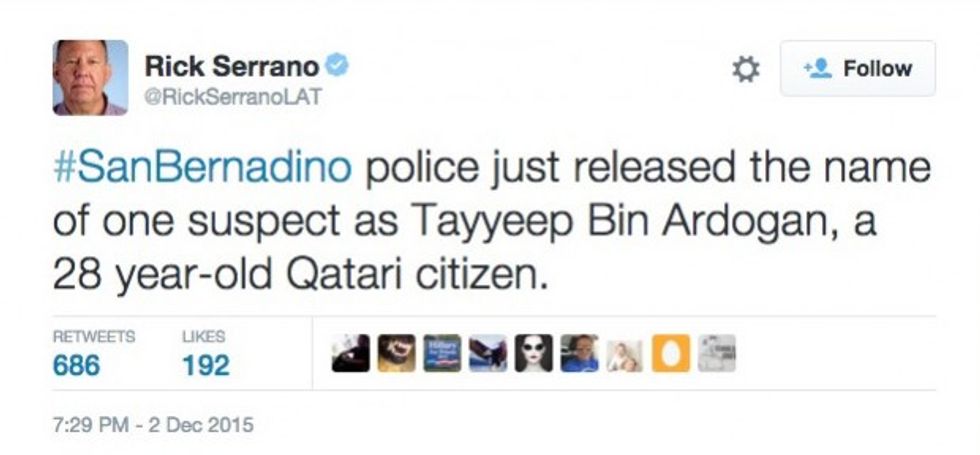 Image source: Twitter
Times FBI/justice reporter Rick Serrano seemingly copy and pasted the erroneous report word-for-word from a random Twitter account that had posted the incorrect information five hours earlier.
Something looks suspicious, @RickSerranoLAT... #sanbernardino https://t.co/Ml3UYFnfda

— Andrew Peng (@Andrew Peng) 1449117401.0
Within minutes, the tweet had amassed hundreds of retweets.
But it did not stop there. Several websites quickly aggregated the information in Serrano's tweet, most prominently the Washington Times and Mediaite.
.@WashTimes has deleted their initial 'Tayyeep Bin Erdogan' tweet, but article is still up. #sanbernardino https://t.co/rTV9L4SZQB

— Andrew Peng (@Andrew Peng) 1449122301.0
The false report even found its way to Fox News, splashed on the bottom of the screen in a chyron.
Wait, @foxnews actually did this. Stunning. #sanbernardino https://t.co/KAgQVHi2Vq

— Andrew Peng (@Andrew Peng) 1449119146.0
Serrano later deleted his tweet and acknowledged that it appeared to be a hoax. He, however, did not apologize or say where he got the information.
SB police clarifying that 2nd name was not released by them. Appears now to be a hoax. We are disregarding.

— Rick Serrano (@Rick Serrano) 1449119239.0
Times spokeswoman Hillary Manning told TheBlaze that the publication did not have comment, but said Serrano's tweet had been shared with "relevant editors."
Manning added that she was "trying to determine the original source of the apparent hoax."
A spokesperson for Fox News did not respond to a request for comment Wednesday night.
Authorities identified the actual suspects as Syed Farook, 28, an American citizen, and Tashfeen Malik, 27. 14 were killed and 17 were wounded in Wednesday's shooting.
—
Follow the author of this story on Twitter and Facebook: