A grieving pastor whose wife was murdered during a home break-in last month in Indianapolis took to Twitter this week to release a journal entry that he said was written by his wife the day before her tragic death.
Pastor Davey Blackburn shared a picture of the entry that was penned by his wife, Amanda, who was 13 weeks pregnant when burglars burst into the family home in search of money and shot her on Nov. 10.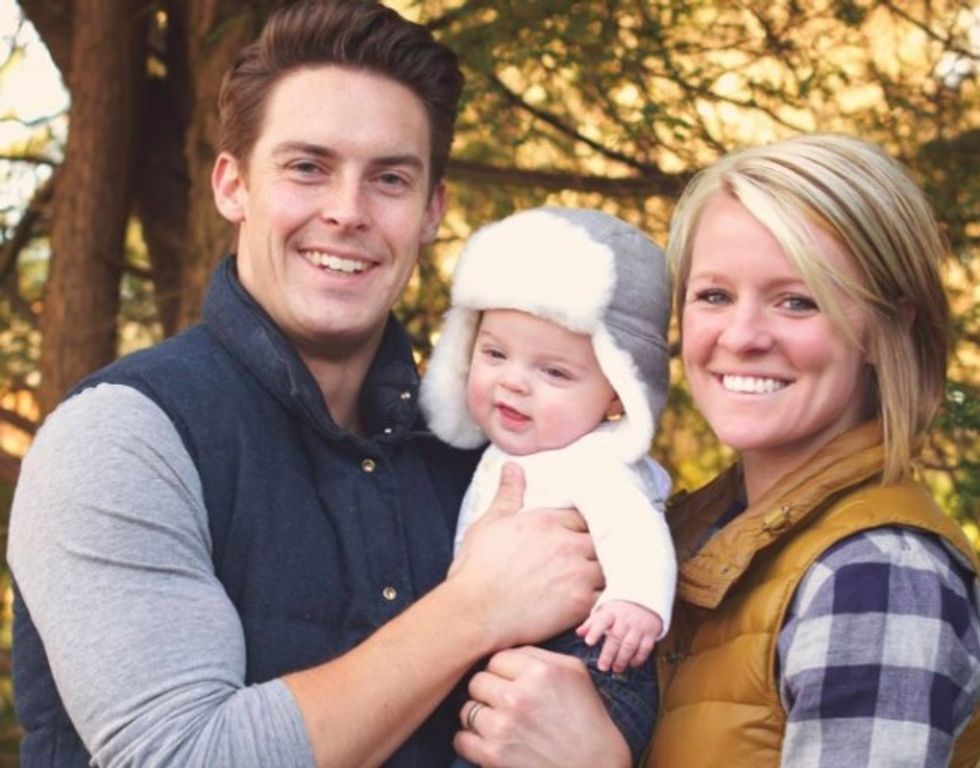 Davey and Amanda Blackburn with their son, Weston (Facebook)
"Turn your eyes upon Jesus, look full in his wonderful face and the things of Earth will grow strangely dim," she wrote in her prayer journal. "In the light of his glory and grace."
These words are lyrics from the popular hymn, "Turn Your Eyes Upon Jesus."
Amanda proceeded to write about the previous day, which was a Sunday, expressing her joy over seeing so many people learn about the Bible at Resonate Church, a house of worship that she and her husband planted in 2012.
"Truly filled my [heart] to see so many people in your church learning, growing, meeting you and taking next steps," she wrote. "Thank you for letting me get to see all of this with my own eyes."
Amanda continued, "I love you Lord. Glory and praise to you."
Amanda's last prayer journal entry on Monday, Nov 9th #NothingIsWasted#ToJesusBeTheGlorypic.twitter.com/HijaSHdNwp

— daveyblackburn (@daveyblackburn) December 1, 2015
Pastor Blackburn has been tweeting about his wife in recent days, sharing both his incredible strength as well as his belief that she is now with the Lord.
"For those who knew Amanda well, you know she's sun-tanning on the shores of Heaven sipping her virgin pina colada . . . Loving paradise!" he tweeted on Tuesday. "Amanda was not well-traveled, well-read, or well-to-do but the moment she stepped into eternity she heard, 'Well Done.'"
The preacher shared another message from Amanda's prayer journal on Wednesday that was a bit older, but that also showed a window into her profoundly deep Christian faith.
Amanda's prayer journal entry after our last Sunday @newspring before moving to Indy. Wow. pic.twitter.com/JXSVDVlIdd

— daveyblackburn (@daveyblackburn) December 3, 2015
"Please encourage my spirit and sustain me," she wrote. "Help me to remember what you have in store. I love you."
The couple also have a 15-month-old son named Weston.
(H/T: Christian Times)
--
Follow the author of this story on Twitter and Facebook: