The White House is planning to take executive action to close what they call the "gun-show loophole" by adding stricter background checks, according to a report from the Los Angeles Times.
Addressing questions about the San Bernardino shooting, White House press secretary Josh Earnest said there is no timeline on the matter.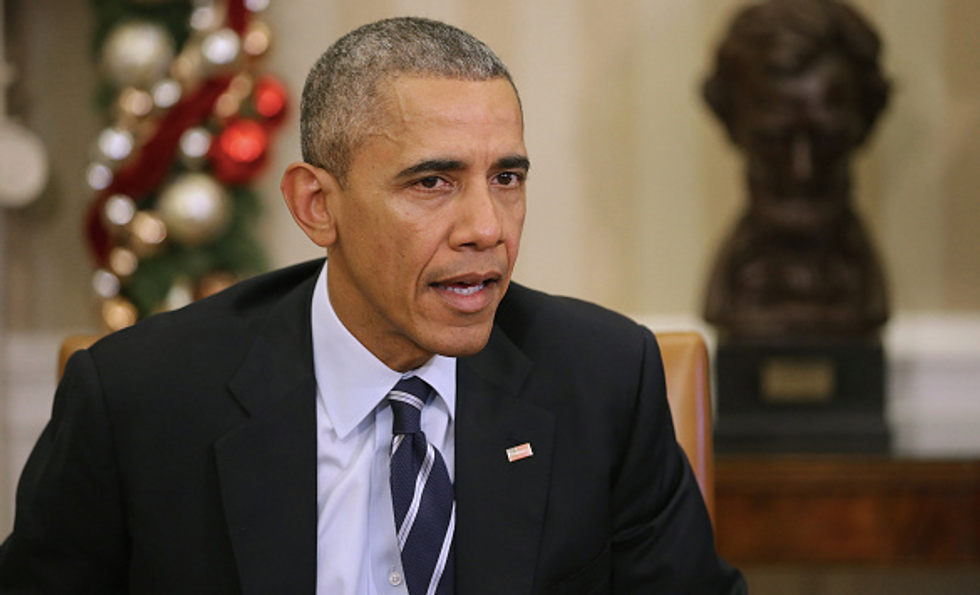 President Barack Obama delivers a statement to the media after receiving a briefing from his national security team in the Oval Office at the White House Thursday in Washington, D.C. Obama talked about Wednesday's mass shooting in San Bernardino, California, that left 14 people dead and 17 others injured. (Chip Somodevilla/Getty Images)
Earnest said the administration was still working on "scrubbing" the laws to see what authority the president had to act without Congress on gun regulations.
Obama previously sought legislation after the Newtown, Connecticut, school shooting, but a proposal on stricter background checks failed to pass even a Democratic Senate in 2013.
Administration officials say they have looked at successful state and local efforts to reduce gun violence, which, they say, includes closing the so-called gun-show loophole.
"But taking administrative action in this space is enormously complicated, with complex and intertwined policy, legal and operational considerations to take into account," a White House official told the Times.
From the Times:
Efforts to use Obama's executive powers to address the issue took on added urgency in October, when a shooter at a community college in Oregon killed nine people, then shot himself.

Since then, White House officials have been trying to draft an executive order that would effectively reinterpret existing law to require all or most such sales to go through the background check system.

But despite Obama's visible frustration with the lack of action on guns, figuring out a solution has proved complicated. Many had expected the White House to announce plans for an executive order in time for the anniversary on Dec. 14 of the 2012 shooting at Sandy Hook elementary school in Connecticut. That now seems less likely.