Fox News contributors Judge Jeanine Pirro and Geraldo Rivera got into a fiery exchange over radical Islam and guns, how the U.S. should respond to the San Bernardino shooting and what it could suggest with regard to allowin thousands of Syrian refugees into the country.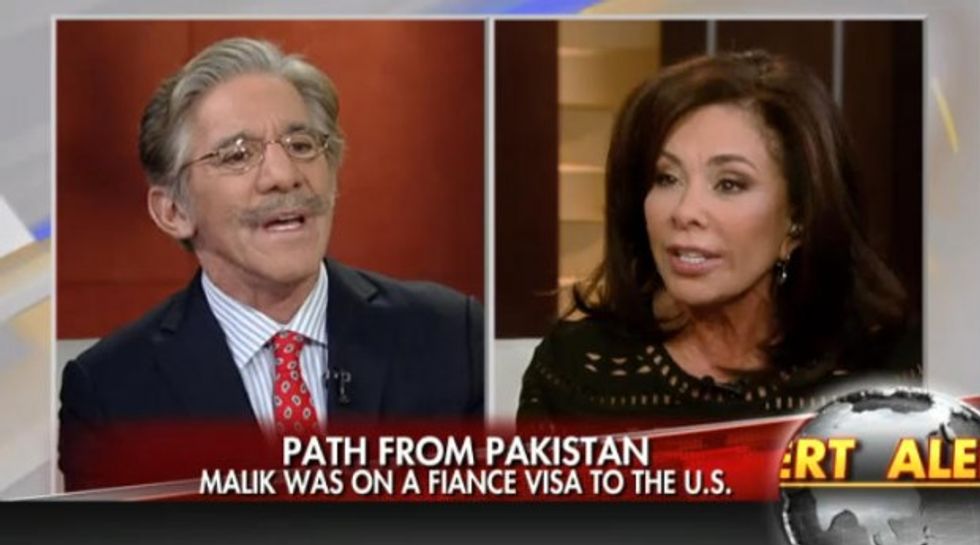 Image source: Fox News
"Homegrown extremism is the issue. We want to choke it off wherever we can," Rivera said on "Fox and Friends" Friday morning. "And we have to, if we see something, say something."
"But for goodness sake we have to understand that the peril to our society does not come just from this one segment," Rivera continued, referring to Muslims.
According to some reports, the man and woman responsible for Wednesday's massacre that left 14 people dead had ties to the Islamic State, but law enforcement has yet to officially confirm those reports.
Pirro then offered her take, saying the deadly attack in California is a "perfect example of our government having the inability to monitor who's coming in."
"There's no way to vet a Syrian refugee," Pirro added.
"Let's not be stupid here. The people who are killing us, who are dead set on killing us to the point where they will die themselves, are the Muslim jihadists," Pirro said.
"Right now we are at war. They are at war with us," the judge continued. "If we ignore them, we are suckers."
"They are coming here to kill us," Piroo added.
(H/T: Mediaite)
–
Follow Jon Street (@JonStreet) on Twitter